The Architectural Team Names New Principals and Director of Interior Design,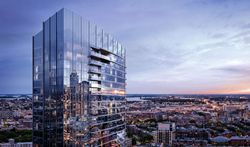 "As TAT's founder, it gives me great pride to witness this growth and celebrate the amazing talent that is driving our firm's advancement," says Robert J. Verrier, FAIA, NCARB.
CHELSEA, Mass. (PRWEB)
November 10, 2020
Reflecting consistent long-term growth and an evolving national presence, the architecture, planning, and interior design firm, The Architectural Team (TAT), has announced a significant expansion of its leadership team. This expansion includes the elevation of three architects and an administrative leader to the position of principal, and by the hiring of a new director of interior design. The newly elevated principals include Jay Szymanski, AIA, NCARB, LEED AP; Gary Kane, AIA, NCARB, LEED AP; Edward Bradford, AIA, NCARB, LEED AP; and Vice President of Finance, William Moran. In addition, the firm has announced that Meghann Van Dorn, LEED ID+C, has joined as director of interior design.
With these appointments to its senior decision-making and design teams, TAT empowers a new generation of leaders at an important moment in the firm's history. Long recognized as an industry leader in multifamily and mixed-use design, and as an advocate for important issues including affordable housing, historic preservation and adaptive reuse, and resilient waterfront development, TAT will celebrate its 50th anniversary in 2021 while continuing its expansion into a broader range of market sectors nationwide.
Recent milestones for TAT include the opening of notable large-scale projects such as the award-winning Clippership Wharf waterfront community, Bower mixed-use development, and the Residences at Brighton Marine supportive veterans' housing campus, all in Boston. Other notable recent achievements include the phased completion of transformative downtown revitalization projects such as the workplace, housing, and retail components at the 1 million-square-foot Sibley Square adaptive reuse complex in Rochester, N.Y., and The Archer Residences and 100 Shawmut in Boston. The firm has also announced construction starts for prestigious high-rise towers including the Raffles Boston Back Bay Hotel & Residences.
TAT's newly elevated principals have played instrumental roles in many of these projects, and have also led recent involvement in numerous publications, lectures, and mentorship initiatives. In their new roles, Szymanski, Kane, Bradford, and Moran join TAT founder Robert J. Verrier, FAIA, NCARB and senior partners Michael E. Liu, AIA, NCARB; and Michael D. Binette, AIA, NCARB as key members of the firm's leadership team. "We're proud to say that these skilled, passionate professionals have chosen to make their careers at TAT, each contributing to the growth and success of our firm for 20+ years," says Binette, who also serves as TAT's managing principal. "Respected by clients, peers, and colleagues alike, they are exceptionally experienced practitioners, administrators, and mentors whose presence creates an atmosphere of trust, creativity, and excellence. We're proud to recognize their ongoing roles, and to support their commitment to…


Read More: The Architectural Team Names New Principals and Director of Interior Design,