The pandemic has triggered a new wave of introspection and innovation that is morphing the face of urban architecture

When the concept design for the self-redevelopment of a
Chembur
housing society began in September 2019, the word 'coronavirus' didn't exist in the common vocabulary. However, when the global health emergency struck,
architect Rahul Kadri
decided that the project should adapt and accommodate for such catastrophes — a move welcomed by the residents.
"Even as the virus forced us to stay home, it made us aware of the importance of having large open spaces in and around our building," says Magbul Mir, a managing committee member of Sai Raj Co-operative Housing Society, Chembur. "We realised the importance of having naturally lit interiors with adequate sunlight, a garden with an outdoor fitness area and sanitisation facilities."
Mir reflects the thoughts of many urban Indians who have been brought face to face with the unsustainable and often unhygienic living conditions that life in the city entails. Cramped living quarters and severely limited access to basic drinking water and sanitation facilities are a reality for many. But while the pandemic has begun some serious conversation about sustainable living, graded decongestion and better urban planning for Mumbai, it's by no means the first.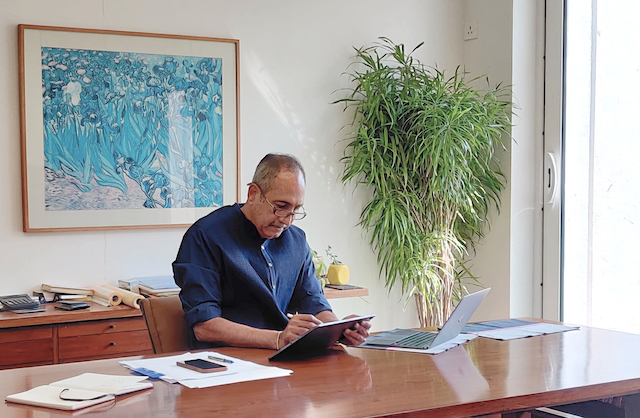 It was the Bubonic plague of 1896, which officially killed 44,984 people and drove away another half million, that first turned the spotlight on the poor living and working conditions of the city's migrant workers. The Bombay Improvement Trust (BIT), set up in 1898, began the first round of urban planning. While it achieved a lot in terms of land reclamation, street planning, development of the suburbs and strict housing regulations for new structures, their original objective of upgrading the living conditions of the poor lost steam after a while. It's no surprise then that even after 124 years, another pandemic has thrown into relief the very same concerns.
"Covid-19 has shined a spotlight on the often-overlooked underbelly of Mumbai, where unusually high population densities and poor drinking water and sanitation facilities make social distancing virtually impossible," says Kadri, partner-principal at IMK Architects. "Elimination and clearance of slums have to be substituted by up-gradation of living conditions, access to basic services and participation of current residents in policy conception."
The pandemic has already introduced definitive changes in how leading architects are designing for the future. The focus has turned firmly on sustainable architecture with emphasis on using local low-energy materials to build more open structures — as opposed to making each square foot count, especially in space-starved cities like Mumbai.
Covid-19 has shined a spotlight on the often-overlooked underbelly of Mumbai, where unusually high population densities and poor drinking water and sanitation facilities make social distancing virtually impossible
Rahul Kadri, architect
"We expect common areas in residential complexes to become more spacious. Area requirements for offices will increase too, due to the need for social distancing as interior layouts and design for office furniture are revised," says Kadri. "A workspace that could accommodate 100 people might just be able to accommodate about half that number in the post-Covid world." And this transformation will come hand-in-hand with…


Read More: Building for the future