Quirk Studio unveils a 140-square-metre residential apartment in South Mumbai, skilfully integrating the allure of the Arabian Sea and a curated art collection into its design elements.
Located in South Mumbai, Sea House is a residential project designed by Quirk Studio under the lead of principal designers Shivani Ajmera and Disha Bhavsar. The apartment spans 140 square metres, and most distinctly offers a serene view of a lush garden, palm trees and the Arabian Sea.
A key design element throughout the interior can be seen in the repetition of lines, notably in the fluted and piped details on many of the furniture pieces.
Upon entering the residence, visitors are greeted by a charcoal black fluted door with a warm wood handle. The living space is defined by grey marble floors with auburn (reddish-brown colour) streaks and an ivory-toned limewash plaster finish on the walls.
The walls serve as a backdrop for paintings by artists Shamshad Hussain and Bose Krishnamachari. Adjacent to the entrance is a statement bar console featuring a fluted stem supporting a textured marble surface in black and white.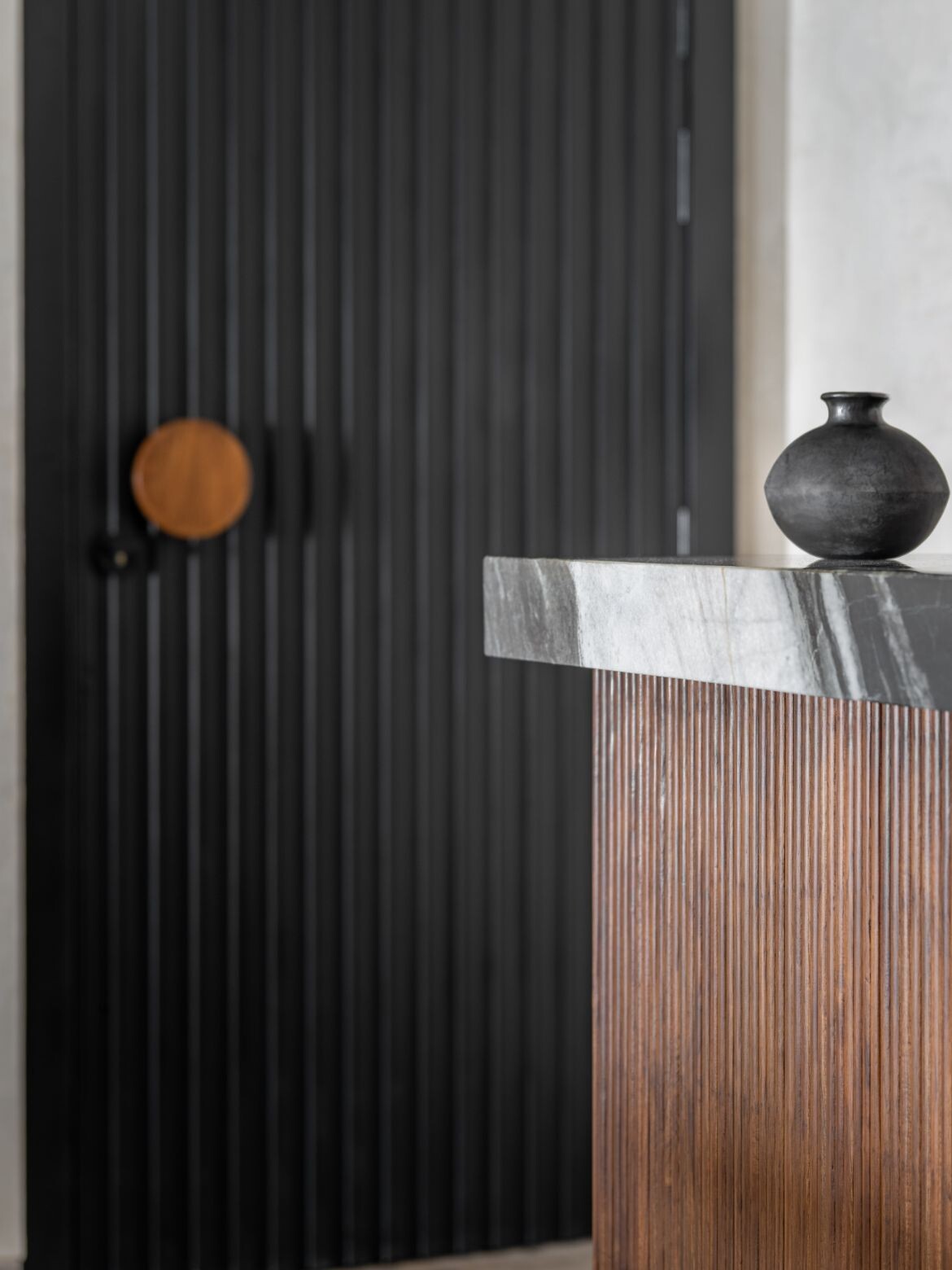 The main living area maintains a monochromatic palette of textured ivory sofas and lounge chairs with black pipe detailing. These furniture pieces encircle an all-marble coffee table by Eter Collective. A large art piece by Bhuwal Prasad further enriches the space bordered by a wall-to-wall window overlooking the Arabian Sea.
The dining space is adjacent to the living area, featuring a sleek table supported by cylindrical stems and stripe-upholstered chairs. The wall behind the dining table is adorned with art pieces by Sakti Burman and Krishen Khanna, along with a statement wall plate from Fornasetti. The kitchen continues the monochromatic theme with light grey finishes on the dado and overhead shutters, contrasted by wood-finished drawers beneath the counter.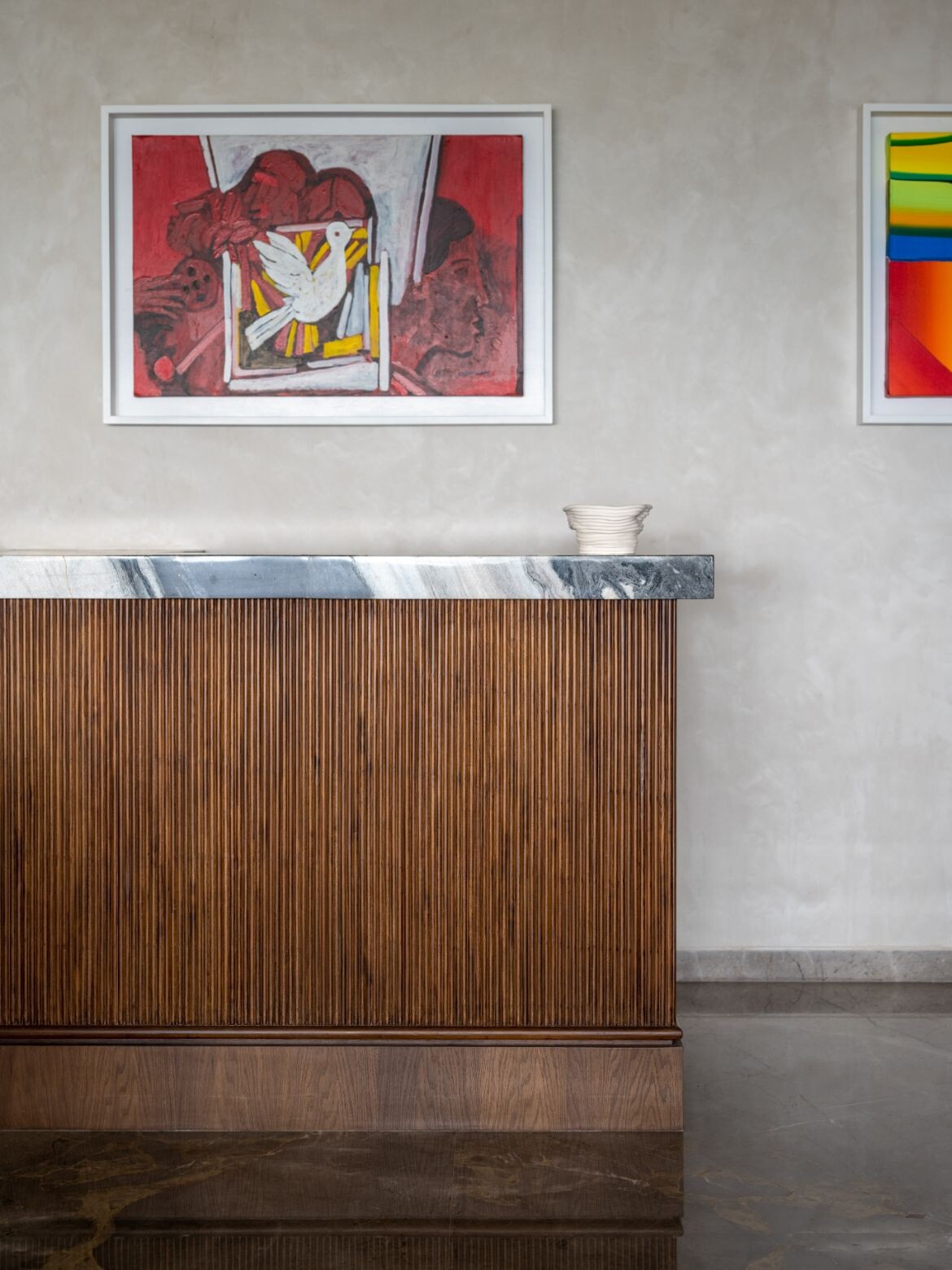 The apartment also includes a main bedroom and a multifunctional guest room. Both rooms have off-white walls and panelled wooden flooring. The main bedroom is furnished with a beige bed, art frames featuring sewing machines by Art Chain India and black side tables. Wall-mounted light fixtures add a contemporary touch to the room.
Material selection is a significant aspect of the project's design. Large swathes of polished concrete are met with textural plastered walls, changing to the large format timber flooring in the bedrooms. A viola Calacatta stone makes for a statement element, introducing a subtle hint of colour, alongside styling elements that bring a boldness, such as the striped chair upholstery. The kitchen splashback tiles are equally textural but not overpowering in a cream tone.
Throughout the Sea House, the neutral aesthetic is a backdrop for the curated art collection and the natural beauty visible from the residence. The apartment accommodates various functional spaces, including a spacious living area, a dining zone adjacent to the kitchen and a pair of balconies.
Project details
Interior design – Quirk Studio
Photography – Kuber Shah