Nowadays, peel and stick wallpapers also known as self-adhesive or removable wallpapers, are a great way to give any room or home a fresh and modern look without spending much time, effort, and cash as well. And with the rise of minimalism and demand for accent walls, peel & stick wallpapers have become top-notch choices for every homeowner. 
But if you're one who is first time shifting to peel and stick wallpaper to create stunning accent walls, and doesn't know much about the things, then this guide is especially for you. In this article, we have discussed a step-by-step procedure on how you can proceed with self-adhesive wallpapers without any hassle. 
Step-by-step Guide to Peel & Stick Wallpaper for Accent Wall
As a newbie, you just need to carefully all the steps in order to quickly apply removable wallpaper to accent walls. 
Choose a Good Quality Peel & Stick Wallpaper
source: pinterest.com
First of all, you need to opt for good self-adhesive wallpaper. There are several different brands available online offering decent removable wallpapers at affordable prices. One of the most popular names in this category is Giffywalls. This brand offers a range of wallpapers in different colors and prices, so you need to decide what type of accent wall you're going for based on your personal preferences and room requirements. 
Tip: When choosing – you need to consider the existing décor of the room and the overall size of the wall you want to cover with wallpaper. You can either consider going with a bold pattern or subtle texture wallpaper. 
Gather necessary tools
You will definitely need some tools to get the job done. 
Damp cloth

Mild cleaner

A measuring tape

A pencil

Obviously, a peel and stick wallpaper

Tool for plastic smoothing

A utility knife
Decide how much wallpaper you will need
Once you have chosen the wallpaper, it's time to figure out how much wallpaper you will need in order to properly cover the required wall. So, you will need to take measurements of the wall on which you want to apply the self-adhesive wallpaper.
There are multiple ways to ensure how much paper you will need to cover the wall. One is by utilizing online wallpaper calculators, and the other and most commonly used way is by using a measuring tape. 
Note: Keep this in mind, peel and stick wallpapers rolls are usually shorter as compared to regular wallpaper rolls. So, it would be good if you manually take the measurements by yourself because there are some online calculators that don't take length into consideration, which will further underestimate the number of rolls needed. 
It's time to prepare the Wall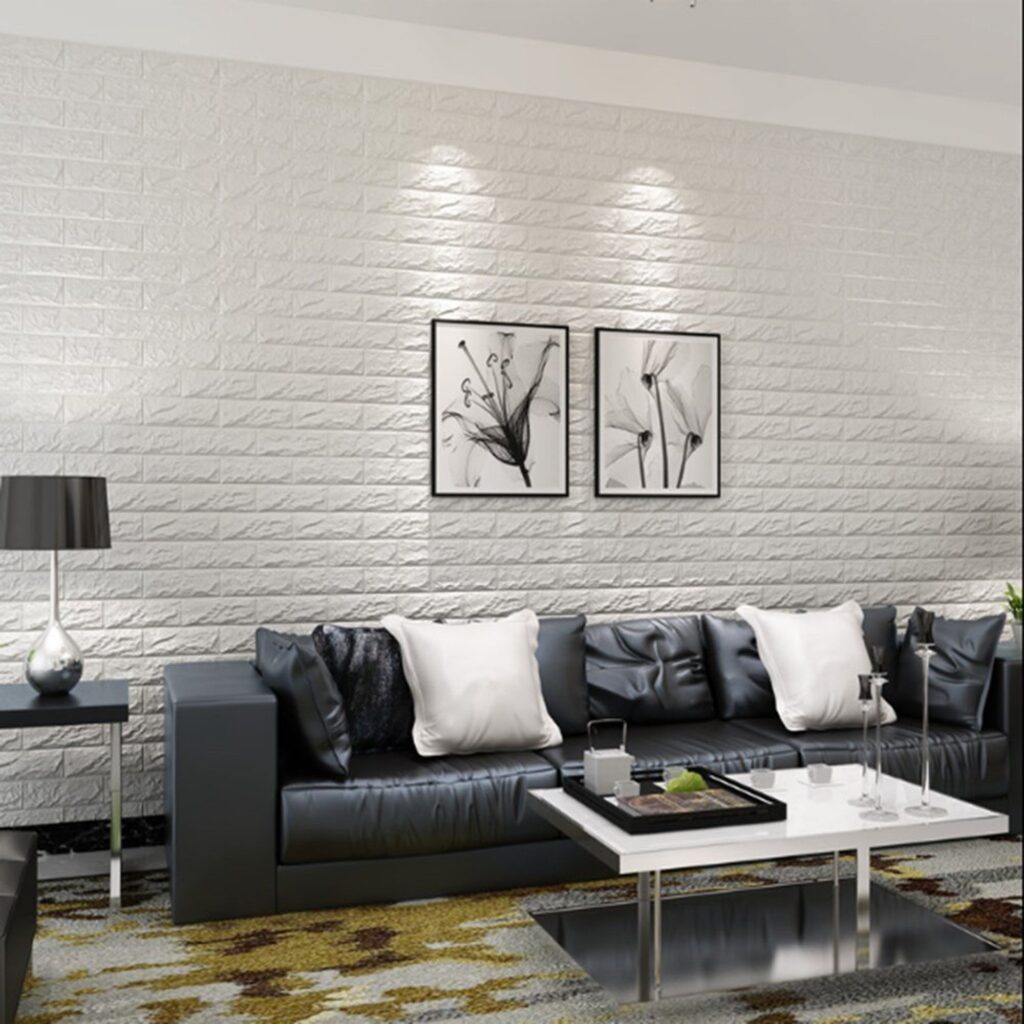 source: pinterest.com
Before you start applying wallpaper to the wall, you will need to first prepare the wall. Start by cleaning with a damp cloth (you have gathered the necessary tools) to remove dirt and debris from the wall. When done, you can also apply premier or sealed, although this is not necessary to follow. 
Plan the layout of the wallpaper
Once you have cleaned up the wall, it's time to determine which layout you will follow while applying wallpaper. You need to measure the overall length of the wall and then divide by according to the width of the wallpaper strip. This will further help you determine how many wallpaper strips you will need for the entire wall.
For accent walls, you have two options for how you lay out the wallpaper. One is by starting from the left side with a full strip and going all the way across to the right side, where the last wallpaper strip will apply. The second option is centering the pattern strips in the middle of the wall and then add two equally cut strips on both the left and right sides.  
Make a guide to efficiently apply the first piece of wallpaper
Since you have already taken the measurements of the wall, it's time to transfer these measurements onto the wall with the help of a pencil. You can use a straightedge tool to draw straight lines quickly and efficiently. Doing this will help apply the first strip of wallpaper straight. 
Match Patterns for Seamless Look
source: pinterest.com
To make sure your wallpaper looks smooth and neat, you need to spend time and effort aligning the patterns on each strip. 
Instead of removing a lot of backing at once, it's better to start by pulling away a few inches of the backing at the top of the strip. Then, gradually pull away more backing along the edge where you're matching up the pattern, making it easier to get a seamless look 
Smooth the applied paper
After applying each strip on the wall, you need to smooth it with a plastic smoothing tool. Although, you can also perform the smoothing process with your hands, which will be more sufficient.
Trim off the additional paper
With the help of a utility knife, you can trim off the additional paper. It is good to leave the paper about two inches extra when you trim, so in case you need to pull up the paper or reposition it; you don't have to worry about the shortage of paper. 
Carefully work around the windows and other outlets
source: pinterest.com
While applying paper to the wall, if you reach a window, door frame, lamp, or any other outlet, then let the paper overlap that item; just focus on applying the paper. Once it is done, again utilize a utility knife to cut off the excess paper. 
When dealing with electrical outlets, make sure they are turned off. When cutting excessive wallpaper near the outlets, there are strong chances you may end up making rough edges of small holes in holes. If this is the case with you, then don't get worried because the cover of outlets will mostly cover. 
Tip: For a classier look, you can consider applying the paper to flat plates of the outlets. 
Look for the air bubbles
After applying paper to the wall, you need to carefully check each piece that you have hanged to make sure it is free from air bubbles. If any air bubbles are found, use your thumb to press them down. However, if this solution doesn't work for you, then keep trying again and again. Do not try to use the smoothing tool because it may stretch the paper. 
Enjoy your accent wall
Once you have completed all the steps mentioned above, you can sit back and enjoy your beautiful peel and stick wallpaper accent wall. 
Conclusion
source: pinterest.com
Creating an accent wall with peel and stick wallpaper is a great way to add style and character to your home. With its easy installation and removal, it is great for those looking for a quick and easy DIY project. With a few simple steps mentioned above, you can have a beautiful accent wall that will last for years to come.
FAQs about Peel and Stick Wallpaper for Accent Walls
Can you use peel and stick wallpaper on the accent wall?
Yes! You can use peel and stick wallpaper on accent walls. An accent wall is a great way to add a pop of color to a room and make it stand out. You can choose a wallpaper with a bold or subtle pattern or even a solid color to give your accent wall a unique look. 
What should you do if the wallpaper starts falling just after hanging it?
The main problem behind falling paper just after hanging can be a dirty wall or incorrect application. So, you need to clear the wall properly before hanging wallpaper on it. 
How the maximum lifespan for peel and stick wallpapers?
Peel and stick wallpaper can last for years if it is installed correctly and taken care of properly. The adhesive is designed to be long-lasting and will not degrade over time.
What are the benefits of using peel and stick wallpaper for accent walls?
Peel-and-stick wallpaper is a great option for those looking for a quick and easy way to update their home. It is easy to install and remove and can be used to create stunning accent walls without the hassle of traditional wallpaper. It is also great for renters who may not be able to make permanent changes to their walls.