Architizer's Vision Awards is celebrating the innovative minds propelling architectural visualization forward with a special AI-Generated Visualization Category. Learn more and start your submission before the Early Entry Deadline on May 5th.  
You've probably heard by now: the AI revolution is well and truly upon us. And while it doesn't quite resemble Spielberg and Haley Joel Osment's 2001 vision, it's clear that AI is moving in, and its moving in faster than your first love into that studio apartment you used to have.
While some industries rush to bolster their roles and justify their positions as AI proves that, in many instances, it can comfortably complete tasks to the same and often higher standards than its human counterparts, architects and the design industry as a whole are pondering with enthusiasm, how we can most effectively adopt this groundbreaking technology to explore, enhance, and streamline our practice.
Change is daunting, and it's safe to say we're on the cusp of one of the most significant workflow conversions many of us have ever experienced, perhaps since the transition from drafting to CAD. So, in case you feel like you're out of your depth or just haven't yet had the time to explore the wonders of Midjourney, we thought it was important to show you why and how AI can be used to support your creative vision.
Let us start at the beginning. Midjourney is the brainchild of David Holz, the visionary mind behind Leap Motion. The company is a pioneering research lab that specializes in text-to-image AI technology. It offers a refreshingly simple and user-friendly interface through a platform named Discord. Users can seamlessly communicate with the AI "bot" using elementary commands without any coding experience whatsoever (phew!). The mission is to "expand the imaginative powers of the human species." To say this tool has been popular is an understatement: The new company is making an indelible mark in the AI realm and proudly announced its profitability within a month of its open beta release in 2022.
Now, where does architecture come into all this? Well, as we all know, as architects and designers, we regularly use imagery to express our vision, harnessing photographs, sketches and all sorts of visual aids to interpret and represent our ambitions. Yet, it can be tricky when the thing in your head doesn't exist yet; how can you show what you mean using vague and abstract similarities, especially if your vision is unique? It's the skill that has separated the good designers from the great designers, and Midjourney is here to make you even better.
Midjourney offers a groundbreaking solution to some of these challenges by incorporating AI-generated images into our design process, we can dictate our thoughts using descriptive language to generate images that can loosely interpret our ideas. I say loosely because, understandably and thankfully, in my opinion — AI can't read your mind. Your images are only as good as your descriptions, and even then, often, the results are far from what you imagined. However, we're still in the early stages and with time, practice and further technological development, these things will surely improve rapidly.
So down to the fun part, how do we actually use it? Honestly, it's pretty simple once you've gone over it a couple of times. Midjourney has been designed to be user-friendly, and it takes only a few steps to create your first image.
To begin your adventure with Midjourney, simply follow these steps:
1. Install Discord and create a free account.
You can use a desktop or a mobile device. I've found the mobile interface a little more comprehensive for novices, but both work equally as well.
---
2. Visit Midjourney's website and click on the "Join the Beta" to be given access to their Discord channel.

Once you're all set up, head back to Discord and from the list on the left-hand side, locate the Midjourney Channel (a white icon with a sailboat) and select a Room in the Newcomer Rooms section within the channel.
These channels are available to use without any sort of subscription while your first getting started. Your free trial gives you about 25 image creations to start out. Subscriptions start at $10 a month, depending on your requirements.
Be aware that these rooms are public, so everyone else in the room can see your creations.
---
3. Activate the AI bot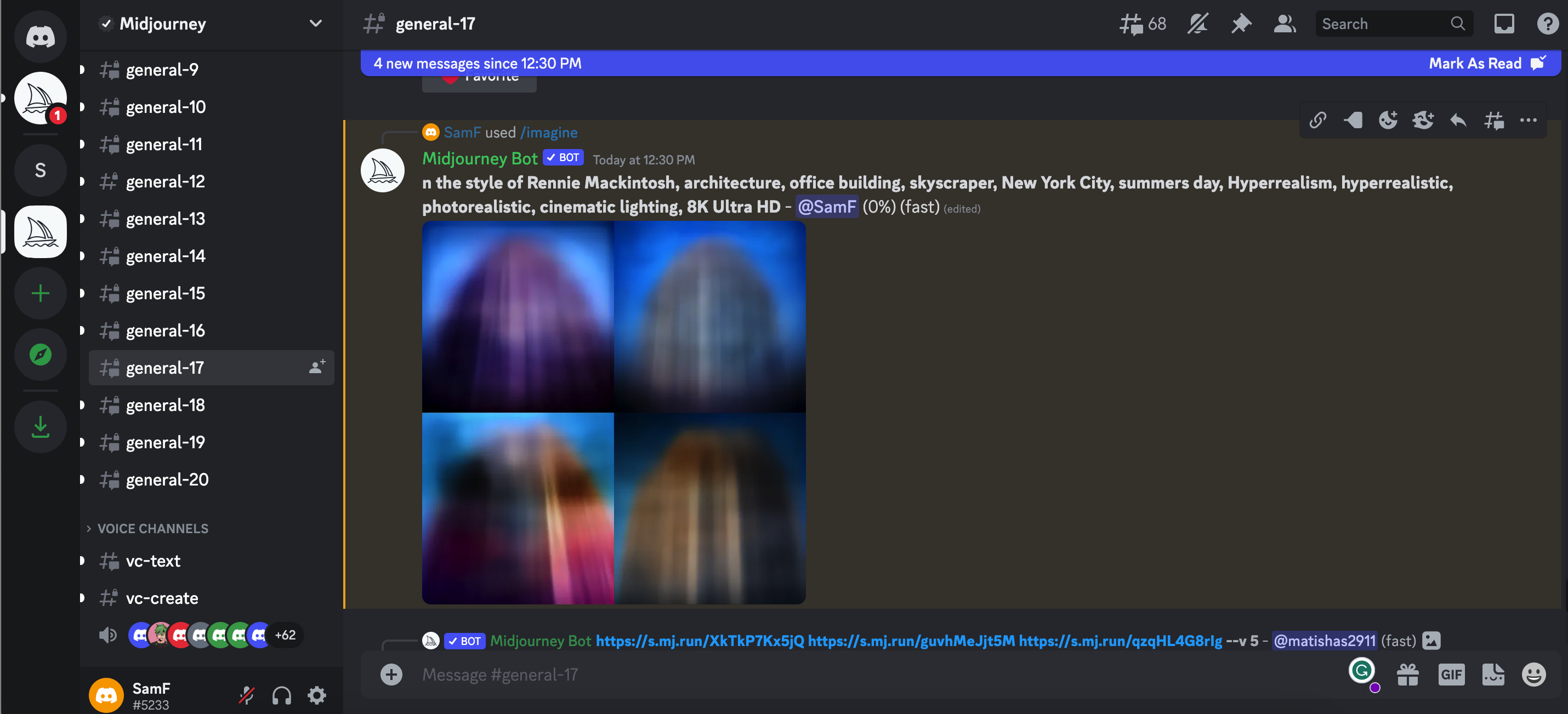 Once you're all set up and settled in, you can get started by typing "/imagine" into the messaging bar at the bottom of the conversation window, followed by a spacebar. This starts your "prompt" and you can let your imagination go wild from here. Enter any descriptive words that come to mind, and let the magic unfold as the program renders an image based on your input.
---
4. Select your preferred image
Midjourney will give you a grid of four images with several commands beneath it. U means "upscale," and V means "Variation." Upscale will provide you with a better quality and larger image. Variation will give you an additional four images similar to your chosen one. The numbers correspond from left to right. The top left is U1, and the bottom right is U4.
---
5. Keep track of your image in the constantly evolving message
With all the users on Midjourney it's really easy to lose track of your message. If this happens, just head to the top right corner of your window, look for your inbox and hit mentions. Here you'll see all the messages you have been tagged in, including your images, variations and upscales.
---
6. Integrate Midjourney into your creative process
From this point on, you're free to develop and adjust to your heart's content. Simply open up you upscaled image into a browser window, copy the URL, start a new /imagine prompt and post the URL followed by any adjustments.
---
It's that simple. As you hone your prompts, you can develop your technique to get the desired image style you are looking for. A single change of word can create an entirely new set of images.
As the AI-generated images from Midjourney continue to inspire architects worldwide, real-world applications are becoming more common. From initial mood boards to fully realized designs, architects have found new ways to incorporate AI-generated visuals into their creative processes. The innovative approach pushes the boundaries of conventional architectural design, allowing architects to explore ideas faster and more effectively, bypassing the need for exhaustive online image searches.
As we become more familiar with the software, daring architects are venturing even further by crafting AI-encouraged designs, generating photorealistic renderings of architectural structures using Midjourney, and creating 3D models based on the AI-generated concepts. With the development of these models in familiar architectural software, AI generated concepts can quickly become reality. Watch this space!
Architizer's Vision Awards is celebrating the innovative minds propelling architectural visualization forward with a special AI-Generated Visualization Category. Learn more and start your submission before the Early Entry Deadline on May 5th.  
The images used are all author's own.