Cassette stove building – what is a cassette stove?
What is a cassette stove? What are the differences between cassette stoves and other stoves? What does cassette stove building look like? We have answered all those questions below! Read the article to find out more about cassette stoves!
What exactly are cassette stoves?
First of all, cassette stoves are also called hole in the wall stoves, inset stoves or insert stoves. However, it should be pointed out that the cassette stove and inset stove are not 100% the same, as the former take up less space and can be placed at any height. Especially larger models are placed higher up the chimney breast. Additionally, cassette stoves have extra skin of metal around the firebox which makes it possible to trap hot air between the layers.
Cassette stove is a kind of stove that you can integrate into a wall in your home. In other words, such a stove can be inserted flush into one of the walls of your home in order to create, let's call it, a "window" of fire. Such ovens are often purchased in order to replace an open fire.
Cassette stoves – safe and practical burners
source: pinterest.com
Usually there is a metal frame around an inset stove, not without reason. This frame's purpose is to provide an air gap. It really matters. Without the frame, the stove couldn't pull air in from the room and then push heat out into it. 
However, it happens that one air gap is not enough and an additional air supply is required. That's why cassette stoves pretty often feature an external air supply – a small pipe which pulls fresh air into the cassette stove from outside your home.
What else do cassette stoves need? In fact, such ovens require a flue to vent away combustibles and smoke, just like "non-cassette wood burners". Summing up, cassette stoves are safe and practical, as the glass front closes off the fire. They have no flue on display which in practice means that nothing can disrupt the cosy atmosphere in the room.
How to install cassette wood burners?
Cassette stoves are, in spite of appearances, quite easy to build and install. The first thing you need to remember about is ensuring that the chosen wall is of durable masonry construction. An external air connection is also a must, if your cassette wood burner requires one. The same applies to the chimney flue – it is also necessary. 
Make use of fire boards
source: pinterest.com
If you want to install a cassette stove in a place where there's no existing chimney breast, you ought to use fire boards. They are also useful for new constructions. Generally, some fire-resistant boards are created for construction where proper insulation is needed. Others are used to redistribute and store the heat.
Fireboards have high-temperature resistance even up to 1100 C. They are mechanical stable and lightweight. They can be processed with wood tools such as hand saws. You can easily cut, drill, and ground them – thanks to that, it's easier to go through the construction process.
You won't find any asbestos and gypsum inside a fireproof board. Fire boards aren't toxic, and they don't have a negative impact on the environment. They are great both as an insulation and construction material. They are perfect decorative covers for stoves and fireplaces.
Installing a cassette stove in a nutshell
Once you choose the ideal place on your wall, and you buy the right materials, you can start building your own cassette wood burner. Start with removing the door. Then, get rid of the liners and the throat plate. The next step is assembling the grate bars.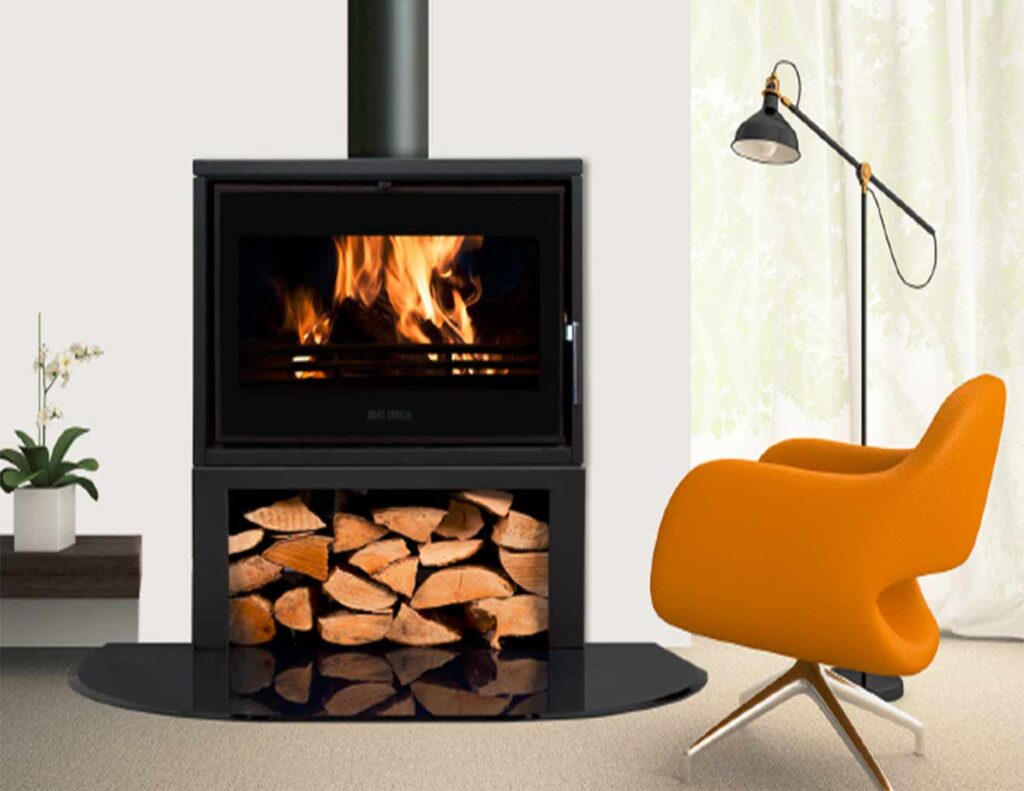 source: pinterest.com
After that, it's time to fit the spigot outlet to the stove. Don't forget to connect the previously mentioned spigot outlet to the flue system! Then, you ought to ensure combustion air connection. What you also need to do at this point is to seal your stove to the fire surround. Then, just fit the surround trim and commission the stove! 
Summary
Cassette stove is definitely a stove worth having. It can really add charm to the interior. The main difference between this kind of oven and other ovens is that it can be integrated into the wall and create "a window" of fire. It can be placed at any height, which is an additional advantage. Building is not difficult, and you should at least try to do it on your own. If you prefer to use the help of a specialist, of course you can do it. Anyway, we wish you success in achieving the goal – your own, ideal cassette stove!