Architects: Want to have your project featured? Showcase your work through Architizer and sign up for our inspirational newsletter. 
What do we picture when thinking of live music and architecture? A grand symphony hall? Historic backstreet bar? Modern eco-friendly arena? All the above?
These buildings feature heavily on the global touring map — pumping lifeblood into grassroots scenes and offering superstars a home big enough to fit thousands of fans. But some of the most innovative designs for music spaces couldn't be further removed from those models. This collection celebrates experimental outdoor music venues. Structures that ignore fundamentals like four walls, roof and stage, instead framing themselves against location, bringing artist and audience closer together, and blurring lines between the two by encouraging public participation.
Open-ended possibilities realized through a less-is-more approach, the projects below prove it's possible to make a big impact and bold statement with limited resources, minimal materials or both. They also call to mind the uneasy relationship between art, place and permanence: the persistent challenge of safeguarding creative sites from the unforgiving march of development.
---
By: REgroup, Lockeford, USA
Popular Choice, 8th Annual A+Awards, Popups & Temporary
Not to be confused with Saudi Arabia's linear megacity, The Line references two traditional concert elements —  performance and procession. These are visualized as connected, one and the same, yet also distinguished by vertical and horizontal sections.
This pared back blueprint not only supports multiple event types, it looks to inform content, challenging producers to innovate and develop ideas specifically to utilize the unique blank space. Impressively, the whole thing is mounted on pier stilts, meaning footprint on land is kept to a minimum and the venue can be removed or relocated, almost without trace.
---
Addressing the need for world-class event facilities in its namesake Red Sea resort, Architizer's 10th Annual A+ Awards finalist El Gouna Plaza is not strictly an outdoor venue. The complex, based on traditional Middle Eastern and Egyptian architectural lines, actually comprises a 600-seat concert hall and 2,000-capacity conference centre.
Nevertheless, the open-air square — hemmed by a water feature, regional landscaping and imposing colonnades — offers arguably the most spectacular stage, setting artists against a backdrop of the desert town.
---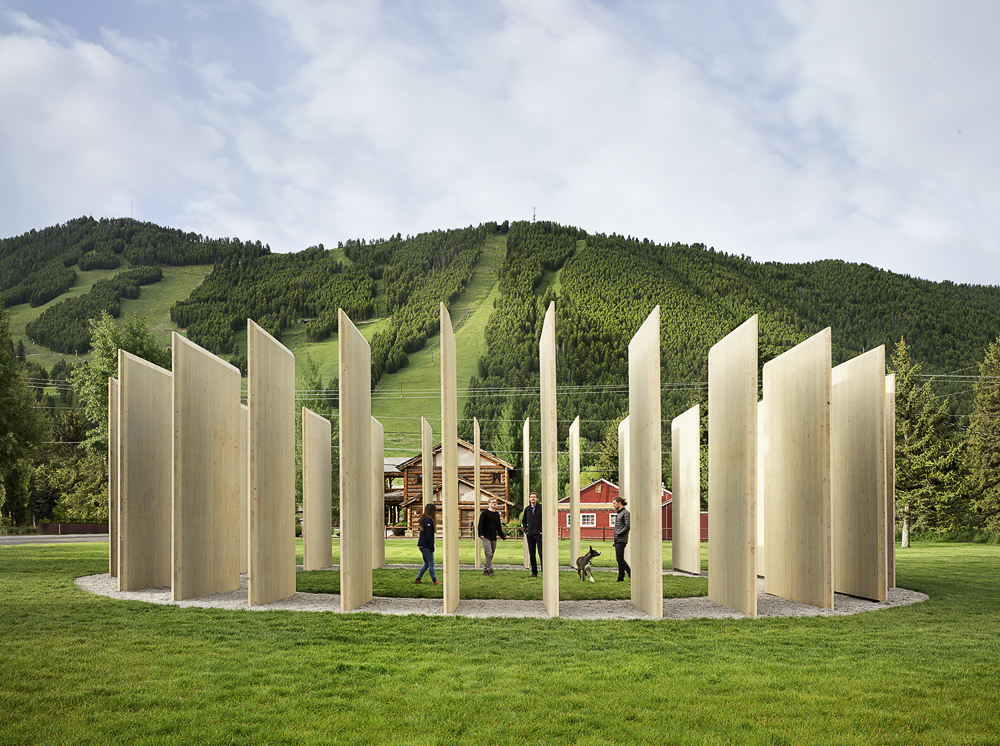 Sat on the lawn in Center Park, a sprawling green realm at the heart of Jackson, Wyoming, Town Enclosure scores twice. Firstly, it presents as an artwork in itself, a simple but striking sculpture taking an aesthetic lead from placemaking symbols commonly found in the nearby mountains.
Secondly, it acts as a site for community performance and open-air expression of any kind. Built from vertical cross-laminated timber wall panels, it's always open to visitors, so residents can use this place for anything from impromptu gatherings to planned concerts.
---
By: BDP, UK, Greater Manchester
Manchester International Festival (MIF) is a renowned biennial predominantly showcasing world premiere work. For 2011, the event and architectural partner BDP opened a musical playground, primarily aimed at children, in the heart of MediaCity — a creative industry-dominated district built on old docklands in Salford.
Featuring an array of 78 steel shipping containers stacked three-high in irregular patterns, delineating from typical freight forms, sail-like fabrics, wire rigging and cargo tarpaulin emphasise the former-port locale and protect from northern England's unpredictable summers. At street level, open units allow visitors to step inside where they can play or watch performances.
---
Part of 2019's Los Angeles Design Festival, Space for Spontaneous Singing is a product of the event's theme: Design With Purpose. It also pays homage to the city's reputation as America's capital of music and performance, and a magnet for hopeful talent.
Taking over a 20'x20' section of a parking lot, 12 circular 'stages' made to look like showers, cast from cooking pots, are installed, each with microphone and privacy screen, the latter doubling as night lighting. Passersby can stop and burst into song, or watch others seize their moment.
---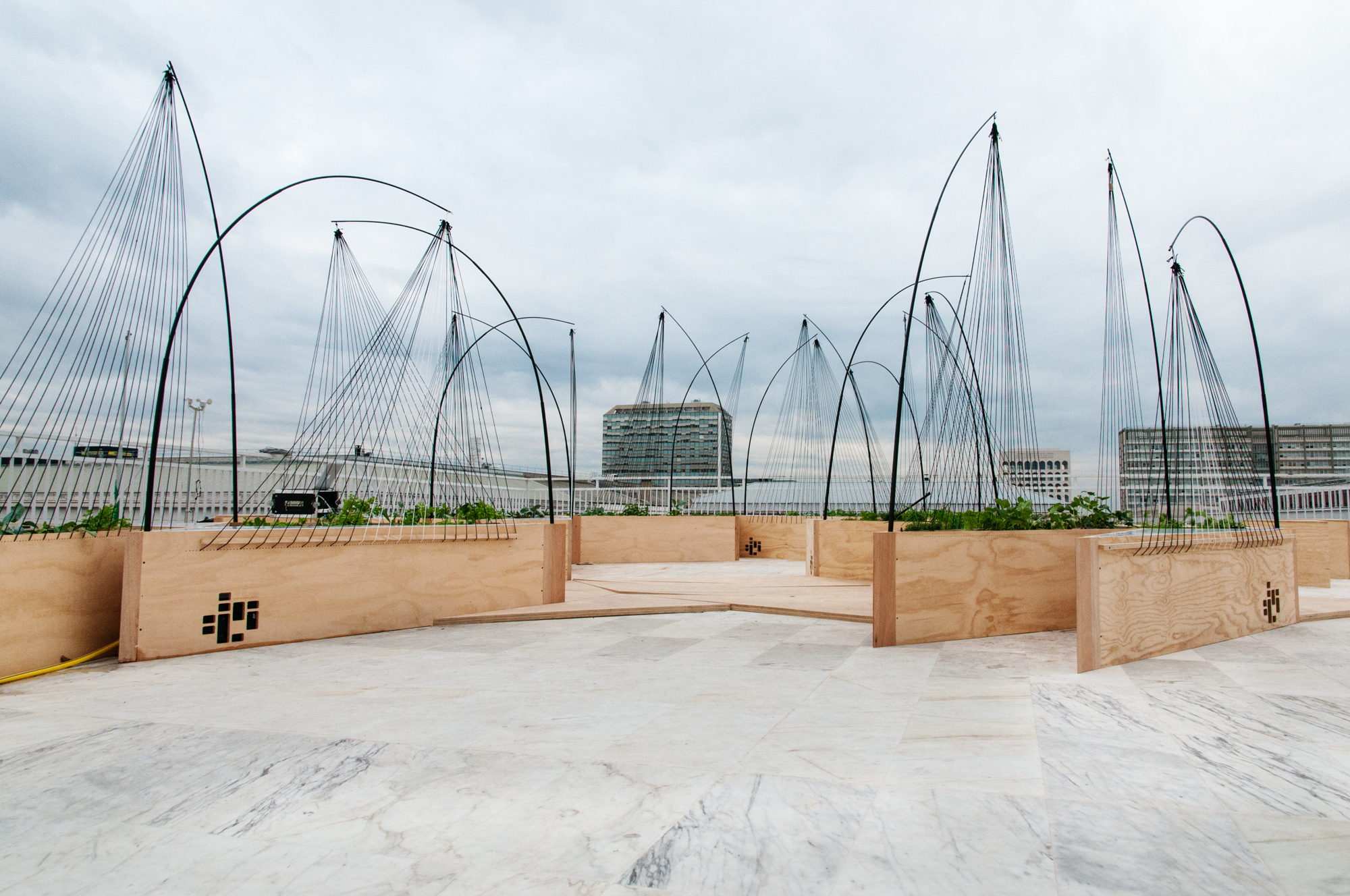 First presented at Rome's Maker Faire, St Horto answers the question, 'When is a public park not just a public park?' A community garden, architectural showpiece and musical experience, 31 uneven triangular areas act as individual micro-playgrounds and cultivation zones.
Every section features sonic harps attached to sensors, with some flora also wired for sound. When touched, any of these elements emit musical notes which can be played in harmony. An on-site weather station modulates the noises, with variations in wind speed, temperature, and humidity triggering effects like echo and reverb.
---
Developed with composer Charles Kwong, Impromptu Projects transformed a corner of Hong Kong Zoological and Botanical Gardens into a continuously evolving performance space void of defined entrance and exit, simultaneously positioning artist and audience inside and outside the venue.
Utilizing principles of biophilia and landscaping in a strong nod to location, and reliant on exploration, flowing bamboo scaffolding set at varying heights and angles moves concertgoers along. During this journey, they meet members of the Hong Kong New Musical Ensemble, whose instruments sound different depending on the listener's position.
---
Eight identical wooden triangular modules made of easy-to-assemble parts — floor, supports, and wall/roof — reflect the civic structures of South America's indigenous Yanomami community. Constructing their settlements from circular timber and leaf buildings in the round, rituals take place in the middle.
Party Temple uses a similar principle and only slightly adapts the purpose. Together, the units mark out a clearly defined dance floor area, providing protection from elements like sun and wind. The result is in an ideal setting for festival stages and outdoor club events.
Architects: Want to have your project featured? Showcase your work through Architizer and sign up for our inspirational newsletter.