Architects: Want to have your project featured? Showcase your work through Architizer and sign up for our inspirational newsletter. 
Architects and designers are naturally drawn to public spaces, recognizing their crucial role in creating thriving cities. After all, not only do these spaces inject life and energy, but they also promote social interaction and drive economic activity. Unfortunately, some public spaces can feel uninspired and dull, with too many straight lines and right angles that can be inflexible and outdated.
That's why we're thrilled to see a surge in organic, curvaceous designs that offer a more visually captivating experience while providing a range of benefits, from more intuitive wayfinding to a calmer and more natural atmosphere. Naturally, architects have embraced this trend, resulting in some truly interesting public space designs. So get ready to explore seven public spaces that embrace the curvaceous, the circular and the organic.
---
By 3deluxe, Kaunas, Lithuania
Situated in a historical square, the V-Plaza boasts an irresistible, organic arrangement that effortlessly interlinks different levels of the square. It's the perfect spot to cater to the modern mobility wave, welcoming cyclists and scooter riders to cruise through the space. And when visitors are ready to take a break, they can enjoy the tranquil oasis of green spaces, water features, cafes and restaurants, offering a refreshing pause before continuing their journey. With its curvaceous design, V-Plaza offers unparalleled visual delight, creating a seamless connection between all its elements and making it a unique and unforgettable experience for its users.
---
By Cobe, Copenhagen, Denmark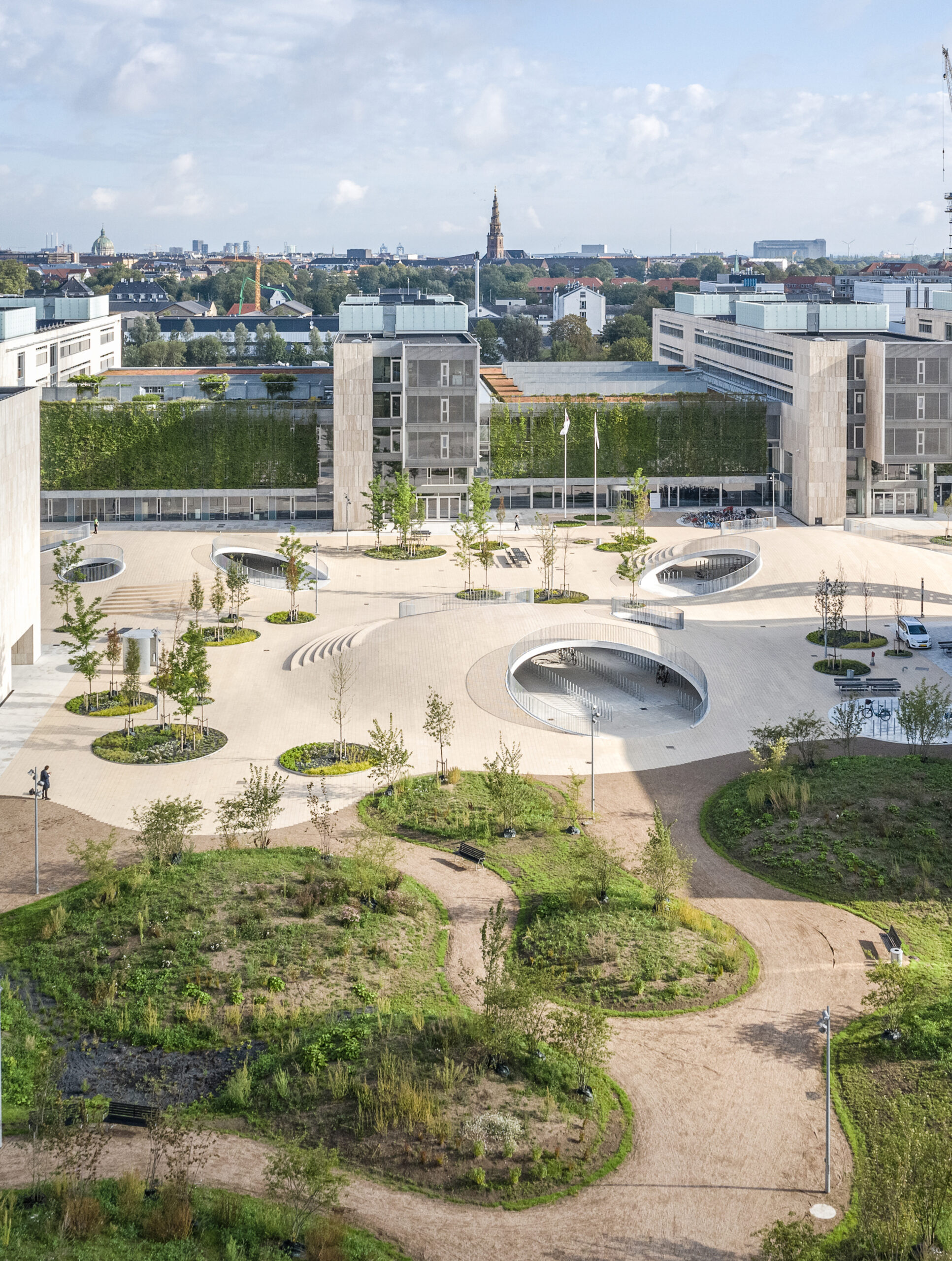 This vibrant public space in the heart of Copenhagen merges function, form and sustainability. With over 20,000 square meters (215,000 square feet), it's one of the city's largest public squares and features circular and curvilinear elements that reflect the surrounding topography, providing a unique and intriguing space for everyone to enjoy. Karen Blixens Plads offers over 2,000 bicycle parking spots over three hills, covered in beautiful hand-laid tiles matching the university buildings' colors. But that's not all—the square also has an outdoor auditorium with seating for 1,000 people on the manmade hills. And to top that off, the landscape contributes to climate change adaptation by creating small wet biotopes that support biodiversity and can handle stormwater.
---
By Nendo, Tenri, Japan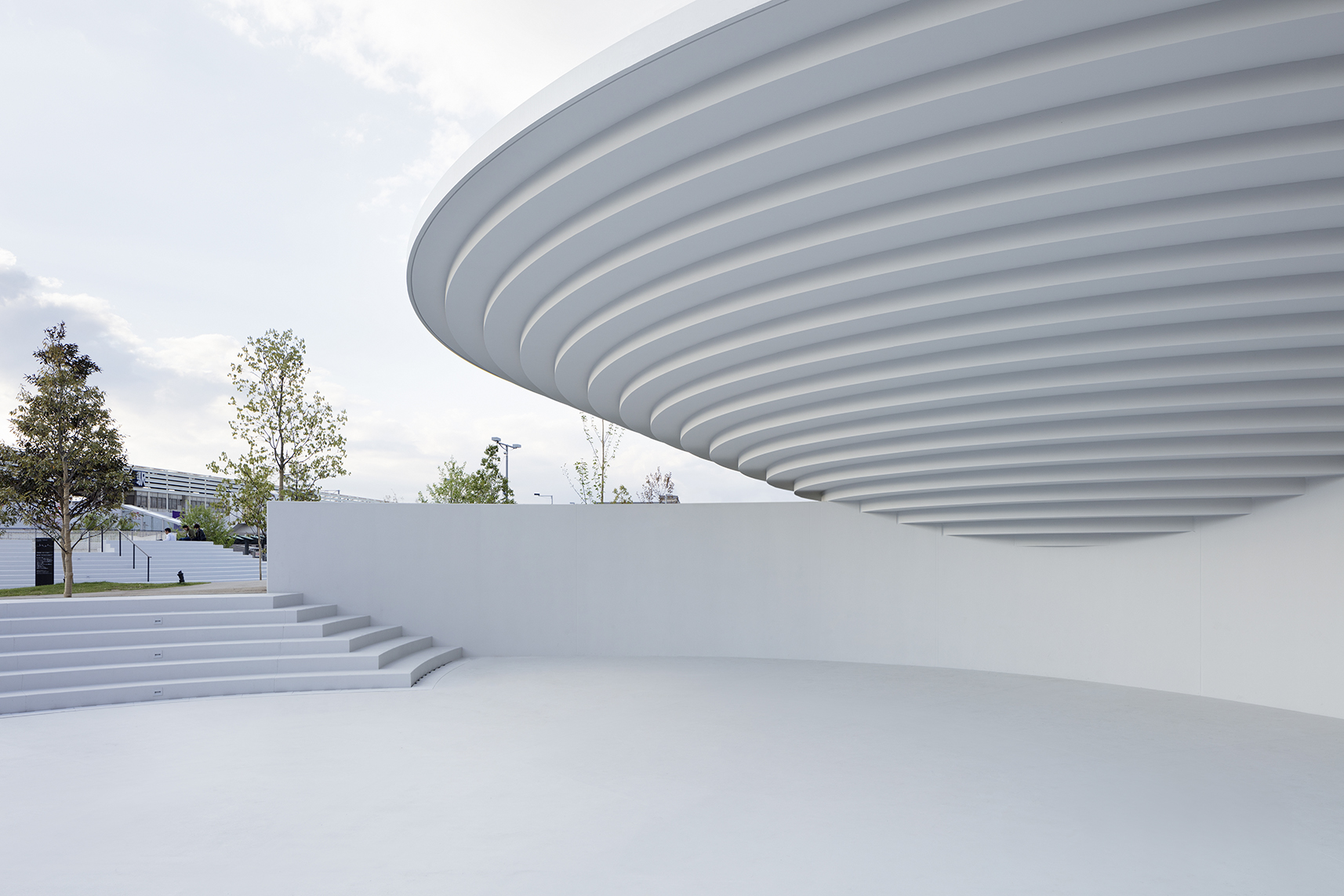 The Tenri Station Plaza CoFuFun is a captivating and distinctive design featuring spinning top-like pavilions made of precast concrete. These circular pavilions were inspired by ancient imperial tombs and offer stability from any direction without requiring columns or beams. They serve multiple purposes, from seating to retail displays to child fences. Additionally, the stairs leading visitors to different areas within the plaza create an environment for exploration. The surrounding landscape also reflects the circular shape of the pavilions, creating a cohesive and fun public space.
---
The Ali Ibn Hamzeh Bridge project in Shiraz is a remarkable example of challenging the traditional function of a bridge and transforming it into a multifunctional public space with great potential for further development. Walking across the bridge, you will be enchanted by the circular shapes that seem to have no beginning or end, providing an immersive experience that can easily make you lose track of time. In addition, the circular forms allow unrestricted vision, enabling visitors to enjoy a panoramic 360-degree view of their surroundings. Ashari Architects discovered a valuable lesson during the creation of the Ali Ibn Hamzeh Bridge project: even seemingly repetitive projects can be transformed with innovative and unique solutions.
---
This innovative project transformed a 30-acre post-industrial waterfront into a resilient and program-rich public space. The park features a variety of recreational activities, including a central green space enclosed by a pavilion and café, an urban beach, a rail garden, dog runs, play areas, a waterfront promenade and a meandering causeway. The designers of the park took advantage of the site's irregular shape to create circular spaces for intimacy and curvilinear paths for movement. These design elements resulted in a dynamic and unique landscape that provides visitors with a variety of experiences.
---
Root Bench is no ordinary public furniture piece. This circular wonder is a whopping 30m in diameter and was originally a winning proposal in the Hangang Art Competition. With an organic shape that sprouts out from the center like a branching tree, this bench not only creates spatial connectivity but also looks like a piece of art in itself. The circular shape adds an element of fun and uniqueness to the surrounding open park while offering comfortable seating at three different heights. And it was designed using computer algorithms and a reaction-diffusion model. Who knew math could be so creative?
---
The Central Green in Philadelphia's Navy Yard Corporate Center, designed by James Corner Field Operations, features circular shapes that organize the site plan. The outer ring serves as a running track while smaller round patches, each assigned a different function, host performance spaces, seating areas, gym equipment and planted areas. Gravel pathways connect the circles and lead to the surrounding streets, while bright yellow furniture, floor markings and wayfinding posts add a pop of color to the design. The design aims to unite the urban potential of the site with its native habitat, resulting in a sustainable, green and natural environment offering plenty of activities.
Architects: Want to have your project featured? Showcase your work through Architizer and sign up for our inspirational newsletter.