Bringing equal measures of nostalgia and kitsch, River Drive Motel is a labour of love for the owners and designers.
There's a renewed motel on the block – in the heart of South Gippsland alongside the Tarwin River. River Drive Motel opened for business in February by owners, business and life partners Kate Hannaford and Dic Coates of Moth Design, a Melbourne-based event and design agency.  
Spreading across an acre of gardens, the motel has been beautifully restored with five unique self-contained rooms featuring modern bathrooms, kitchenettes, patios and parking; perfect for one, for couples, or families.
"We had these nostalgic memories and beachside holidays as kids, and were looking for somewhere we could do that for people to enjoy their own family adventures," Hannaford says.
The 'holiday nostalgia' theme is woven throughout its very-Australian colour palette, inspired by the surrounding landscape of eucalyptus greens, earth tones and wattle golds.
Carefully considered materials include polished chrome, corduroy, cork and laminate, while warm, hearty hardiness is introduced through custom Victorian plantation hardwood furniture and joinery, along with vintage pieces.
"We wanted it to be fancy and quiet and have that element of luxury, but also not feel like your children are going to break everything that first moment you walk in the door," Hannaford laughs.
Bringing the fun and colour is a curated collection of over 25 artworks by Australian artists, including Kuku Yalanji artist Tiarna Herczeg, Dja Dja Wurrung country-based artist Emmanuelle McGlade and South Gippsland artist, Lucy Hersey.
"We built out a collection of ceramics and paintings like a show in each room, and they are referenced in the little guest books and rotated through regularly," Hannaford says.
Outside, the generous garden is designed around existing, established trees with a communal BBQ space to hang out in, and other small touchpoints including a communal ice machine and classic games in the shed.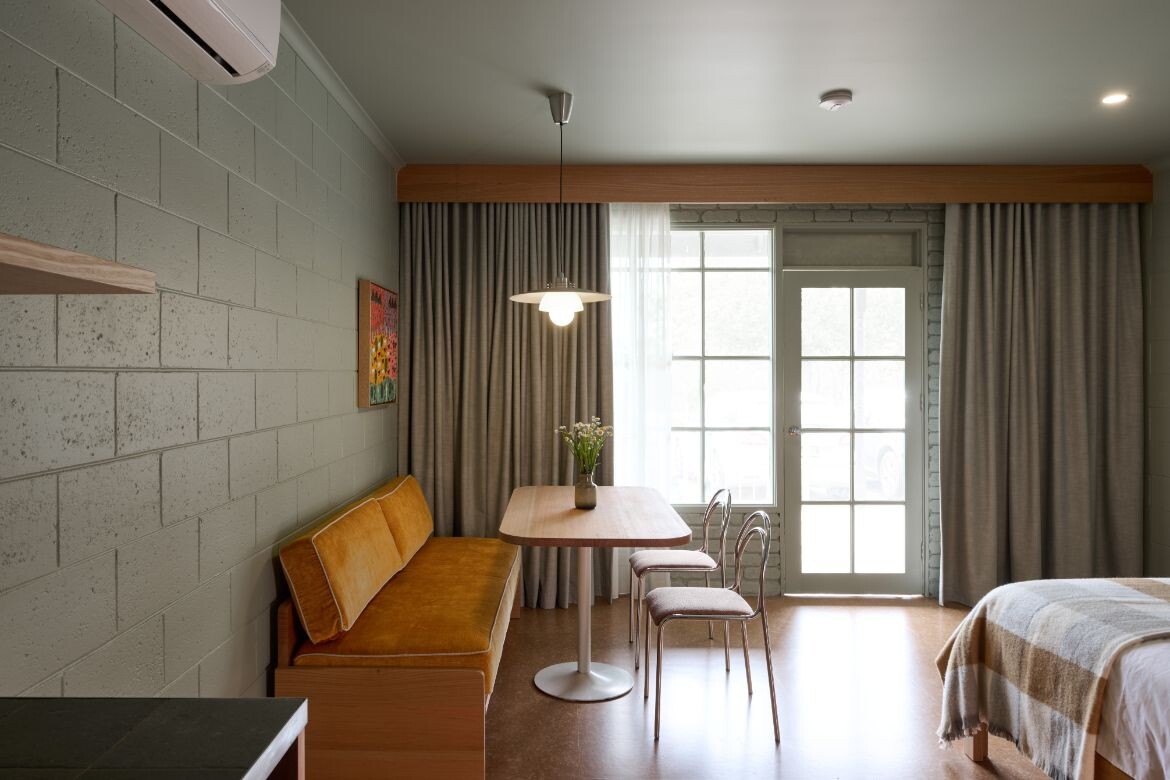 While compact in size, the motel required a big effort, which drew upon the entire Moth Design team during Melbourne's 2021 lockdowns.
"It needed a lot of love," Hannaford says. "We thought it was just an 80s interior, but it was like opening a can of worms."
For example, the slab required major flattening for the cork floor, while the elements worth keeping, such as the Nissen hut roof with 'Scout Hall vibes' had to be configured with those that needed to change, such as the three shopfront façades, garage and office.
Now complete, the motel sits proudly on the main street and Hannaford and Coates are leveraging their event expertise to give back to the Gippsland community.
"We enjoy doing events and bringing people together, and it has been a nice surprise to be welcomed into this small community of Tarwin Lower and South Gippsland," she says. 
They foresee future summers that could involve events for groups hosted in the garden, and continuing to grow support for the artists and businesses featured throughout the motel's spaces.
For example, each room offers a mini bar with a highly considered selection of local products available to purchase, from gin, wine, beer and cider to chocolate and tea.
"The mini bar has been curated so that guests can venture out and visit the home premises of the brands stocked, most of which can be found within the Gippsland region," she says.
The only thing missing is the mini-box of Kellogg's Cornflakes.
Project details
Interior design – Moth Design
Photography – courtesy the designers