From a simple aesthetic refresh to a full bathroom remodel, updating a bathroom can breathe new life into your space. The key to a successful bathroom design is finding the right balance between form and function while creating a relaxing atmosphere.
However, a small bathroom layout can quickly become cramped and uninviting. If you're looking to transform your small space and create a larger appearance, expert design team can help. In this article, we'll take a closer look at five updates you can make to create the illusion of a larger bathroom without changing the entire layout. 
How to Make a Small Bathroom Look BiggerThere are five key areas of your bathroom that you can update to make the bathroom look bigger.
These areas are: Updated Shower Enclosure, Tile, Shelving & Storage, Paint, Decor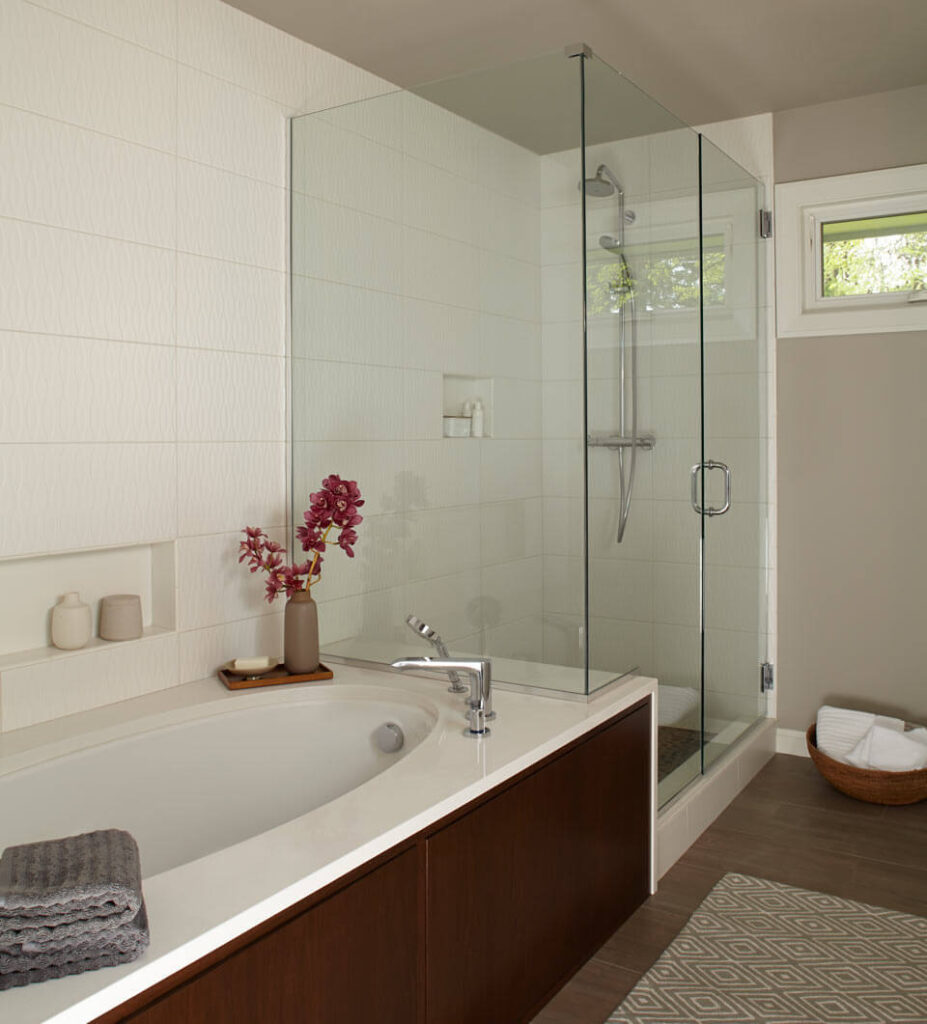 source: pinterest.com
Let's explore each of these updates in detail and explain how they can enhance the size of your space.
Update Your Shower EnclosureThe shower or bathtub/shower combination is often the largest element in a bathroom. However, there are only so many changes you can make without embarking on a full bathroom remodeling project. Consider adding a clear glass frameless shower enclosure or a doorless shower. These updates can create the illusion of a larger space by allowing the eye to travel further. When considering a doorless shower, think about whether the door would open on a sliding track or pivot and which direction it would open.
Update Your Tile Updating your tile is a popular option for homeowners looking to spruce up their bathroom. Placing tile all the way up to the ceiling can create the illusion of a larger space by eliminating gaps between different materials. In addition, lighter colors and smaller tile patterns can create an airy feeling that enhances the size of your space.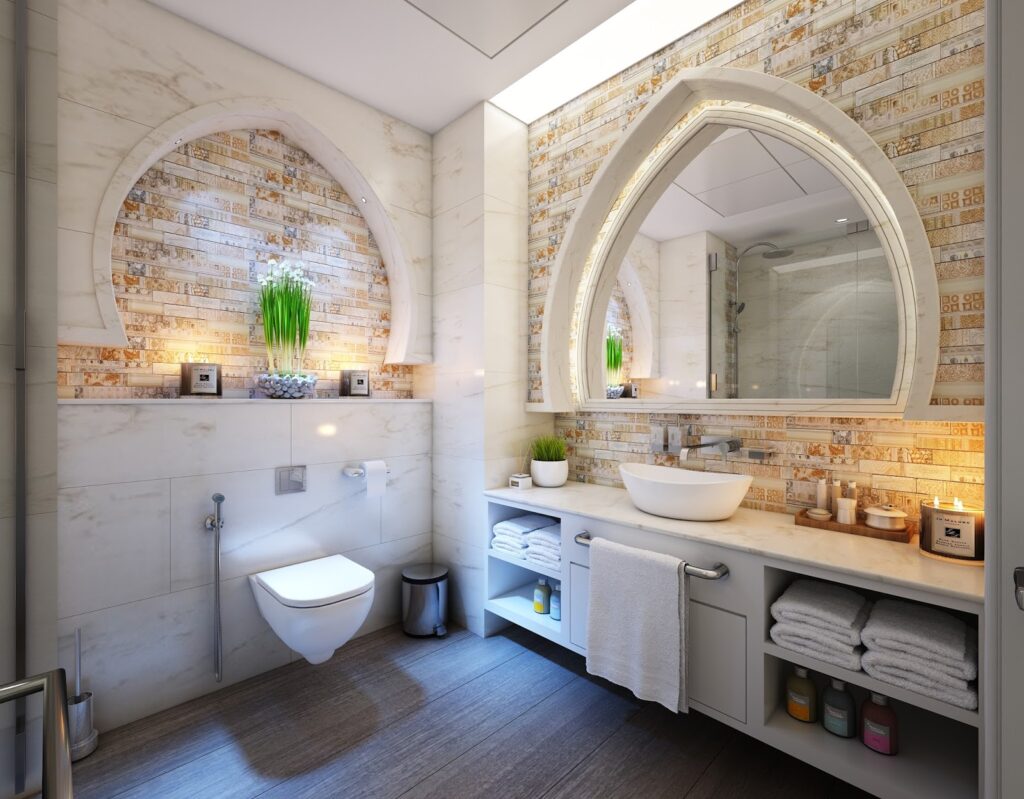 source: pinterest.com
Update Your Shelving & Storage While bathrooms need storage, bulky options can quickly crowd a small space. Consider recessed shelving or hidden storage to eliminate the need for free-standing units. Replacing your vanity cabinet with a pedestal sink can also create the illusion of more floor space, but keep in mind that your countertop space will shrink.
Update Your Paint New paint can be a simple and effective way to update your bathroom. When selecting colors, consider lighter shades that will make your bathroom look larger. However, if you have bright, light-colored accents, you could go a few shades darker on the wall. Additionally, decreasing the amount of color contrast in your space can create a more cohesive appearance.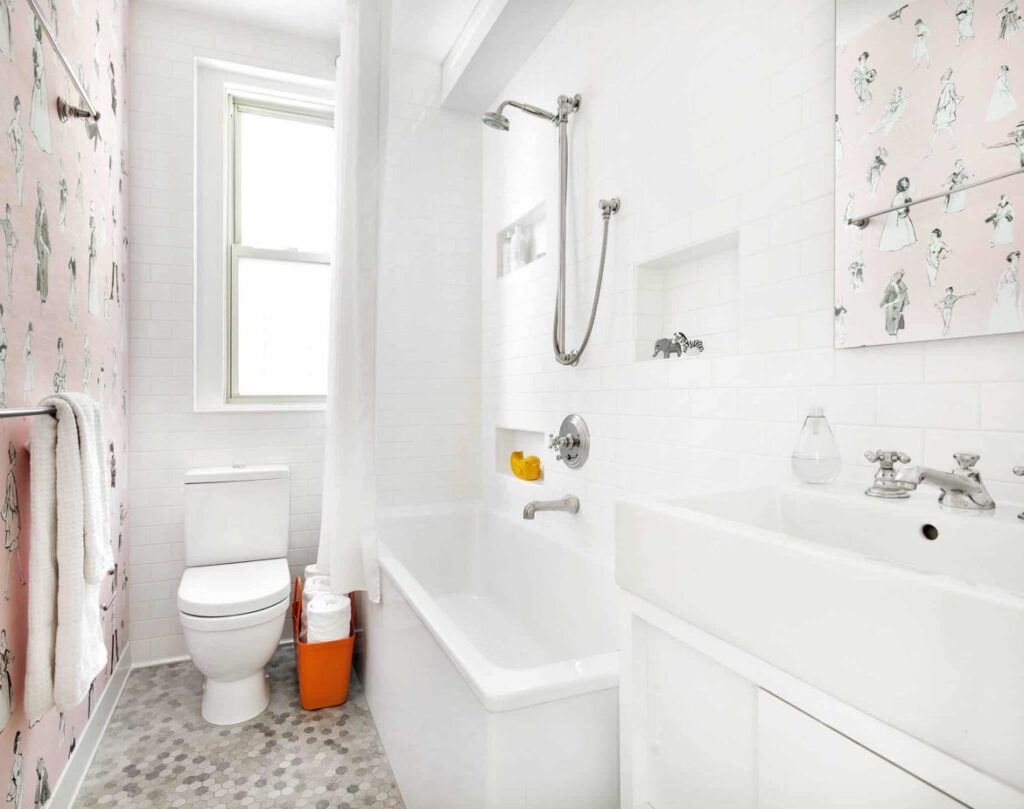 source: pinterest.com
Update Your DecorDecorative accessories can quickly clutter a small bathroom layout, making it appear even smaller. Remember that less is more when it comes to decor. Consider using a larger mirror to create the illusion of more space and reflect more light into the room. Frameless mirrors can add a feeling of more space, similar to clear glass shower enclosures.
Make Your Small Bathroom Look Bigger With the Help of Local ExpertsWhether you have a clear vision or need help exploring your options, bathroom remodeling team can help you create an actionable plan to make your small bathroom look bigger.