Børge Mogensen is a name seen with increasing regularity as his classic Danish designs are as comfortable as they are iconic.
Original Børge Mogensen lounges are a constant at auctions, with original pieces fetching high prices. There are however a lot of "in the style of" and "attributed to" so be careful and be aware that replicas are not to the designer's specifications or quality standards.
That said, while ownership of vintage icons is aspirational, the contemporary pieces made under licence and true to Mogensen's vision are considerably better both in terms of technical construction and material finish, with leather, in particular, benefiting from modern technology. Forestry is an additional beneficiary with all solid wood and plywood being FSC (Forest Stewardship Council) certified.  
Contemporary iterations are moreover, in tune with current aesthetics, with finishes and colours suited to the way we live. Granted, classic natural timber such as oak, walnut and beech will always be favourites, and Fredericia has led the new range of J39 chairs with these, while expanding to introduce pebble grey and khaki green plus a lacquered version of the beech.
Interestingly, the painted versions use a water-based lacquer on beech, meaning the grain of the wood remains apparent and the whole is a softened version, rather than a flat-coloured iteration. In doing so, while colour has been added, the finish remains compatible with the paper wicker of the seat.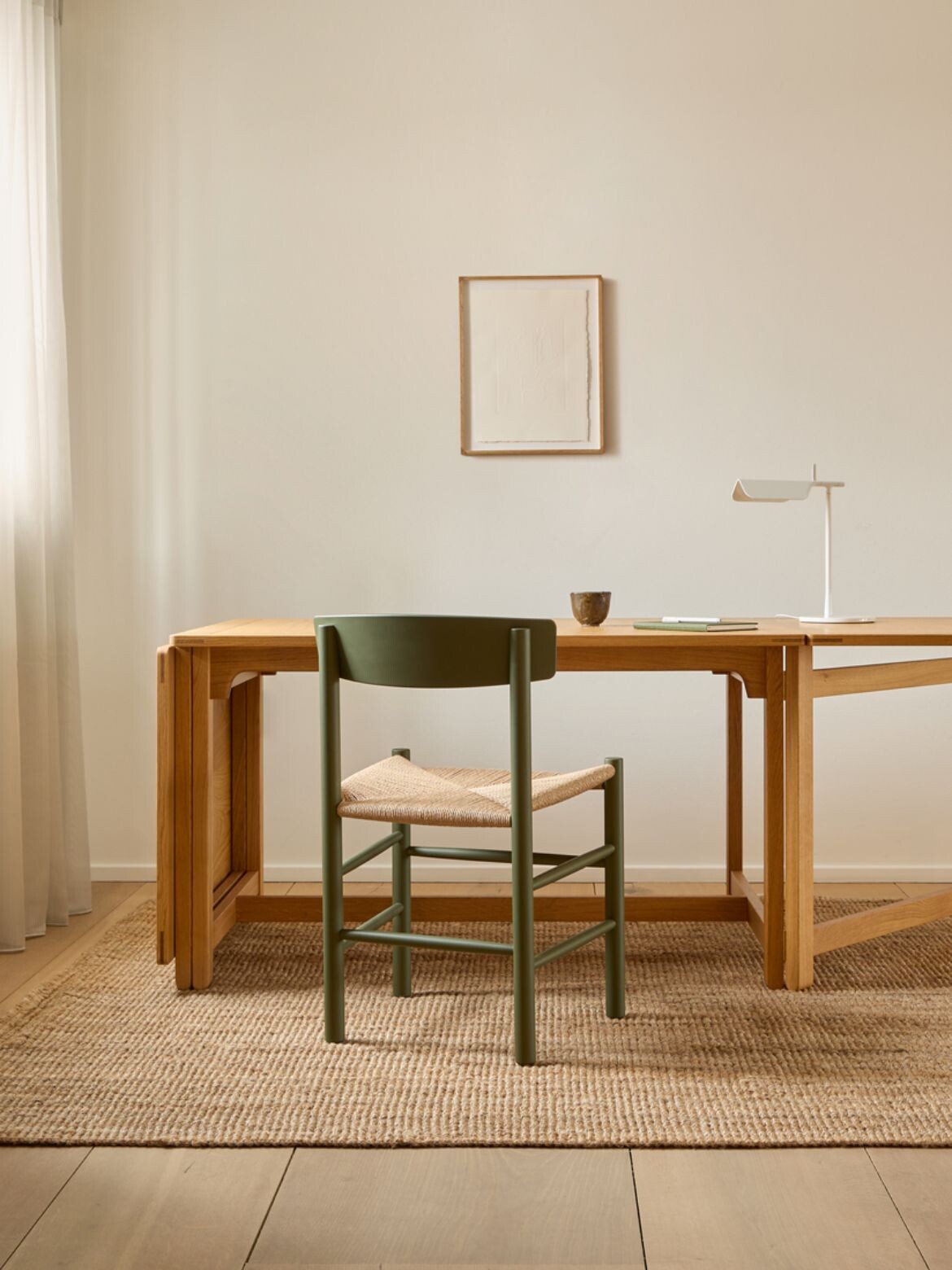 Celebrating 75 years of continuous production, the J39 chair is heralded as "the strongest manifestations of Børge Mogensen's unmatched ability to create timeless furniture." Says Fredericia. "I do become more and more narrow in my devotion. Within a very limited field, I strive to live out to the utmost border of possibilities within both the material and the shape. Sometimes I cross that border – and then I learn" said Mogensen. In keeping with this sentiment, Fredericia has done well to tie the colours back to Mogensen via his country house and design studio in Lynderup, Northern Jutland, by the Limfjord.
Taking inspiration from Mogensen's response to the soft light through curated materials and colour choices, the simple natural shades echo his home environment: "With buildings surrounded by wild and beautiful nature overlooking the fjord, Mogensen formed a space framed by wood, brick and clinker with an unpretentious interior in muted colours created for relaxation and contemplation."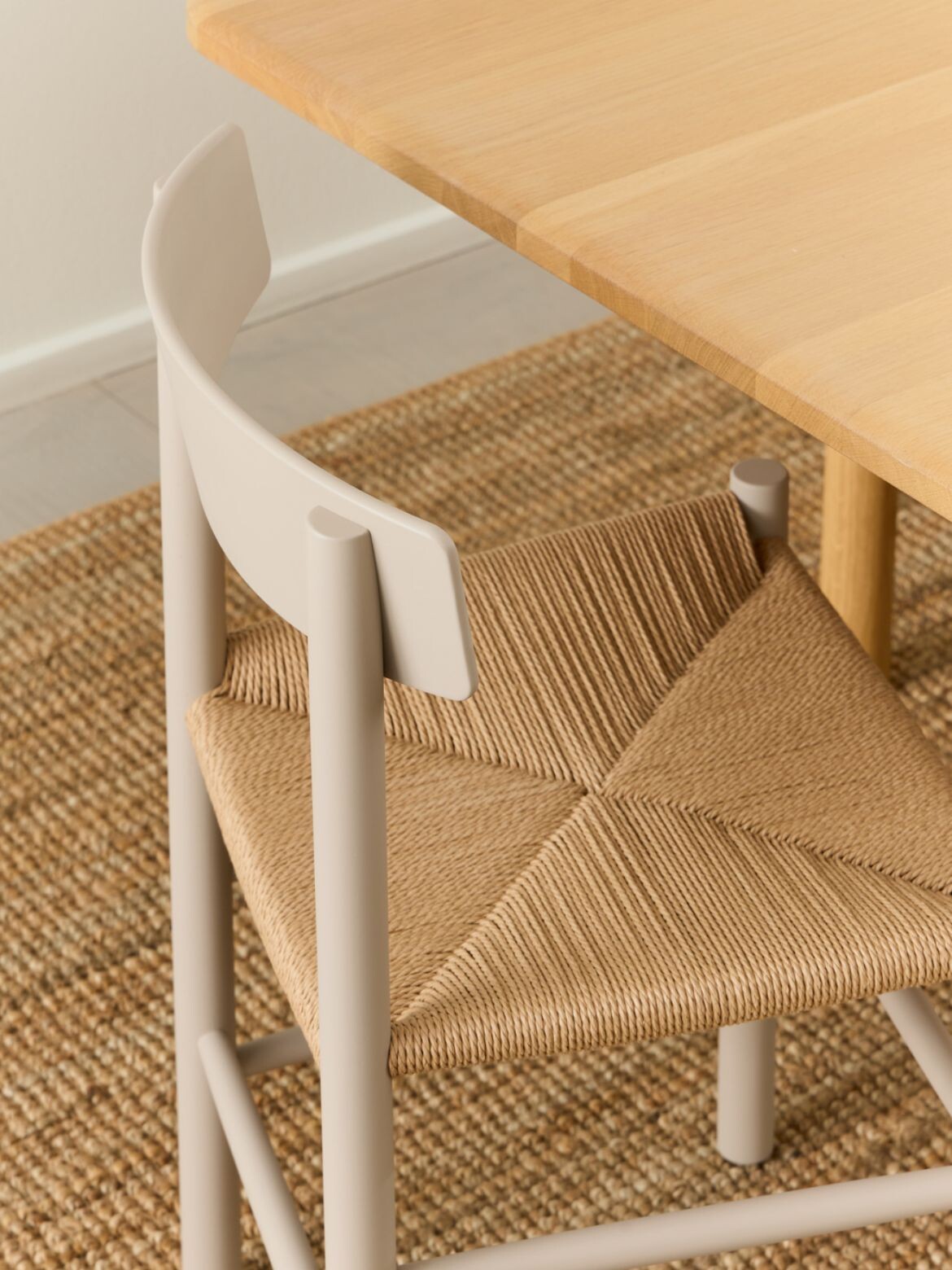 To this end, the raw and tactile pebble grey is derived from the warm and characteristic grey on the interior walls of his Lynderup home and the distinctive, built-in fireplace. Conversely, the khaki green references the external painted woodwork, artworks and surrounding nature.
The vintage lacquered beech option has a deliberately darker tone to work in combination with the other timbers used (while the lacquer limits any yellowing that beech sometimes exhibits). Two additional colours will be added later in the year.
Sustainably produced the J39 is created with clean materials in FSC® certified solid wood and plywood as well as paper wicker and water-based varnish to maintain a significantly low CO2e footprint.
Cult Design
cultdesign.com.au