Healthy Materials Lab is a design research lab at Parsons School of Design with a mission to place health at the center of every design decision. HML is changing the future of the built environment by creating resources for designers, architects, teachers, and students to make healthier places for all people to live. Check out their podcast, Trace Material.
"In our Anishinaabe prophecies, we were told that we would come to a point in our lives where we would be faced with a path with a fork. They call this the 'Time of the Seventh Fire', which is the time that we are in now. We're told that we would have a choice between two paths: one path, they said, would be well-worn, but it would be scorched. The other path would not be well-worn, and it would be green. It would be our choice upon which path to embark.
I'm pretty sure that this moment in time is now, when we must take the initiative and have the courage to make that green path – which is beautiful, which is about life and which is about our future generations, whether they have wings or fins or roots or paws. That is this moment and this project."
– Winona LaDuke, Material Health: Design Frontiers
Winona LaDuke is forging a green path, and it is planted with hemp. LaDuke, who wears many hats as an environmental activist, water protector, economist and founder of Honor the Earth, is donning another hat: hemp farmer. This latest venture is, in part, a continuation of LaDuke's long-fought battle against oil pipelines. She sees hemp farming and the materials economy it produces as a way to break our collective dependence on fossil fuels.
"Now is the time to start moving on before we have an entire catastrophe," says LaDuke. "People say it is really hard to move away from fossil fuels, to which I say: we didn't leave the stone age because we ran out of rocks. We just moved on out, we got some new ideas. There is no better time for a renaissance than now."
For LaDuke, one of these new ideas is actually a very old idea. Hemp, known as "pot's benevolent cousin," is a crop with a long and sordid history in the United States. Once a booming cash crop used for things like rope, clothing, and sails, the American hemp industry was destroyed by the Marihuana Tax Act of 1937 and later Nixon's war on drugs.
LaDuke says, "This country has suppressed hemp for over eighty years, and during that suppression, other countries have moved ahead. Now, we have no hemp industry in this country." LaDuke may be new to hemp, but she is an experienced farmer. "For many years I've grown traditional varieties of corn, beans, squash, potatoes and tobacco. I'm a heritage farmer." According to LaDuke, "When the hemp economy was squashed in this country, we lost access to a lot of technology. So, when I began to figure out what to do with our fiber hemp, I had to first figure out how to grow it."
The material possibilities of hemp are vast. Traditional uses like textiles and clothing are exciting and, with backing from major companies like Patagonia, have momentum behind them. Hemp grown for fiber was what inspired LaDuke to begin her farming operation. But, another promising material economy is emerging and, in collaboration with Healthy Materials Lab, LaDuke is right at the cutting edge.
Healthy Materials Lab Co-Director and architect, Alison Mears, and design researchers, Meryl Smith, Angela Zeit and Eric Hu, have designed a prototype of a healthy, affordable home for local Anishinaabe elders on the White Earth reservation in Minnesota with a simple load bearing wood frame and HempLime infill. This ongoing project is beginning with a newly constructed home for a grandmother and her six grandchildren, designed to provide security and respite for the family for generations to come.
The home will be situated on forested land on White Earth Reservation, with views out to a pond beyond. The design process is a collaboration with the future owner and an exploration in the multiplicity of hemp construction options available today. The team began with studies of all forms of current HempLime best practices — from premade blocks, to cast in place, and blown in HempLime. They used construction insights from their recently completed renovation of a wood frame house in New Castle, PA.
The initial focus was on hemp bales, which are readily available locally, and developed and rationalized the design of the house to work with a standard hemp bale dimension. Then, a new load bearing wood and HempLime panelized system, a product developed in nearby Bismarck, North Dakota, became available and the team redesigned the house to incorporate the panels.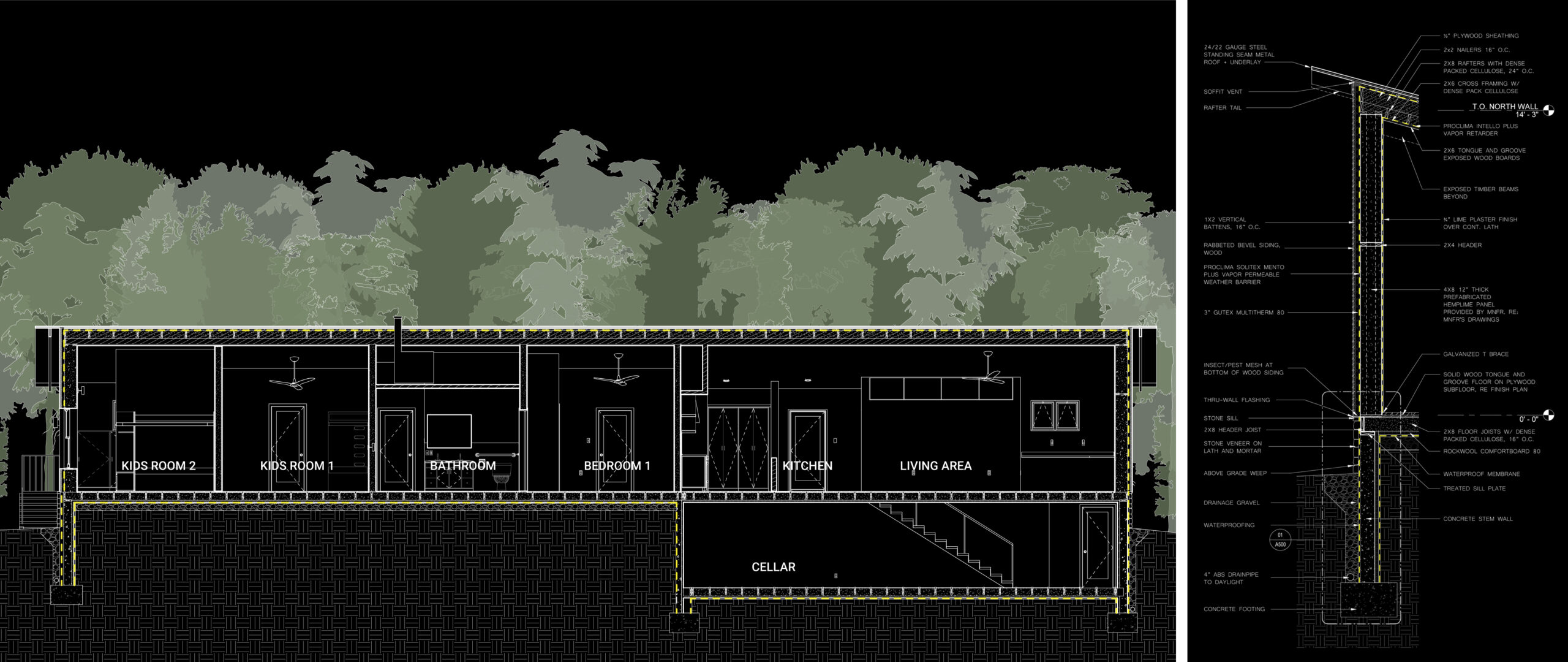 Working with a range of international hemp experts, the team developed a robust 15 inch (38 centimeter) thick exterior wall with a vapor permeable barrier, locally sourced wood rainscreen on the exterior and a plaster finish inside. The roof and floor are also insulated with a combination of wood fiber and dense packed cellulose insulation.
The envelope  provides an effective thermal response to the extreme climate of northern Minnesota. In addition, locally fabricated passive solar thermal panels provide warm air to the interior and PV's produce electricity to meet the families power needs.
The interior is designed with an abundance of natural light and healthier finish materials: a kitchen made of formaldehyde free plywood, mineral paints and healthy floor finishes. The interior also provides space for the family to come together at meals and around the fireplace, a kitchen that can be used to cook meals as a family, and two kids' rooms where the grandchildren can retreat to play or produce artwork with their grandmother. Once completed, the house will provide an example of a new form of sustainable, affordable locally built residential construction.
Since June 2021, Healthy Materials Lab's co-directors, Alison Mears and Jonsara Ruth, have visited White Earth, in Northern Minnesota, to speak with Winona LaDuke about hemp production, visit a local lumber mill, meet the women who are in need of housing, and learn more about the specific needs of families and the community. These visits revealed multiple opportunities to invigorate local industries, from the manufacturing of industrial hemp for various uses, to the production of wall hung solar panels that are made locally. Healthy Materials Lab has created a range of architectural designs that were reviewed by the future residents.
Along with the drawings for construction, a manual that illustrates novel construction techniques will be created to support the local team during the building process. On-site training will be provided for construction workers to learn new building techniques that can be used on future projects. Healthy Materials Lab has also partnered with LaDuke's Honor the Earth organization to present lessons on hemp building for the Tribal Hemp class in collaboration with Anishinaabe Agriculture Institute.
Local indigenous partners are looking to come together in the region to create new cooperative supply chains and production models to support local industries drawing from their collective wisdom and resources. And small building projects provide additional opportunities to innovate with hemp and new retail possibilities like the renovation of  the old roadside Snellman store. [Snellman Store image here]
"I believe that hemp is essential to the next materials economy and we could grow it all here – it needs to be in North America," says LaDuke. "The work that I'm describing is the work of the green path. This is the work where we light the eighth fire — the one that is beautiful. This is the work where we learn how to live together again, in a beautiful way."
---
For more on Winona LaDuke's hemp aspirations, pick up a copy of Material Health: Design Frontiers from Healthy Materials Lab or listen to the first season of our podcast, Trace Material.
Judging for the 11th A+Awards is now underway! While awaiting the Winners, prepare for the upcoming Architizer Vision Awards, honoring the best architectural photography, film, visualizations, drawings, models and the talented creators behind them. Learn more and register >