Architects: Want to have your project featured? Showcase your work through Architizer and sign up for our inspirational newsletter. 
Minimal surface areas, restrictive building regulations and lack of public space are common issues architects face when designing for urban cityscapes. In response, design strategies such as "Tetris Architecture" tackle these challenges by creating mixed-use buildings with the smallest footprint possible. These seven projects are a series of flexible micro spaces. They pair up urban gardens with offices, family homes with student accommodation and housing units with art galleries. They become thresholds between a highly coveted public realm and the necessary private functions they must fulfill.
It is not random that Seoul is the setting for each project. Specifically, it is a highly developed city that faces major overpopulation issues. Its only "weapon" is a strict building regulation system that pushes architects to design innovative buildings that fit all the necessary amenities, and sometimes luxuries, in continuously reduced footprints. However, is this a negative outcome? Perhaps trends like "Tetris Architecture" can promote a more efficient attitude towards building construction, which is currently not only positive but also necessary.
---
Located in a topographically isolated village, the Fighting House is a student accommodation for Hanyang University. Compared to Seoul's larger metropolitan areas, the Sageun-dong village has managed to preserve its traditional architectural identity. In fact, most local businesses and neighbourhood facilities occupy small plots of land, reflecting the village's communal ambience.
Similarly, the Fighting House is a series of stackable floor plans, raised on columns, to maintain an uninterrupted dense urban fabric underneath. The small, interconnected spaces suggest a different approach of a community living, effectively contributing to the cultural preservation of this historic neighborhood.
---
By SsD , Seoul, South Korea
The Songpa Micro-Housing is a new home typology, invented to tackle issues of the crowded Songpa-gu district in Seoul. Its most distinctive feature is a thin, transparent wall that creates a gentle intersection between public and private spaces. In addition, its housing unit blocks can be flexibly reconfigured to suite any spatial function, effectively prolonging the building's inhabitability. These fourteen blocks are paired with semi-public balconies, shared living rooms and art gallery spaces composing a building typology that becomes an integral part of the city's public life.
---
Thirteen housing units equals thirteen floor plans. This next residential project showcases a series of carefully fitted stackable layouts. Each one is uniquely drawn and individually constructed for the occupants of the building. Still, the distinct interior layouts are not the only impressive feature of the project. Its crisp volumetric exterior form is randomly interrupted by custom window openings that create an exclusive relationship with the urban environment. Stay Soar is a multi-family housing and retail unit that throws uniformity out of the window and redefines the concept of the traditional housing block.
---
This next architecture firm, L'EAU Design, views the city as a modern urban jungle. The architects were tasked with designing a multi-use facility for a small residential area in Seoul. The challenge was to create a form of "Tetris Architecture" that could adapt to the ever-changing mixed-use building requirements while maximizing the public footprint within the allocated small plot of land.
In order to remain compliant to Seoul's building regulations, L'EAU design focused mainly on the building's façade. The architects developed a flexible "skin" typology that changed according to the internal functions of the building, thus forming new, visual relationships of cohabitation between residencies and neighbourhood facilities.
---
Residential projects usually comply easier to building regulations. What happens however when a commercial project has to face similar challenges? Located in Mapo, one of Seoul's oldest city sections, Unicity is the new headquarters of a Korean cosmetics company. The key aim for this project was designing a building with a distinct identity.
Thus, D Werker Architects overlayed a series of stackable plans, intentionally twisting them in specific directions to connect with the adjacent urban and pedestrian routes. Consequently, this form of "Tetris Architecture" created multiple publicly accessible pocket spaces that transformed a primarily privatized commercial space into a place for public interaction.
---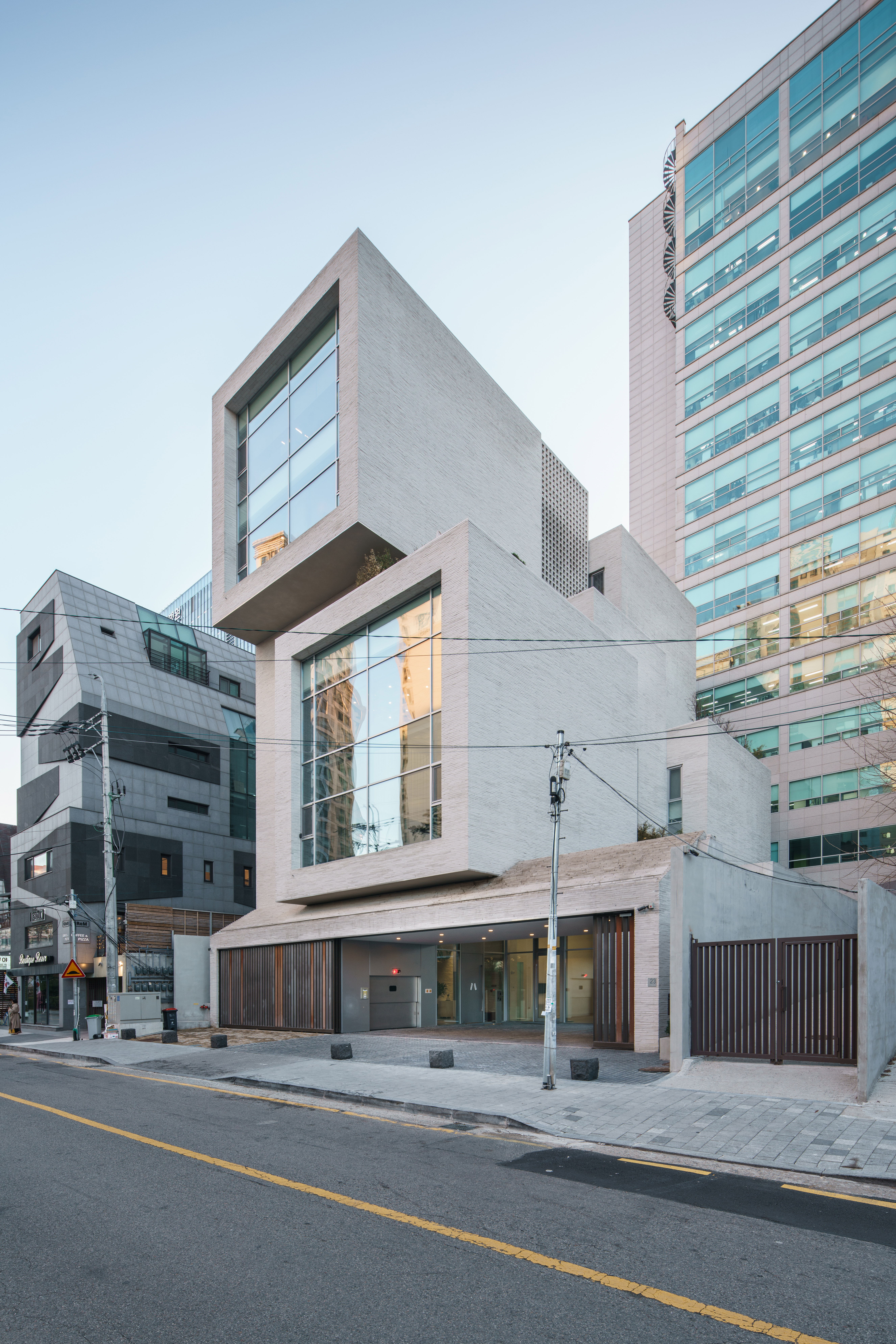 WAP Art Space is a one-of-a-kind project that vertically pairs two highly contradictory spatial functions. The lower floors are communal gallery spaces, whereas going up, the building transforms into private living units and publicly accessible roof gardens.
For their design, Davide Macullo Architects employed the cube as the primary form of the building. Using gestures of compression and decompression, they manipulated this archetypical cubic volume, creating different modes of intensity and scale in order to situate the diverse spatial functions within the building.
---
Living above a musical company sounds somewhat unorthodox. Nevertheless, combining commercial and residential spaces within the same structure could have unforeseen benefits. Albeit the small, available footprint, the EMK Musical Company contains office spaces, housing units and a series of public spaces such as cafes, conference rooms and roof gardens.
These multiple functions are brought together through a main column structure that serves as the backbone of the building. Outside, a series of customized staircases wrap around the exterior structure. The stairs become temporal architectural apparatuses that host musicals and live events, thus transforming the building into an centre for public performance.
Architects: Want to have your project featured? Showcase your work through Architizer and sign up for our inspirational newsletter.