David Chipperfield Architects has created iconic stone and concrete projects across the world. Between its four offices, the firm works to create architecture that is responsive and grounded, beautiful in form and rich with material texture. Founded in 1985, the firm has gained recognition and praise among its contemporaries for projects that arrive at simplicity. Chipperfield finds simplicity through editing and selection, exploring the complexities of site, form, function, cost, materiality and program to create a cohesive piece of the built environment that is responsive to current and future needs.
On March 7th, civic architect, urban planner and activist Sir David Alan Chipperfield was awarded the Pritzker Architecture Prize. Emphasizing these civic and urban dimensions of his work over the past four decades, as well as the remarkable range of typologies and geographies he has tackled, the jury cited his remarkably timeless approach to design:
"Subtle yet powerful, subdued yet elegant, he is a prolific architect who is radical in his restraint, demonstrating his reverence for history and culture while honoring the preexisting built and natural environments, as he reimagines functionality and accessibility of new buildings, renovations and restorations through timeless modern design that confronts climate urgencies, transforms social relationships and reinvigorates cities."
In the following collection, we showcase David Chipperfield Architects' mastery of simplicity. This is evident across media: from plan to elevation to volume, and across many different building typologies, but most notably in its cultural projects. The following projects showcase Chipperfield's use of stone and poured concrete to create distilled spaces, introducing elements of significant weight to foster a deep connection to site: 
---
Museo Jumex sits on a triangular site within the Polanco area in Mexico City surrounded by glass high-rise commercial buildings. This wedge-shaped, privately-funded art museum marks the first realized project by David Chipperfield Architects in Latin America. The simplicity of its iconic sawtooth form and its imposing scale gives gravity to the building and positions it as a prominent piece of architecture within its context.
The museum rests on fourteen exposed white concrete columns atop of a plinth that merges with the public plaza. It's continuous stone cladding is locally quarried travertine from the State of Veracruz supplied by Franco Soluciones En Piedra. The company is committed to selecting the best stone, and stone product solution for ever project. The museum's large floor to ceiling windows and the exterior walkways are the only elements allowed to cut at the solidity of the museum.
---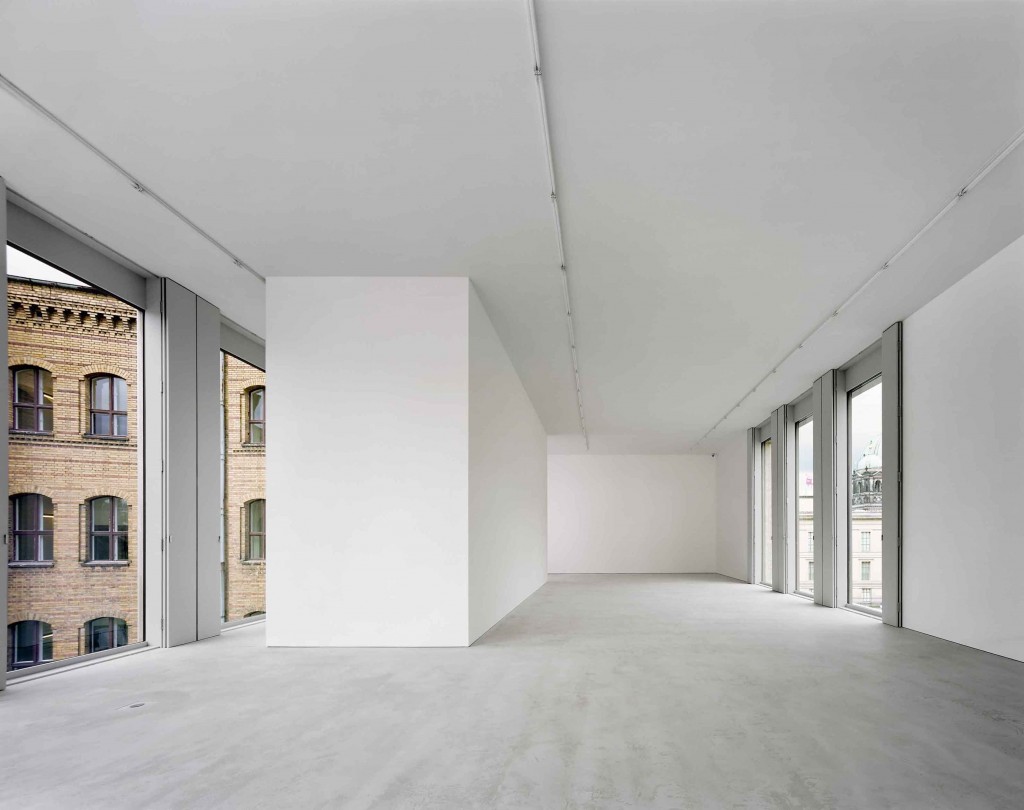 This gallery building is positioned on the Kupfergraben canal which is a prominent site in Berlin overlooking the Lustgarten and Museum Island. The architecture fits over the footprint of a building destroyed in World War II. After winning a private competition to complete the city façade facing the Neues Museum, Chipperfield created a building that borrows from its surroundings and lost history to capture a new face for the arts.
Gallery Building Am Kupfergraben draws from its immediate historical context and reinterprets the architectural sense of scale and repetition in its façade. A textured language of its elevations is achieved through the use of reconstituted stone and brick masonry by Dreßler Bau GmbH. The generous large windows fit with the overall scale of the gallery while achieving a harmonious relationship with the proportions of its neighbors. The building's elegant detailing, clean lines and the skillful use of stone lend it a unique beauty.
---
Stone/terrazzo supplied and installed by Laboratorio Morseletto, Rome, Italy
This 20,000-square-foot flagship store spans several buildings across Piazza di Spagna and Piazza Mignanelli. The structure is carved out to create a stunning shopping atmosphere. The architecture borrows from the store's original fashion concept of merging old and new.
Each space within the luxury store is detailed with tasteful material connections. The interior sees a grey palette of Venetian Terrazzo with Carrara chippings and marble across walls, ceilings and floors, supplied by Laboratorio Morseletto. The grand entrance is a 20-foot-tall volume made from marble columns and terrazzo walls. The two main staircases are each entirely lined in marble, giving the impression that they have been cut from a single piece of stone. These materials form a pristine box that is perfect for showcasing delicate cloth, leather and fabric goods.
---
Façade by ECADI,

Hangzhou, Zhejiang, China
This village of apartment buildings on the outskirts of Hangzhou shapes a relationship between water and built architecture. The series of residences won the 2016 LEAF award under the multiple occupancy category solidifying it as a benchmark piece of architecture that is responsive and sensitive to the environment.
In plan, the locally sourced stone-clad apartments form an interconnected series of plinths that sit right in the water. Surrounded on all sides by the national wetland park, the village is characterized by its dark and light stone walls by ECADI. From a distance, the rectangular cubes hold their ground within the site without overstating their presence. The horizontality of the landscape and the use of natural building materials helps establish a serene sense of place within nature.
---
Façade by Obayashi,
Inagawa, Japan
Inagawa Cemetery and visitor center is located on a steep slope in the Hokusetsu Mountain Range, just 40 kilometers north of Osaka. The built architecture is spread across a series of terraces that are bisected by a monumental stepped path leading up to a shrine at the highest point.
The visitor center and chapel are programmatically arranged under a single sloping roof plane. The quiet spaces rely on the simplicity of nature and purity of form. The architecture is unadorned and uses minimal artificial and mechanical heating and cooling systems, instead harnessing indirect diffused sunlight and natural breezes. Constructed by Obayashi, the floors, walls, ceilings and roofs are all formed from red tinted concrete made to resemble stone. The formal use of planes and surface allow this man-made stone to meld with the landscape.
For more projects from the British architect's studio, check out his firm profile on Architizer.
Architects: Showcase your next project through Architizer and sign up for our inspirational newsletter.