Home decoration needs constant updation according to the new styles and trends. A wall niche is an evergreen trend that is most suitable for luxurious homes as well as urban apartments. If you have limited space on your floor, a wall niche is a place where you can put extra things for decor purposes or for storing some things. Moreover, beautiful decorating ideas for wall niches help you to apply contemporary designs in your home interiors.
The thing about wall niches that you can use is that, if you want to change the look of your home and also want to give it an attractive look then a niche is a creative space where you could put some decorative items. Niche plays an important role in home decorating and they are not only used to keep items but also used as a decorative place. Just you need to explore ideas to decorate wall niches and use its functionality for storage purposes also.
Today we have curated a list of different wall niche ideas for entryways, bathroom areas,s and large walls that you can use to decorate your home and make it beautiful as well as functional.
Entryway Wall Niche Ideas
The entrance should be a statement in and of itself because it is your first impression of the house. Entryway niches are a great place to hide shoes or soiled jackets while keeping your house tidy. Try placing books and magazines on the shelf if you need to free up a bit more room.
1. A Great Old-Time Music Box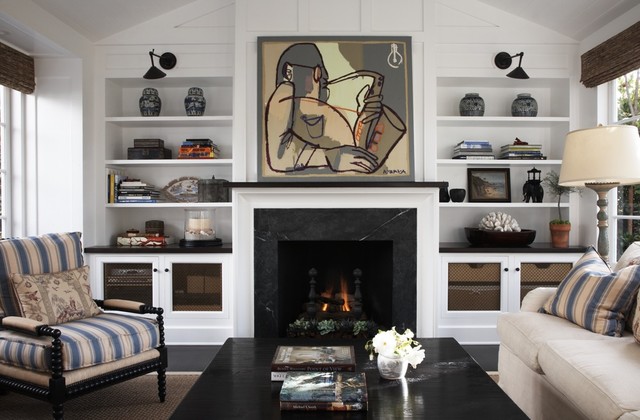 source: pinterest.com
This idea is about creating a wall niche dedicated to musical instruments and entertainment gadgets like speakers and other types of equipment. The most interesting part of this decor is that you have to add the antiques like gramophone or other antique wall art pieces that have a music theme. Miniature decor items play a huge role in the success of this type of wall niche idea.
2. Green Wall-Mounted Ornaments
Plants make the environment fresh and vibrant. If you want to place them in your living room or highlight them in your entryway area, this will be the best idea. Green wall hangings are available in different plant varieties. Choose the length and other specifications according to your entryway space area. This can be the finest among all entryway wall niche ideas.
3. A Vintage Planter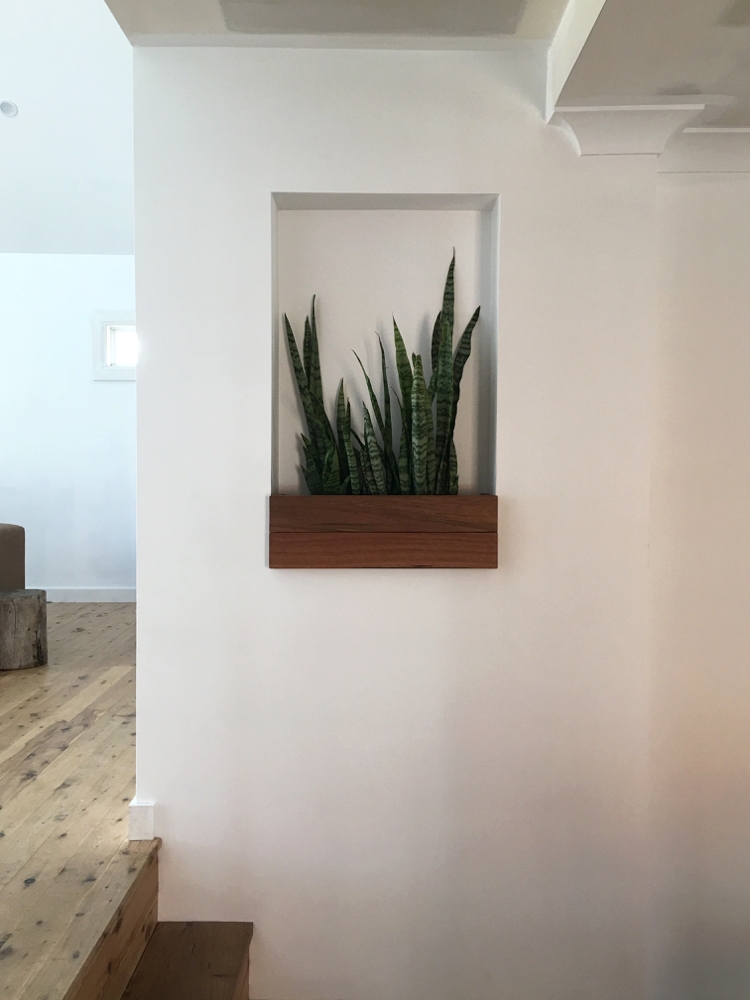 source: pinterest.com
The most recent trend in wall niche ideas is crafting rectangular shape wall niches. Mostly they are in irregular shapes and patterns to make a combination of beautiful window sets. You can place a vintage planter in one of the wall niches to make the center of attraction in your entryway area.
4. Paint the Roller Jar With Patterns
Paint Roller with different patterns like floral and geometric patterns make the wall beautiful. Moreover, if you have a plain wall and wall niche painted in different patterns it will stand out from other corners of your home. 
5. An Electric Wall Mirror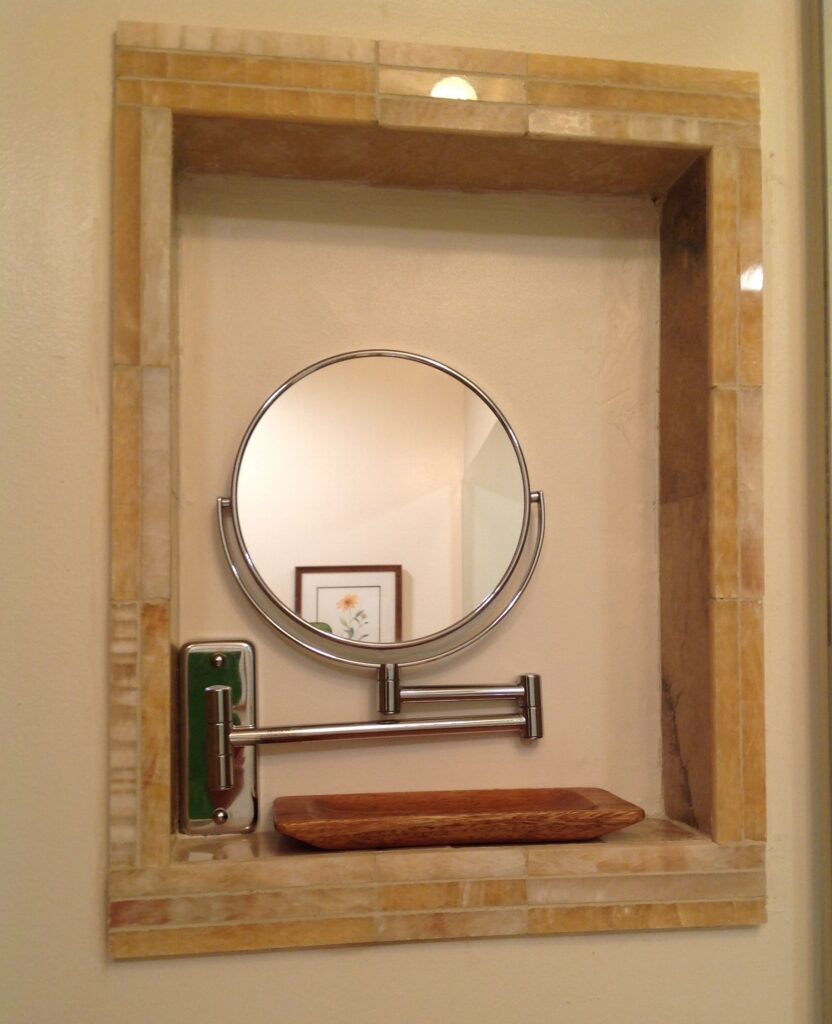 source: pinterest.com
A statement mirror with a background of electric lights. This beautiful setting of decor perfectly fits into your entryway wall niche. As the entrance of the home must have impressive looks, this electric wall mirror will make that first impression and give the vibrant look and feel.
Large Wall Niche Ideas
6. Rustic Wooden Wall Niche
Adding rustic touch to your interior is a classic way to add a wood element to your home decoration. Furthermore, your entryway is the place that deserves classic pieces of rustic wood like a rustic wooden wall niche. This will add charm and sophistication to the overall looks of the living room. If you are looking for large wall niche ideas, this will become the perfect choice.
7. Yellow Wall Niche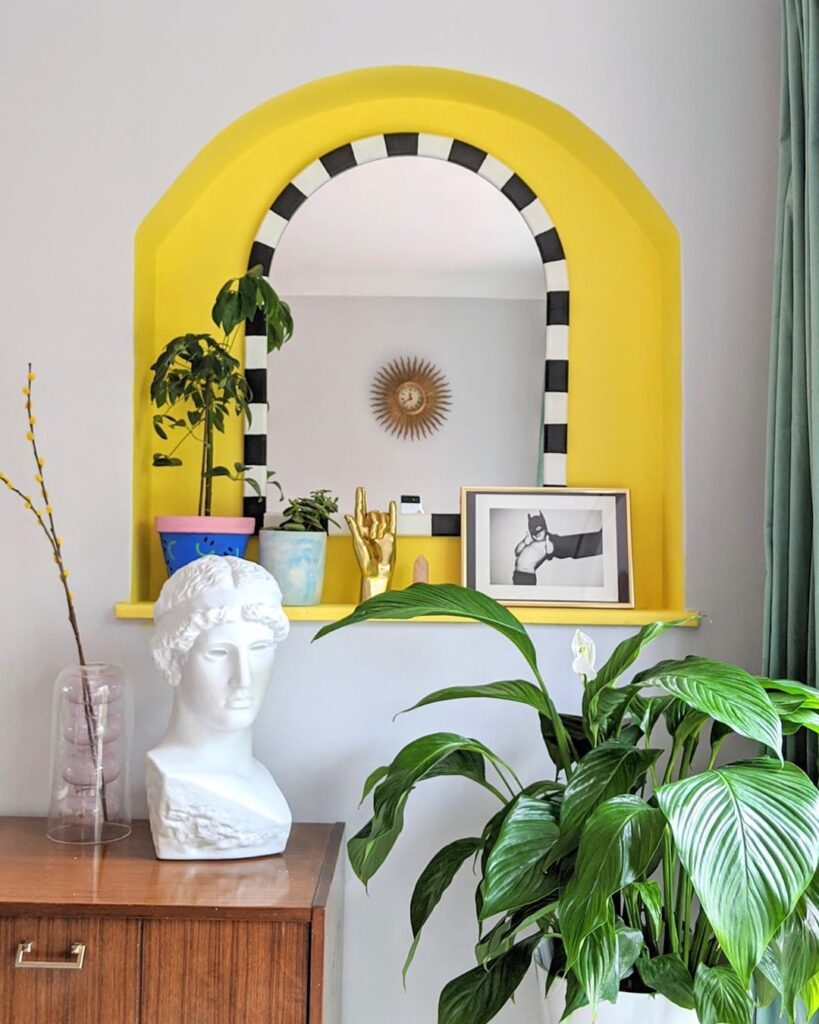 source: pinterest.com
The color combination you use to create a classic single piece of wall niche is very important. For example, yellow is such a vibrant color that instantly changes the vibes of the victors at your home. Yellow niche with other pastel color wall paint is the best combination to create a magical effect on large walls.
8. Bohemian-style Wall Niche 
Bohemian style means a tribal touch to the decor. It is one of the latest trends and the most popular large wall niche ideas. This style inculcates nature within their decor concepts. Therefore, the bohemian-style wall niche includes all the decor items related to nature. You can add decor pieces like bohemian art paintings with some fresh plants.
9. Black & White Wall Niche For Home Office
To feel like an actual office you must need some neutral colors. They create a perfect environment for a home office set-up. Therefore, a black and white wall niche is a perfect color combination to get a classy look for designing a home office. 
 10. Deck Up With Decor
source: pinterest.com
If you have a large section of wall in the living room, you can transform it into a deck to keep the decor items. Ceramics, vases, and figurines will get a perfect place in your home if you will follow this design from the large wall niche ideas. Furthermore, add a statement large decor piece in the center to give a chic look.
Bathroom Wall Niche Ideas
11. Mirror Insets
Bathroom wall niches have many functionalities. For example, you can make shelves to keep your bathroom essentials. However, the best way to aesthetically decorate your bathroom wall niche is to place mirror insets. Punctured niches in the wall of the bathroom are a perfect place for mirrors. It creates extraordinary lighting effects.
12. Store The Accessories
source: pinterest.com
The bathroom is the place where we have to do lots of daily hygiene activities. Therefore we need extra space for keeping all the essentials. Not only bathing accessories but also extra cosmetics and towels need a handy place in the bathroom. So, use the bathroom wall niche to keep the extra essentials and accessories.
13. Use Tiles For Dramatic Effects
For the niche, think of utilizing handmade or accent tiles. This will immediately give the setting greater drama. Make sure the niche's tiles match the rest of the color scheme.
14. Continuous Alcove
Just include a long continuous niche with the tiles for a treat. It gradually adds a feeling of profundity. There are many ways you may accessorize it and don't forget the extra room you get to keep or show off your favorite bathroom accessories.
Conclusion
Wall niches are places to showcase your creativity. Use these ideas to make your home more functional and aesthetic. This list of Wall niche ideas is super useful for every home and comfortably fits in any set-up. Enjoy the process of home improvement and give your home a beautiful touch with a considerable amount of restructuring and makeover.