Design and food coalesce in perfect harmony in downtown Singapore at Burnt Ends. The interior design is a visual design feast with its own singular style that provides a counterpoint to excellent Michelin-star cuisine.
Redefining the restaurant experience, designer Emma Maxwell has created a new home for Australian chef Dave Pynt and his renowned barbecue restaurant, Burnt Ends. Located in the hip heritage district of Dempsey Hill in Singapore, Maxwell's vision for the new location of the Michelin-star restaurant and World's top 50 is both bold and unique, and was explained to Pynt in three succinct words – fire, skulls and AC/DC!
The restaurant first made its name in Chinatown but moving the operation to Dempsey Road allowed for the expansion of the business on an unprecedented scale. The new premise is a former mid-century colonial military barracks and the bones of this building have been retained with a new and exciting interior.
Not simply a restaurant, Burnt Ends also includes private dining, a bar, wine cellar, study, bakery, outdoor dining, and bar and events space. Add in the back-of-house administration areas, bakery and restaurant kitchens and the spatial plan has been devised with an expert hand presenting this total hospitality package as a unique all-encompassing destination.
Maxwell has approached this mammoth project that covers some 1496-square-metres, with her usual critical eye, ensuring that detailing and layering unite to create an experiential world for guests. Within the interior there is a primal, refined rustic aesthetic with a space for everyone, whatever the occasion.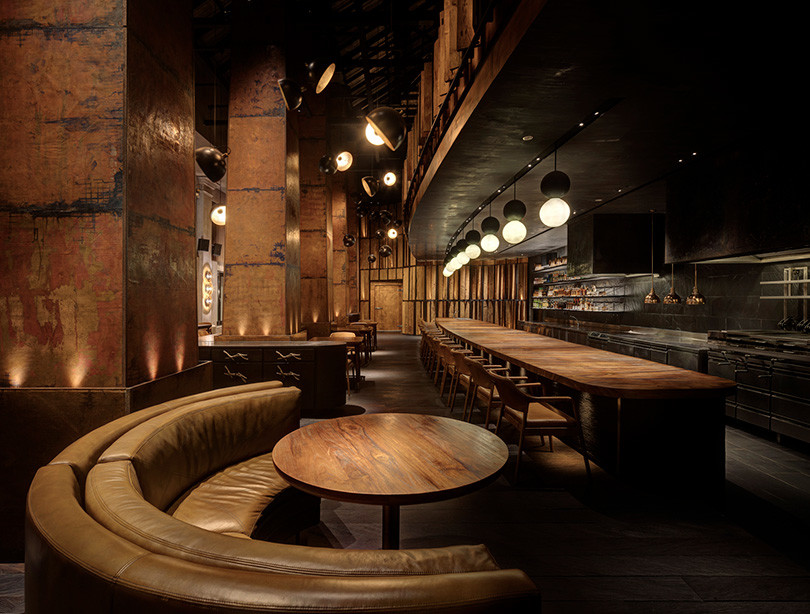 Timber informs the colour palette of myriad shades of blacks, browns, ochres and beige with splashes of red illumination creating definition. Within the dining room is a long slab of Indonesian suar that becomes the counter table and frames the open kitchen where there are three tonnes of ovens insitu. "The ovens are the heart of the entire restaurant, a constant primordial burning fire of 1000 degrees," says Maxwell. "Everything, from the food to the inspiration of the interior design, comes from them."
Flooring is teak planks rescued from an old Surabaya bridge and the original square pillars of the barracks are sheathed in beaten copper panels mottled with random grid-like patterns. A grouping of studio lamps hangs overhead in a double-height void aside an inserted faux wooden balcony that helps break the volume of space. Bespoke extra-wide chairs are upholstered with natural vegetable-dyed leather and, embellished on the back, are tiny panels of customised buttons of skulls to reference the Burnt Ends' logo.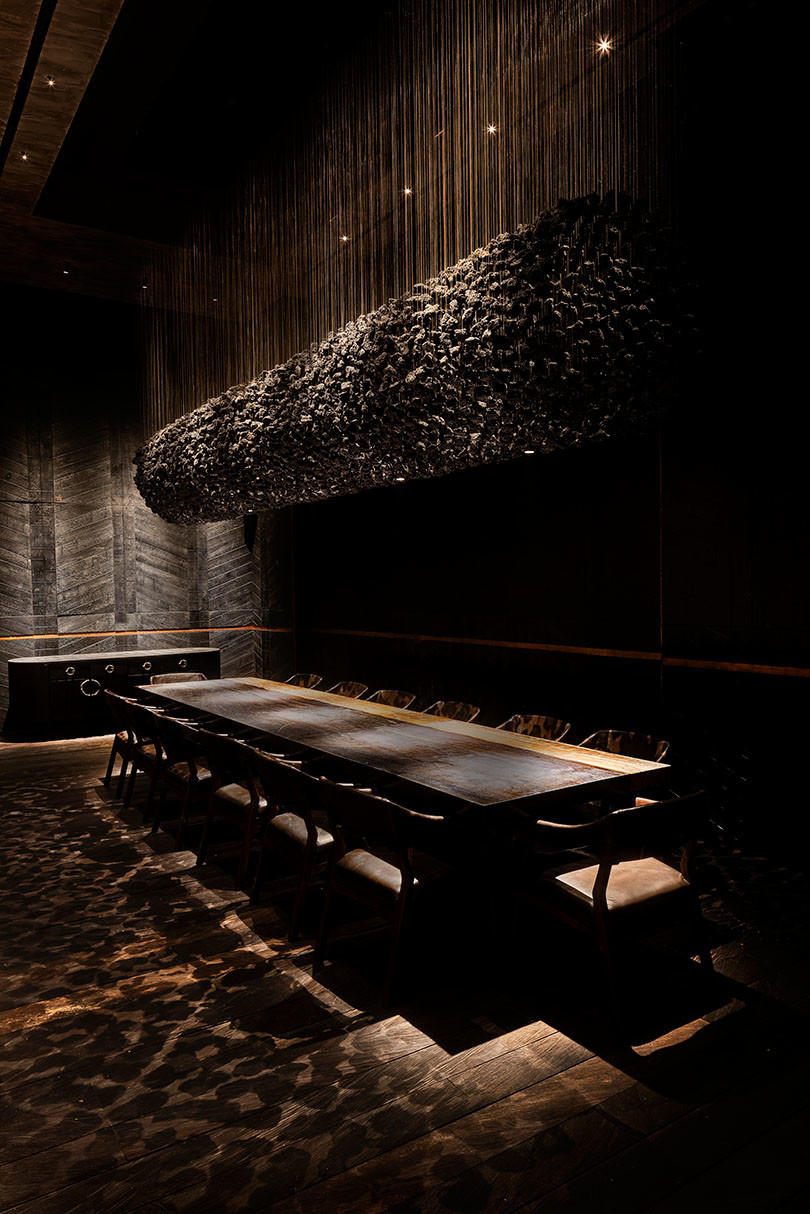 The exclusive and very private dining room, where only invited guests can dine, is accessed through a substantial pivot door that features a polished metal skull handle and walls are lined with contrasting panels of million-year-old petrified wood and charred shou sugi ban timber. An incredible tubular light installation made of 5000 black lava stones populates the ceiling overhead and becomes the visual feature of the room.
The wine tasting room is more upbeat and less moody than the central restaurant and private dining area. Conceived as a gallery-like space, the design is a tribute to the old Cairo and Victoria and Albert Museums with reproduction 19th century scientific cabinets and fin de siècle glass-topped display cases. Adjoining this space is the bar with the same museum vibe as the wine tasting room and there are clerestory windows, chain netting curtains and shelves of jars, seashells, hand models and antique bottles that present as a cabinet of curiosities.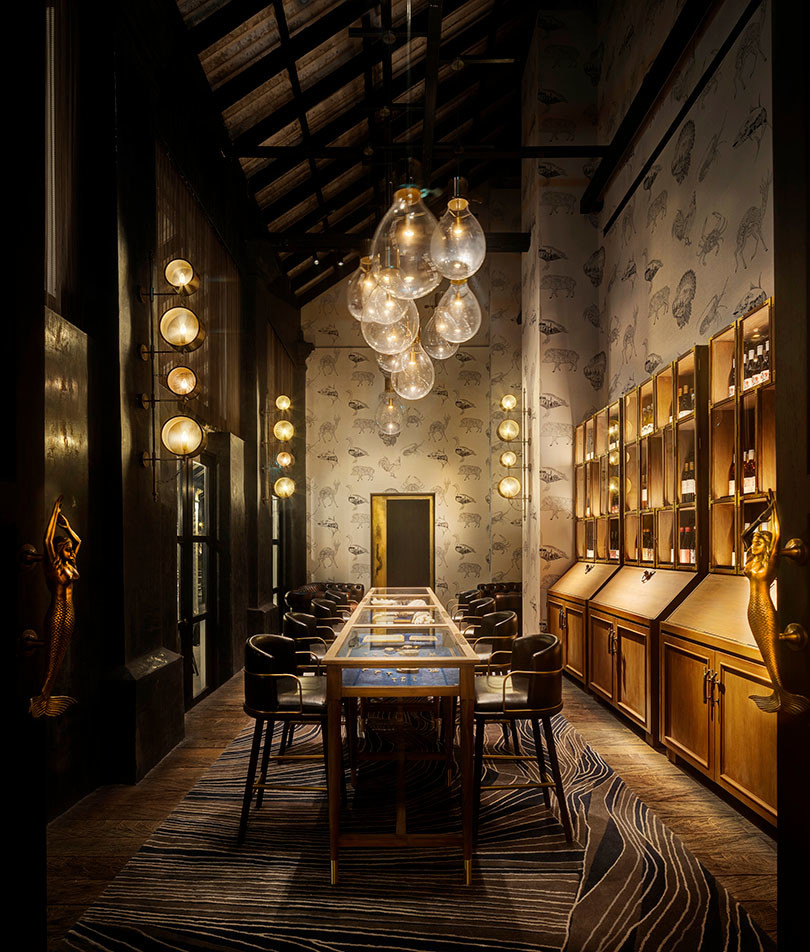 There are surprises at every turn within this interior. The array of objects that invite inspection and the otherworldly atmosphere that is both contemporary yet aged, combine to create a voyage of discovery.
Last but certainly not least is the Burnt Ends Bakery. Located in the rear left of the floorplate, this double-void space with raftered ceiling is monumental and light-filled. "I'm a massive fan of Brutalism and functionalism, which is very much evident in the main restaurant, but you really see that in this space," Maxwell says.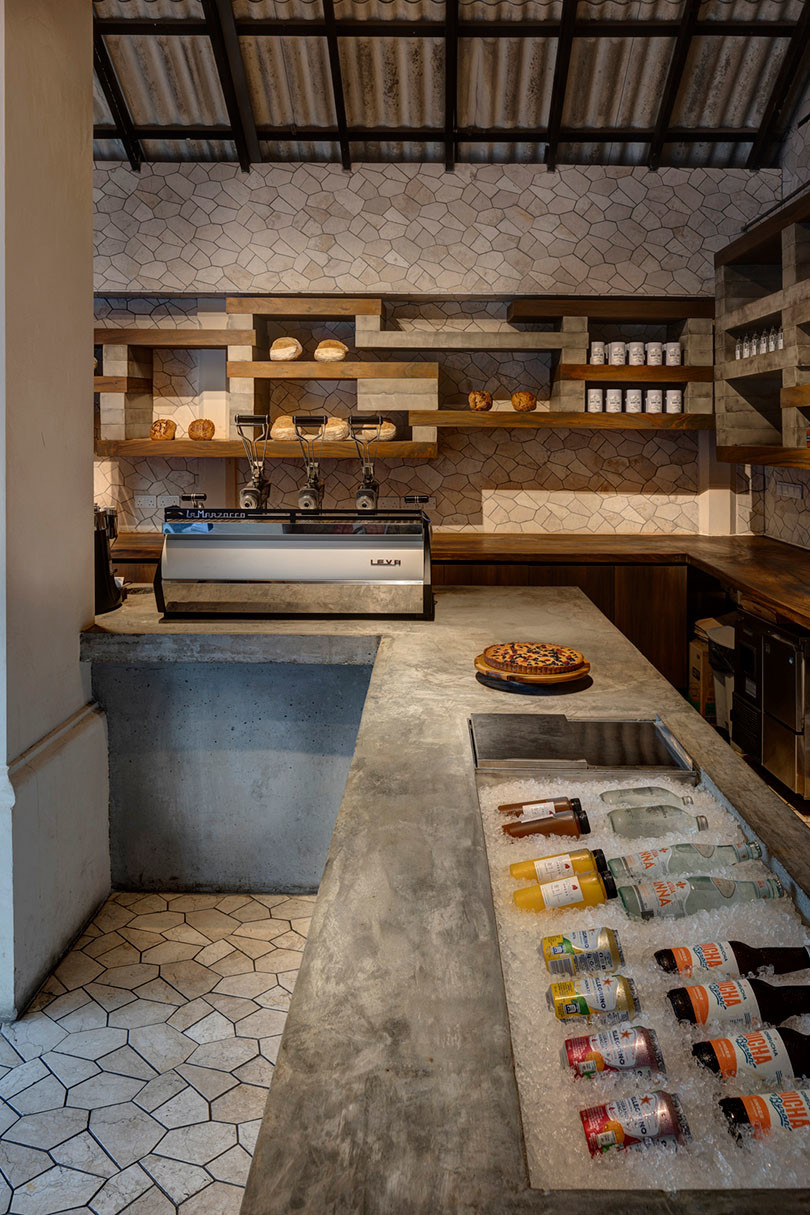 While there is dining and another bar outside, the prize is within Burnt Ends, where objects and furnishings, decoration and space combine to become a cornucopia of delight. As Maxwell explains, "I wanted to create an amazing space for Dave, one that incorporated his philosophy on cooking and life. Every element in the design of the restaurant and bakery relates to this, whether the charred wood in the private dining room, or the transformative quality of fire and heat – but without being literal about it. It's been such a lovely journey."
Burnt Ends is indeed a destination to experience, not only for the excellent cuisine but an extraordinary interior that literally takes one's breath away. Here everything is customised and hand-crafted especially for Burnt Ends. Maxwell's inventive and original style has triumphed in this project that not only impresses the locals but is now on the agenda of visitors from around the world. Burnt Ends is truly on fire!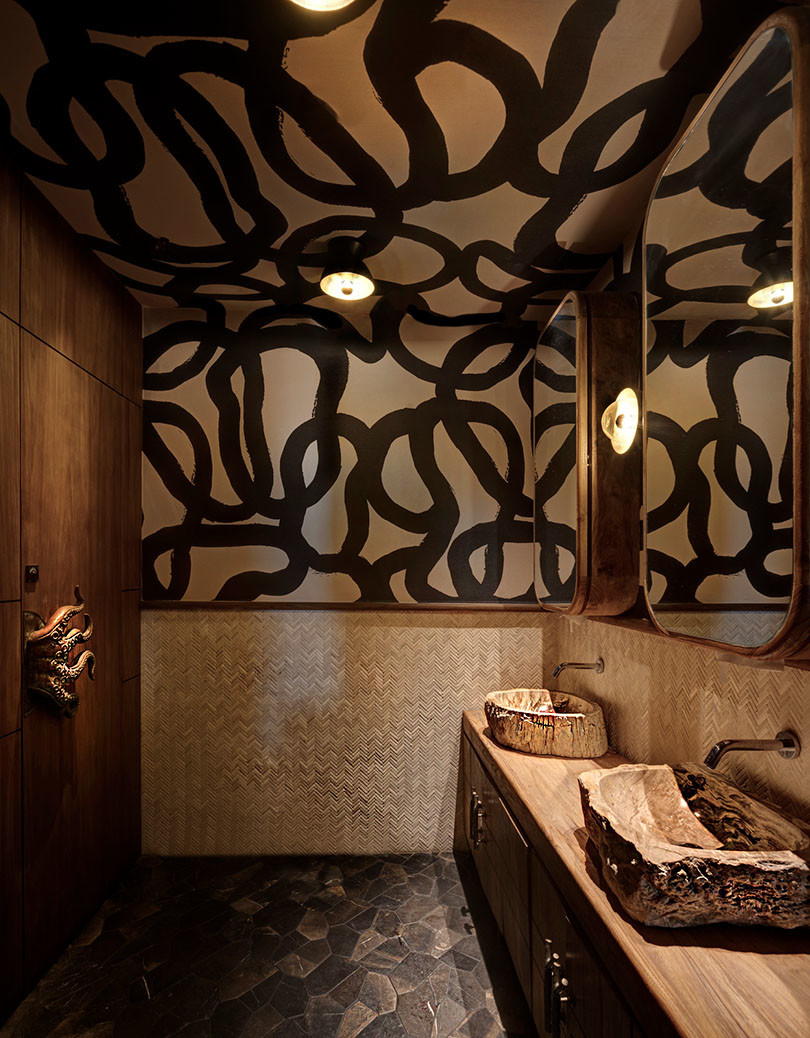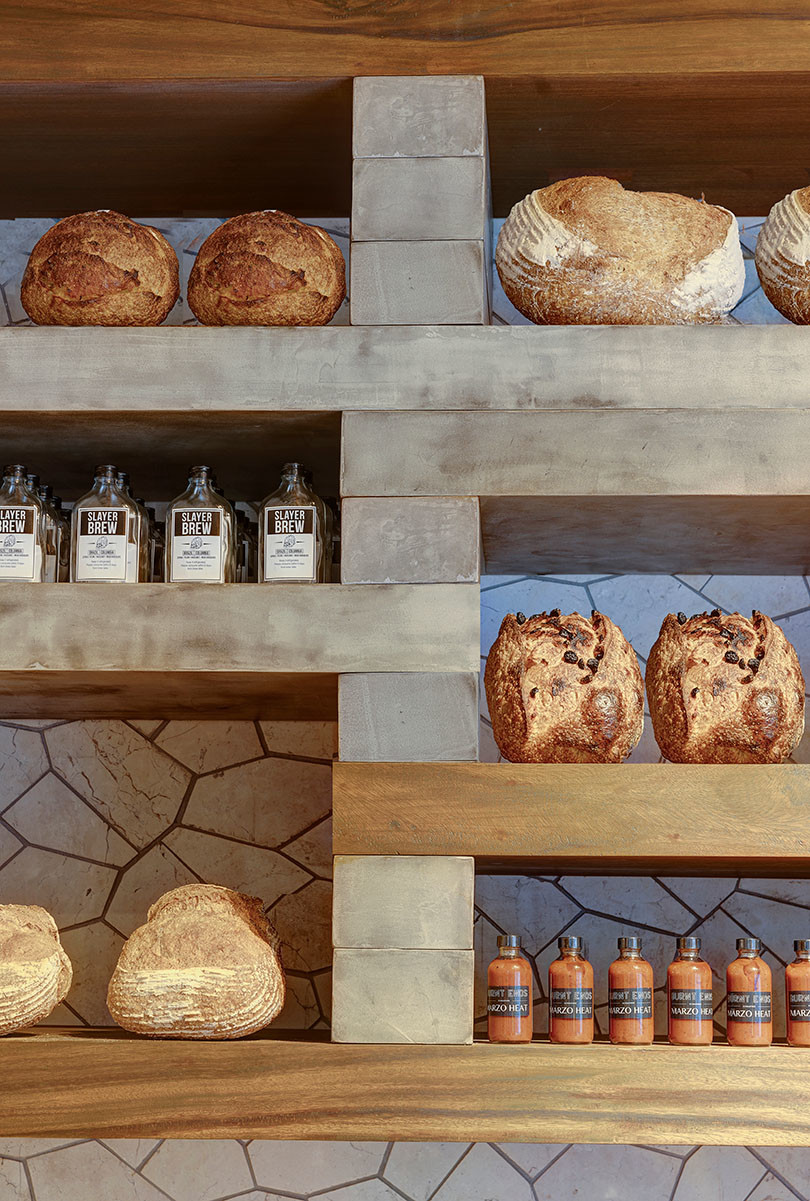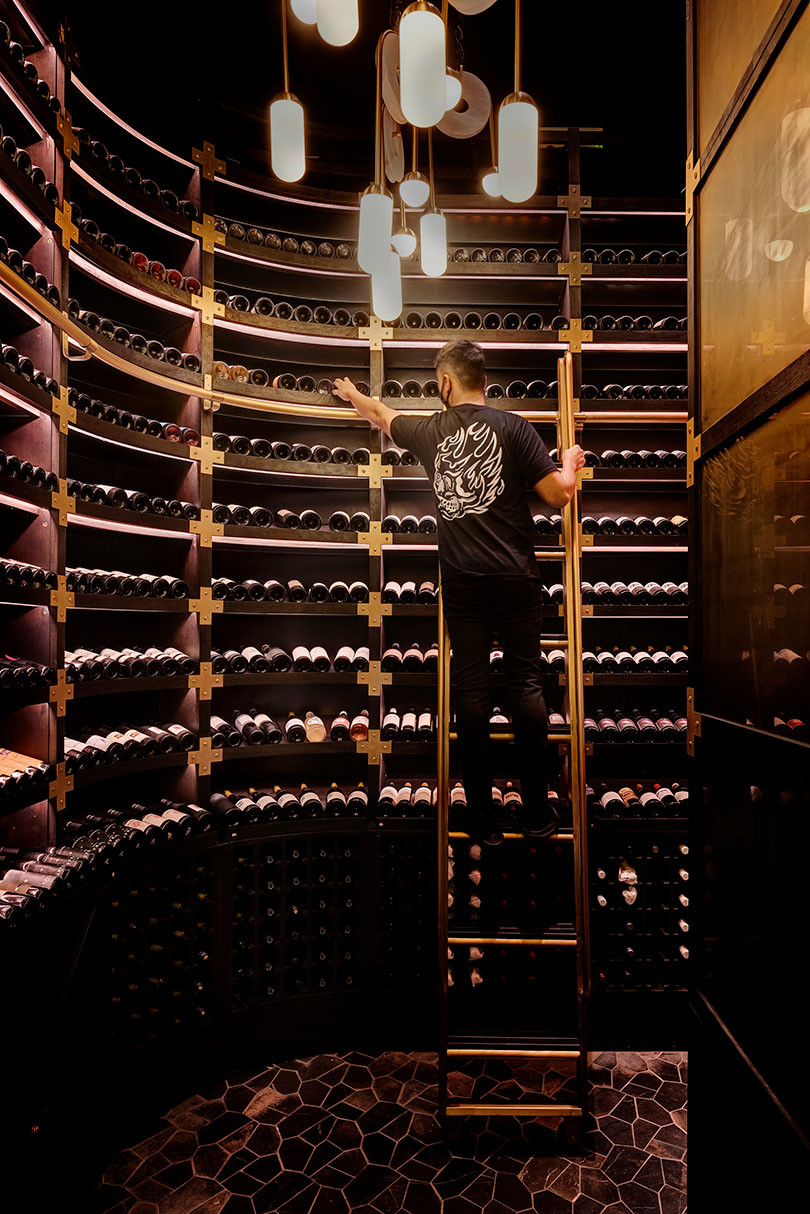 Project details
Interior design – Emma Maxwell Design
Photography – Brett Boardman
---