These apartments are stylish yet cosy, functional yet sophisticated – everything we wanted from our homes in 2022.
This round-up of the top 5 apartments of 2022 features a mix of homes that are cosy and comfortable, made all the more appealing for their elegant design.
The emphasis was on creating a retreat that truly reflects the people who live there while being simultaneously high-functioning and good looking. Each one inspires and shows what can be done with a clear concept, quality materials and strong colours. 
1. Singapore apartment by Shed Studio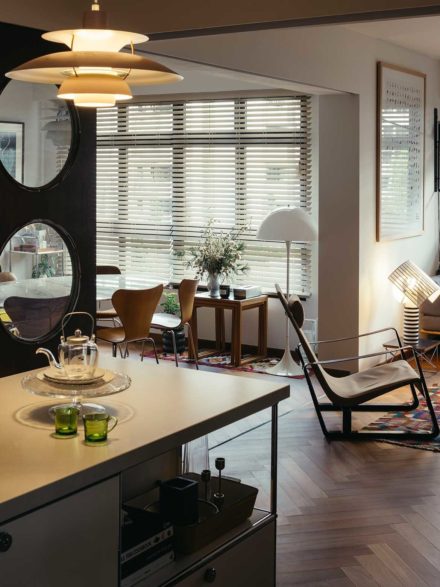 This beauty is the home of avid mid-century modern and vintage design collectors Koh Zhi Yi and Lee Minlin and we're not surprised it tops the list. Seldom does furniture determine the interior design, but in this case, Shed Studio has taken their clients' collection as the starting point. The result is an inviting space that looks lived-in yet stylish, with treasures and curiosities at every ordered, neat turn. 
2. Tokyo apartment by OEO Studio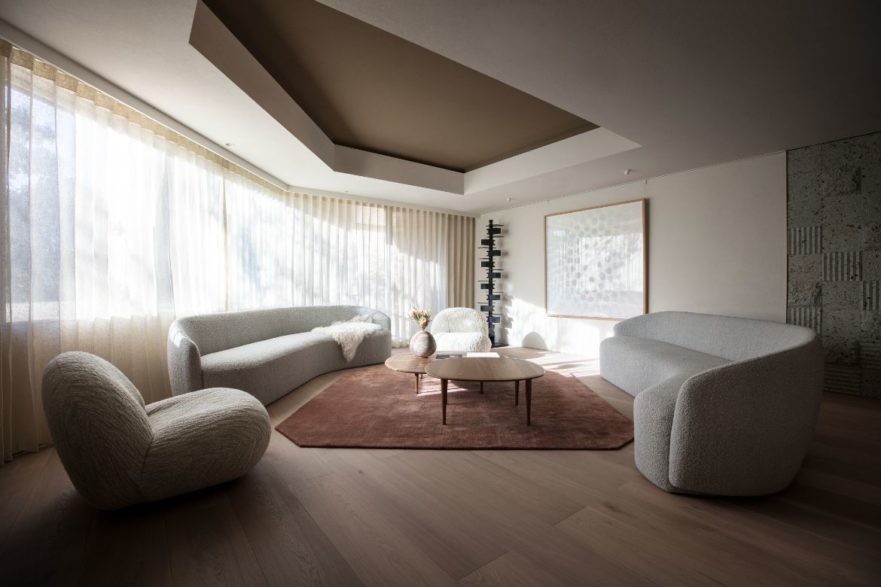 Copenhagen-based OEO Studio combines the traditions of wabi-sabi from Japan and hygge from Denmark in a renovation as sumptuous as it is stylish. There's something so calming about this apartment that makes it extremely appealing and more importantly, very liveable. The colour palette is derived from nature and the materiality is likewise neutral, with pale timber and stone also adding textural qualities.
3. Melvin Keng's apartment by Kaizen Architecture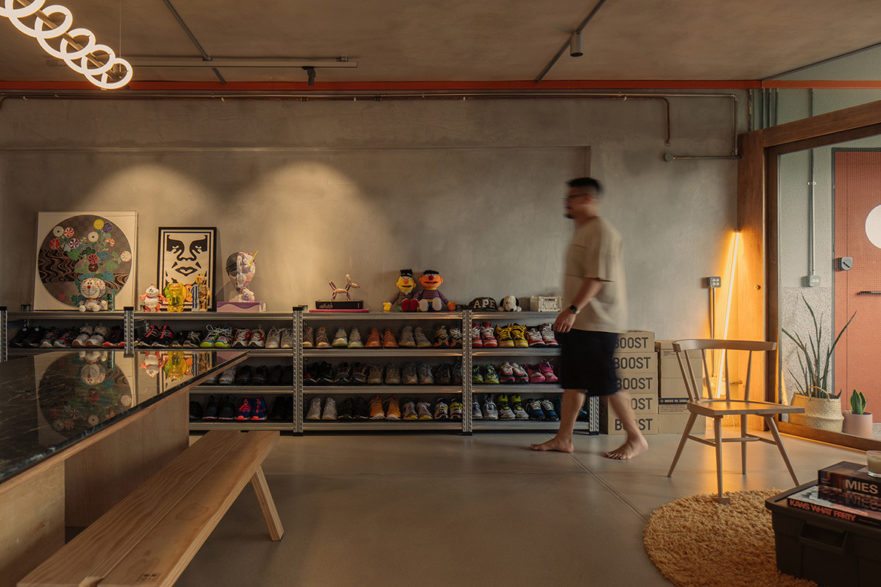 When Kaizen Architecture founder Melvin Keng designed his own four-room apartment in Bedok, he did so with a budget of $150,000. His home adheres to wabi-sabi principles and he has stripped out all embellishments so that what prevails is a raw, minimalistic aesthetic that is completely modern and highly functional. Hand-stained natural plywood joinery abounds and the apartment's defining feature is a three-sided, full-height storage cabinet in the middle of the space. It's an adaptive home able to perform the multiple roles needed in a post-COVID lockdown world.
4. Melbourne apartment by Studio Tate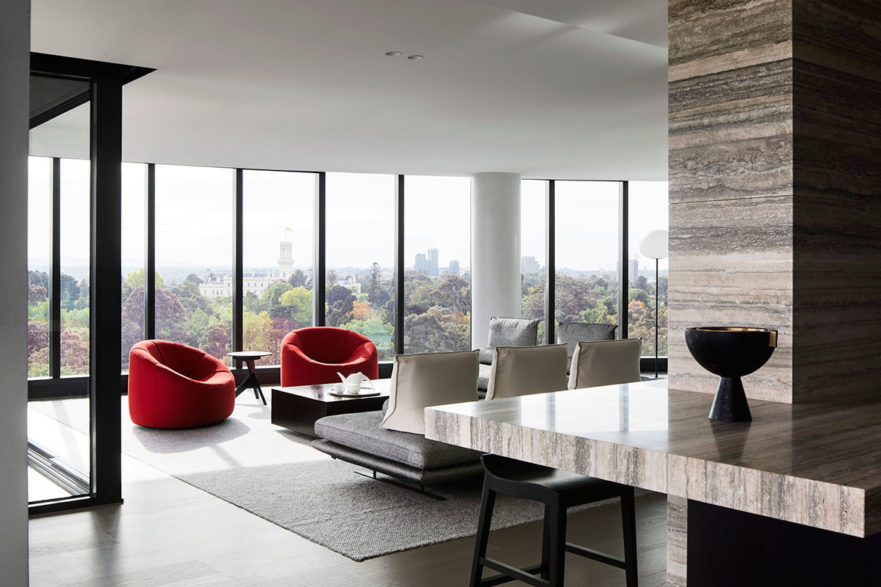 Once two small apartments, this newly renovated abode receives the Studio Tate treatment for a dramatic transformation. Generously proportioned spaces and a luxe material palette make it highly covetable, with a black, red and grey colour palette that adds to the element of sophistication, while also creating the perfect backdrop for the clients' art collection and designer furniture pieces. It doesn't feel like an apartment and that's part of its appeal, as is the view towards Melbourne's Royal Botanic Gardens.
5. Alvin and Danli's apartment by WAFF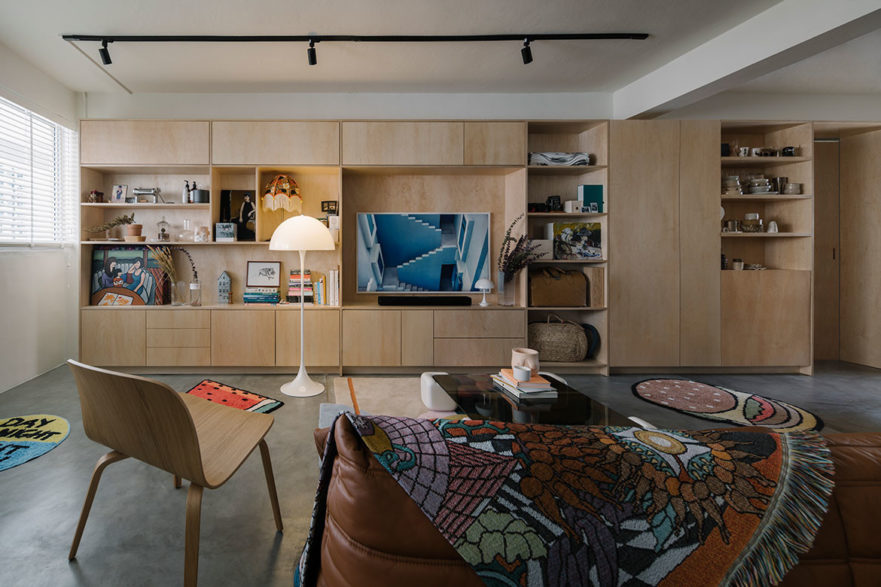 Alvin Richard Chan and Danli Lok's Housing Development Board (HDB) apartment in Singapore oozes charm. WAFF has designed an interior that reflects its clients' personalities via a fresh, modern aesthetic that focuses on comfort and well-being. It's a delight, from the cute yet hard-working kitchen to the bedroom, where a mid-height wardrobe stands in the centre of one side of the room. The plywood joinery spanning the eight-metre-long living and dining area is a stand-out and the apartment's overall relaxed ambience is hard to resist.
We recently counted down our Top 5 interviews with Design Hunters – these are your favourites for 2022!