From exquisite infinity pools, to ones built into a mountain side – this round-up of designer places to swim is all about embedding a sense of place.
While pools are now non-negotiable for resorts, the imagination given to their aesthetic significance remains lacking.
Yet when architects embrace the natural forms of a locale's surrounding landscape in the design of a pool, it serves to elevate guests' experience of a place. Suddenly a pool goes from status quo to main attraction. At these five properties, guests will discover that it's not about the destination, it's how the pool plays to it.
COMO Shambhala Estate, Bali, Indonesia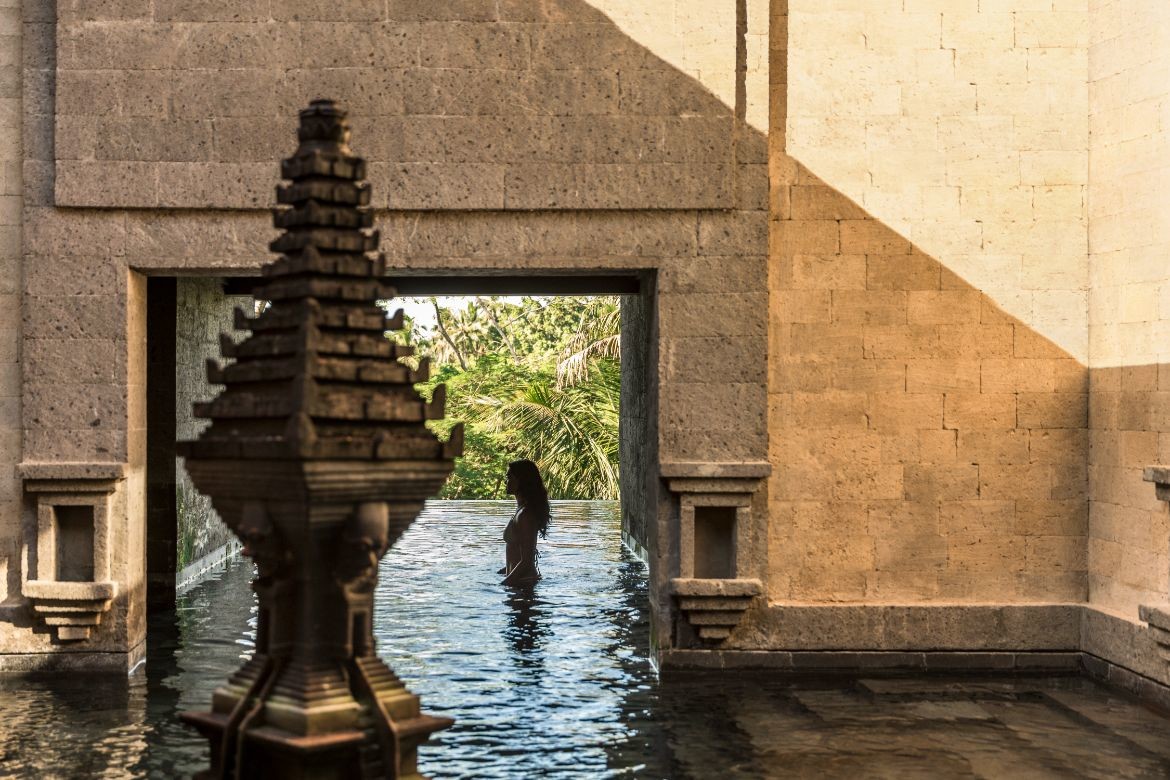 Finding a pool where you least expect one exemplifies the hospitality gold standard of "surprise & delight." It's exactly what occurs upon entering COMO Shambhala Estate's UmaBona suite. A flight of stairs from the villa's main sitting area lures guests down to a courtyard plunge pool. The central waters are punctuated by a Balinese-inspired stone temple, followed by a tunnel beneath the master bedroom for compression before releasing into the larger, private infinity pool overlooking the island's jungled mountains.
Grand Hotel Kronenhof, St. Moritz, Switzerland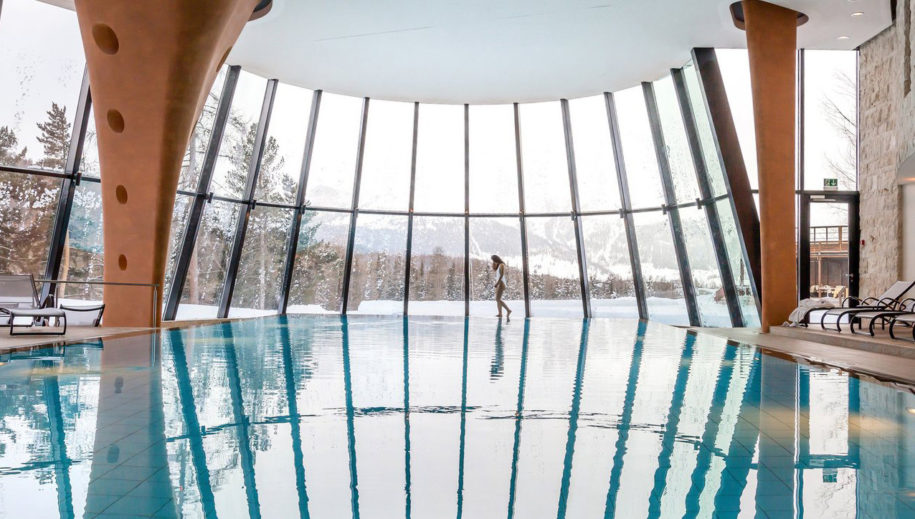 The Grand Hotel Kronenhof's historic, neo-baroque design was somehow enhanced by the 2007 addition of its decidedly modern, 2000 square metre spa. Catering to well-heeled apres skiers returning from the slopes of nearby St. Moritz, the property needed a spa to match the prestige of its patronage. The result is a sprawling, light-flooded central pool framed by floor-to-ceiling windows that emphasize the Engadine Valley and surrounding Alps.
Jade Mountain, St. Lucia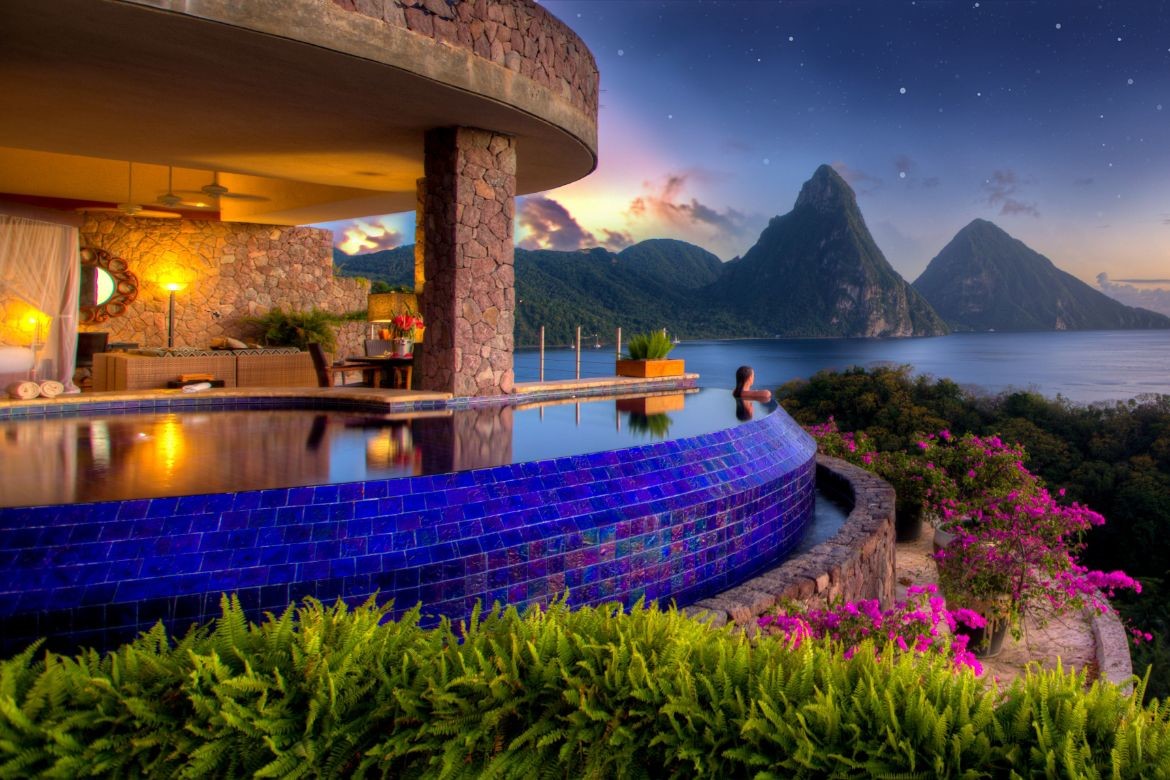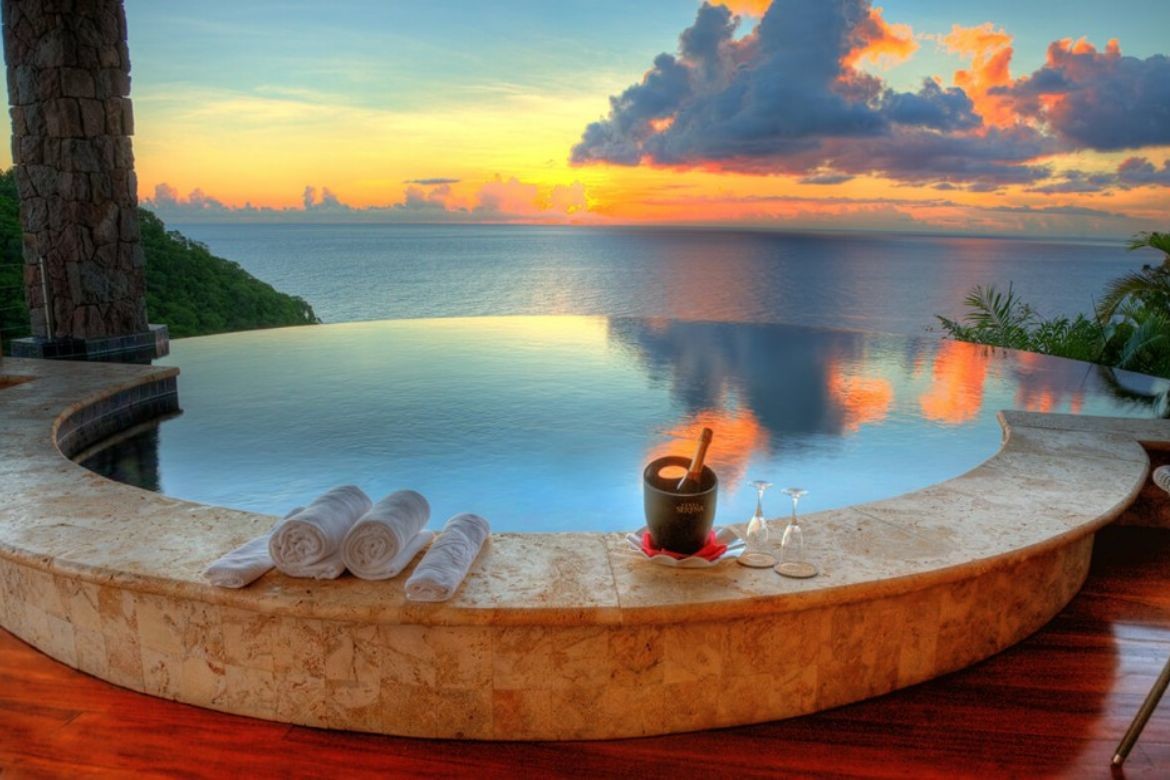 The pools in each private Jade Mountain suite, or sanctuary, echo the resort's free-flowing forms and emphasise on the missing fourth wall. Instead, the pool's vanishing edge leads the eye to the suite's open-air view of St. Lucia's famous Piton mountains. Each pool has its own unique, curvilinear shape and colour scheme made from iridescent glass tiles that add to the ensuite sensorial experience, which architect Nick Troubetzkoy so carefully orchestrated.
Amangiri, Utah, United States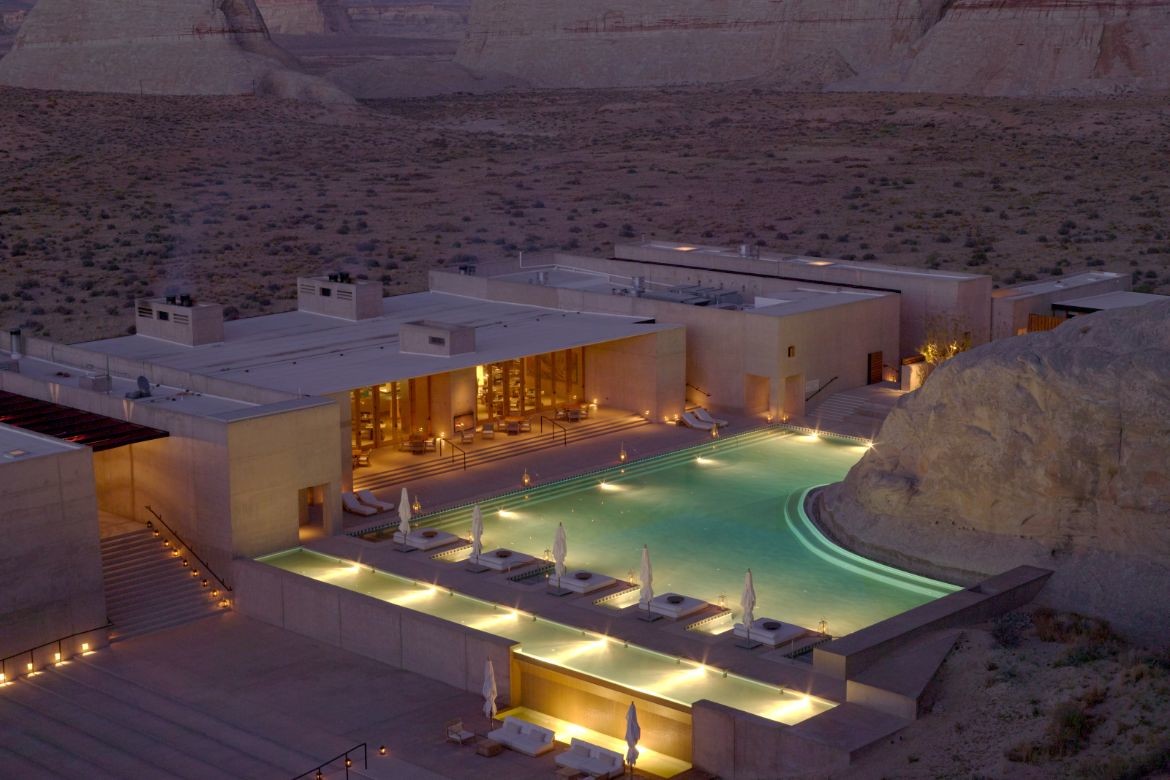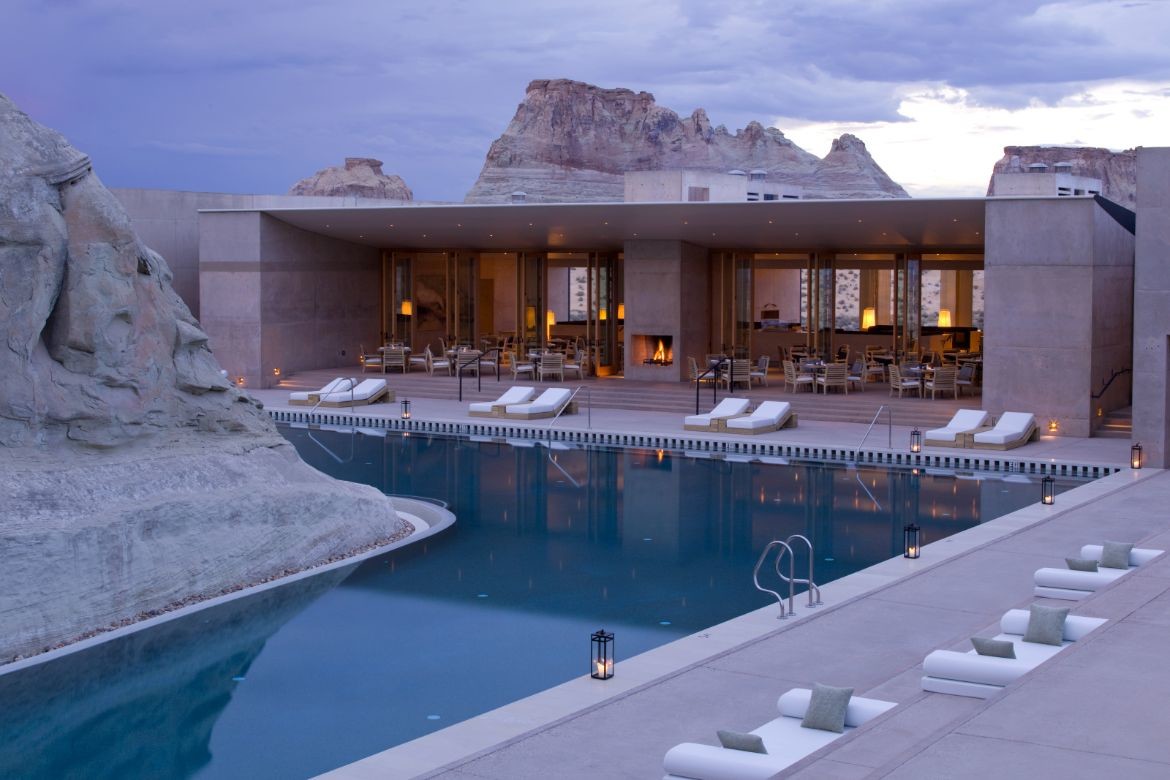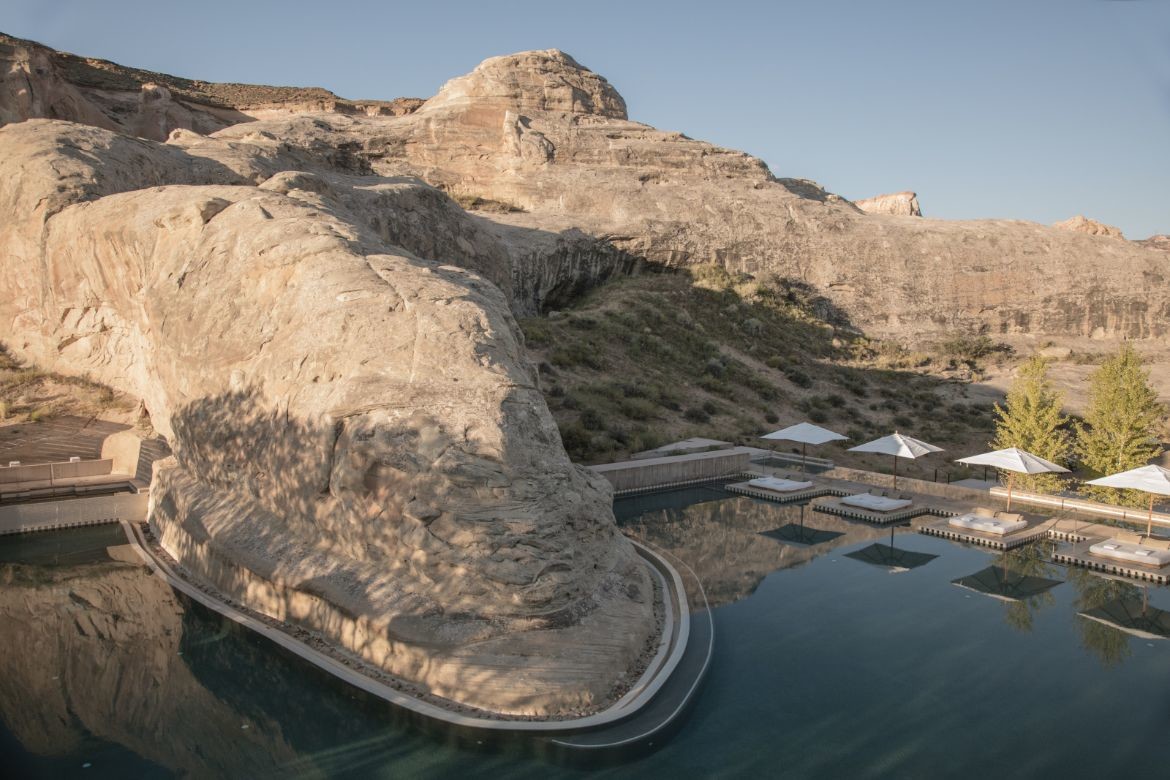 Building in the desert can feel like a blank canvas to designers, but the team at Amangiri – a resort that prides itself on seclusion – opted to blend into the landscape. Its central swimming pool serves as an oasis in the scorched earth. Built into an escarpment of 165 million-year-old sandstone cliffs, the pool was made using a mixture of local sand and cement.
Cavotagoo, Mykonos, Greece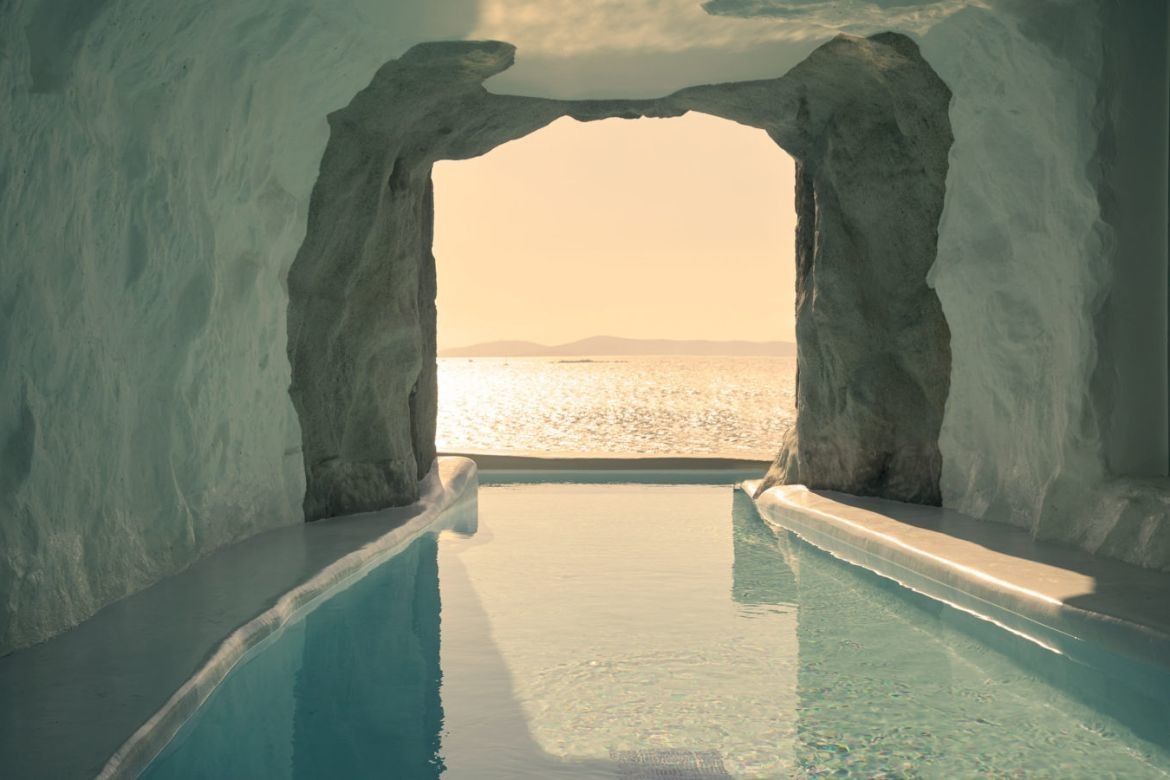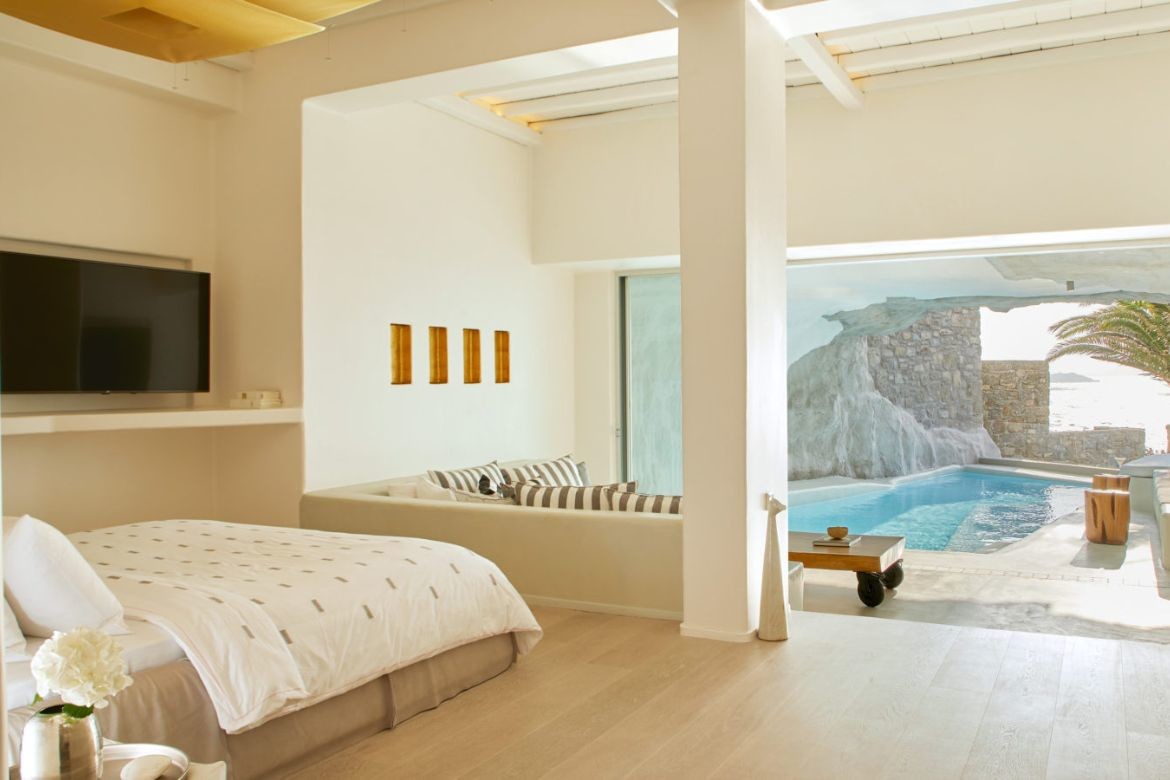 Taking in a Mykonos sunset from the privacy of one's own grotto is the stuff of Instagram dreams, which is exactly what inspired the designers at Cavotagoo Mykonos to create its signature Cave Pool Suite. The frequently sold-out space affords one-of-a-kind views of the Mediterranean through an artificial cave made from luminous white rock to remain in keeping with Mykonos' signature sunny aesthetic.
We think you might like to read about a design and wine-filled tour of the Barossa.
---