Reviewing this sort of book isn't our normal purview, however, there is a philosophical undercurrent to this book that is germane to contemporary thinking. That is, an understanding of the benefits of locally grown food, for example, or sustainable farming practices and eating fresh organic food in season.
"What matters with food isn't quantity but quality. What matters is how the land is left after we eat, and just how good each meal is we take from the soil," says Evans, who is familiar from SBS's Gourmet Farmer and an even longer career as a food critic.
Nowadays Evans' is a farmer/food activist on Fat Pig Farm's 70 acres in Tasmania, where he watches soil conditions and hosts farmhouse feasts and cooking classes. The book itself is an updated version with issues such as fish farming and climate change getting a bigger look in.
The introduction has been rewritten, but is still embarrassingly sentimental, but easy enough to skip!
Where Evans excels is the succinct explanations for food terms, the rationale for food choices and tips for best selection. His tone is easy and not didactic, he posits "I think", rather than "this is", which lends the text a discursive quality: "I'm sceptical about GM foods. Proponents say they offer a quick fix to environmental problems and world hunger, because crops can be bred to resist disease or produce a better yield. I worry about unintended long-term consequences."
Ethical food conundrums are dealt with first with a paragraph on a range of topics that open the subject rather than answering with a closed opinion (though his opinion is clearly evident.) The rest of the book is divided by food type – Dairy, Grains, Pulses and Flours, Poultry and Eggs. The index is in two parts, recipes and topics.
If you read only one section, read the one on milk. Just about all the supermarket milk we buy is pretty ordinary when compared to full cream unpasteurised milk – milk as it should be, raw. He explains why the processes of milk production from pasteurisation to cold pressing extend the life while changing the taste and mouth feel of the milk we drink.
Indeed, most milk is disassembled into its constituent parts then reassembled to match the list of percentages on the label. To do so, the seasonally lowest percentages of fat and protein become the normal so that year-round production is never below the standard.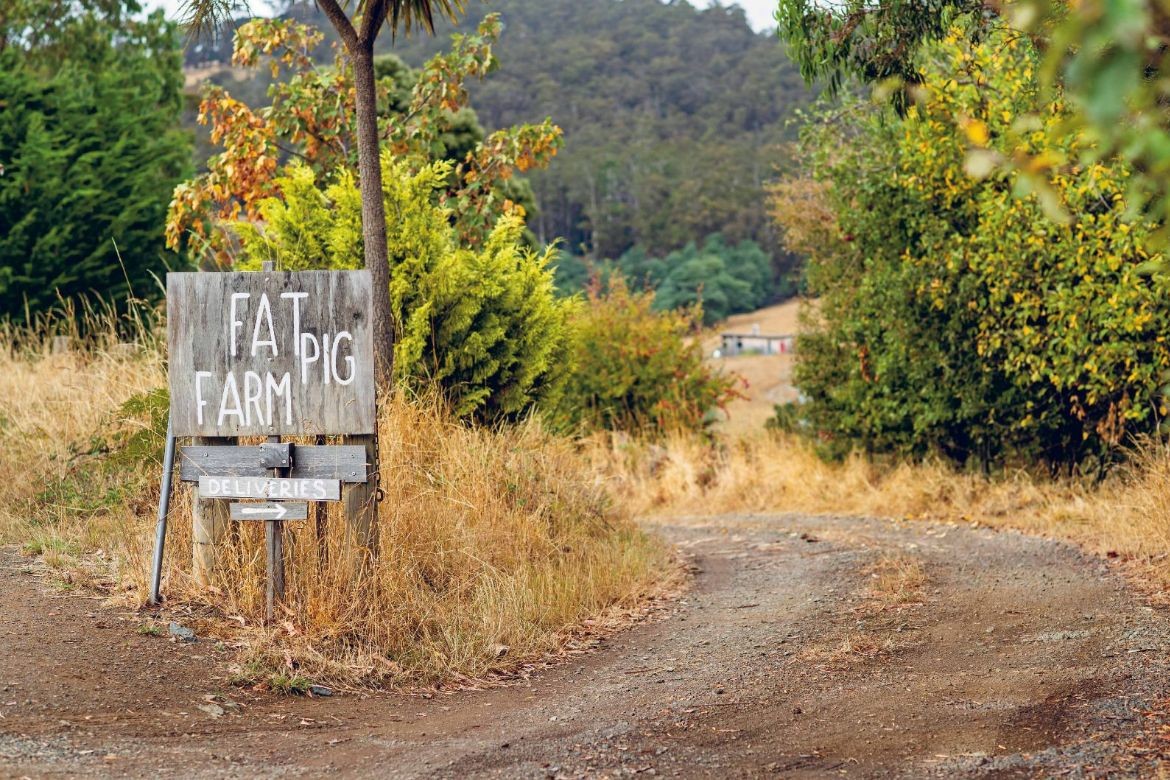 The recipes are fabulous with the natural flavour of the produce always pushed to the front. The sour cream panna cotta for example turns three ingredients into bliss.
When recently pointed out that the average recipes followed in any cookbook was three, then asked which three he would suggest, his immediate response was the raspberry and elderflower trifle. Which, includes a recipe for homemade mascarpone. Enjoy!
The Real Food Companion by Matthew Evans
Raspberry & elderflower trifle with Moscato jelly p.454
Raspberries are a celebration of summer. Soft, bright in colour and acidity, sweet and packed full of flavour, they're brilliant in desserts. I like to use them with elderflowers, which also have a tremendous summery perfume, and are now sold as a cordial in many supermarkets. Failing that, just use freshly squeezed orange juice. If you can't get Moscato, dilute a dessert wine with half its volume in water. It's best to make the trifle a day before you plan on eating it to let it set. A little weeping in the bottom of the bowl is just fine.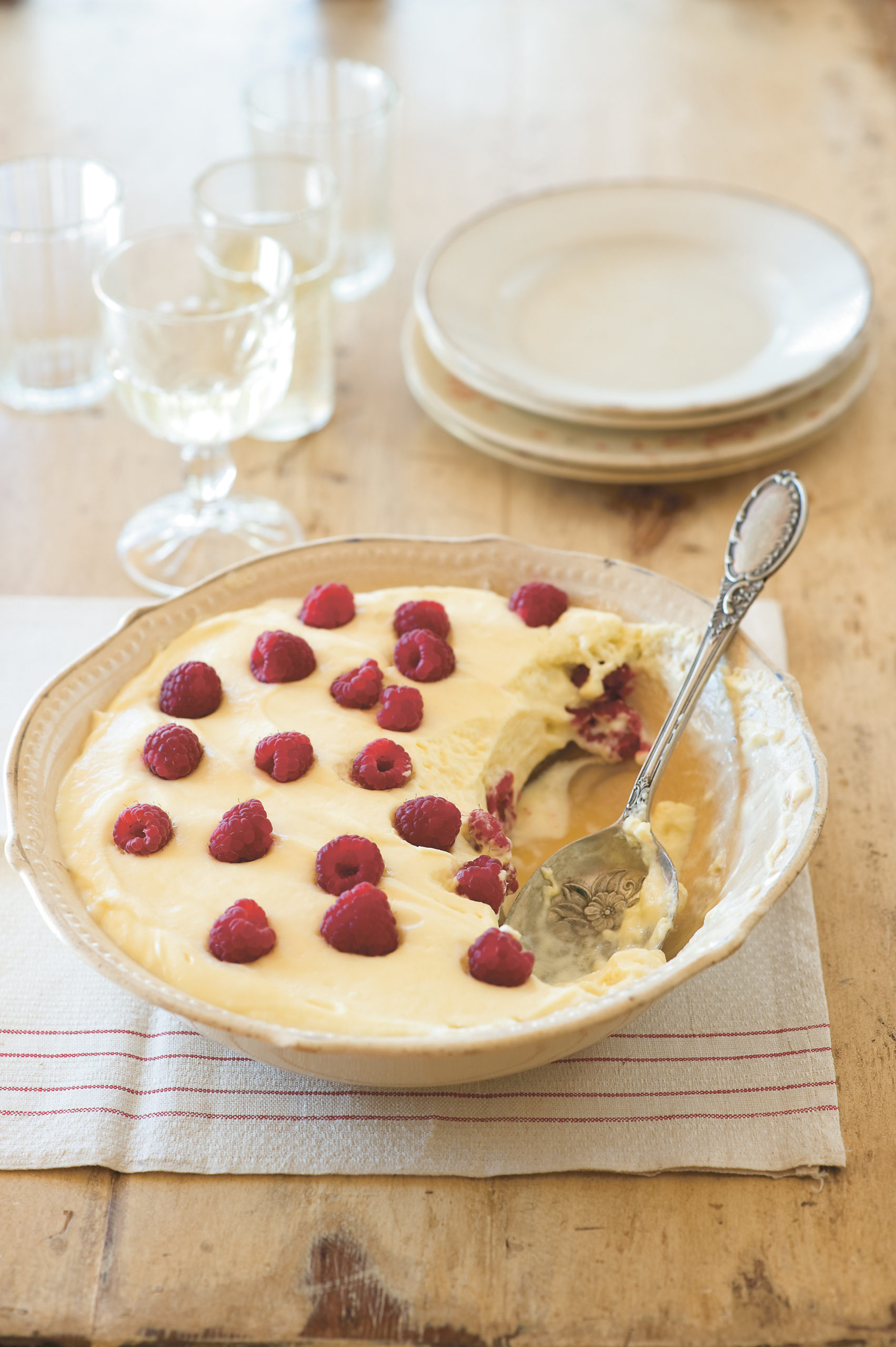 Serves 4-6
600 ml (21 fl oz) moscato wine
3 teaspoons powdered gelatine
120 g (4 ¼ oz/about 8) savoiardi (lady finger) biscuits
300 g (10 ½ oz) raspberries
4 eggs, separated
50 g (1 ¾ oz) caster (superfine) sugar
130 g (4 ¾ oz) icing (confectioners') sugar, sifted
500 g (1 lb 2 oz) homemade mascarpone (see below)
80 ml (2 ½ fl oz/1∕3cup) elderflower cordial
Put the Moscato in a saucepan over high heat and bring to almost boiling. Whisk in the gelatine until it dissolves, then remove from the heat.
Arrange the savoiardi biscuits in the base of a 25 cm (10 inch) square casserole dish, about 2.5 litre (87 fl oz/10 cup) capacity, and pour over the Moscato to coat. Allow to cool, then refrigerate overnight so it sets.
The next day, tip half the raspberries over the top. Whisk the egg whites with the caster sugar until stiff peaks form.
In a separate bowl, whisk the yolks with the icing sugar until pale and light, then beat in the mascarpone, being careful not to overmix or it will split. Stir in the cordial, whisk again, and then gently fold in the egg whites.
Smear this thickly over the biscuit mix and raspberries, top with more raspberries, cover, and refrigerate for 1–2 hours before serving with a glass of Moscato.
Homemade mascarpone p.62
Mascarpone is one of the world's most exciting creams. But often the stuff you buy isn't as good as it could be. By making it yourself, you won't have to pay exorbitant prices and will also get a better result than if you were to buy a commercial variety.
This recipe is also handy for people who live in country towns and may not have mascarpone available on supermarket shelves. You can replace the lemon juice with lime juice in this recipe, or add 1 teaspoon citric acid and a vanilla bean to the simmered cream and let it infuse for 15 minutes.
Makes 350 g (12 oz)
600 ml (21 fl oz) pouring (whipping) cream (35% fat)
1 tablespoon freshly squeezed lemon juice, strained
Put the cream in a saucepan over high heat. Bring to a simmer, add the lemon juice and cook for 1 minute. Remove from the heat and allow to cool completely.
Line a sieve with a double layer of muslin (cheesecloth), and drain the cream into this muslin over a clean bowl.
Refrigerate in the sieve for 1–2 days until firm. Discard the liquid. The solids are your mascarpone, ready to flavour and sweeten if you desire, or just serve it as you would a rich cream.
Store the mascarpone covered with plastic wrap in the refrigerator for up to 1 week.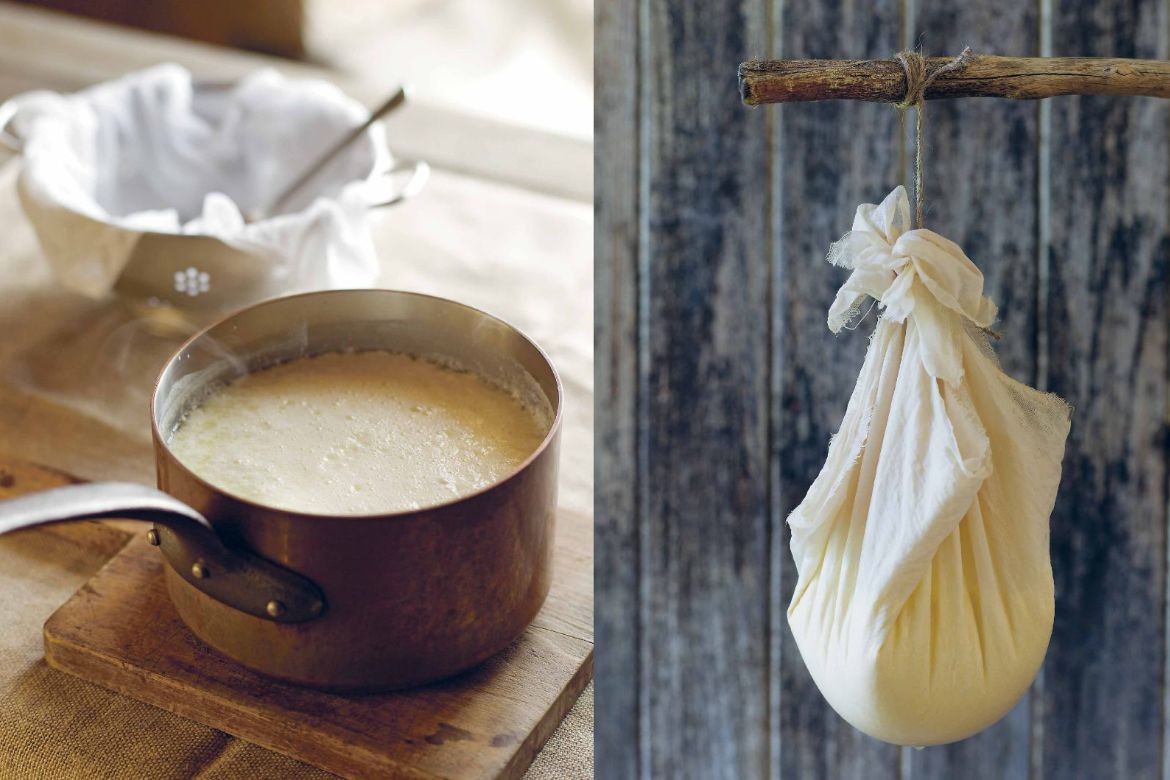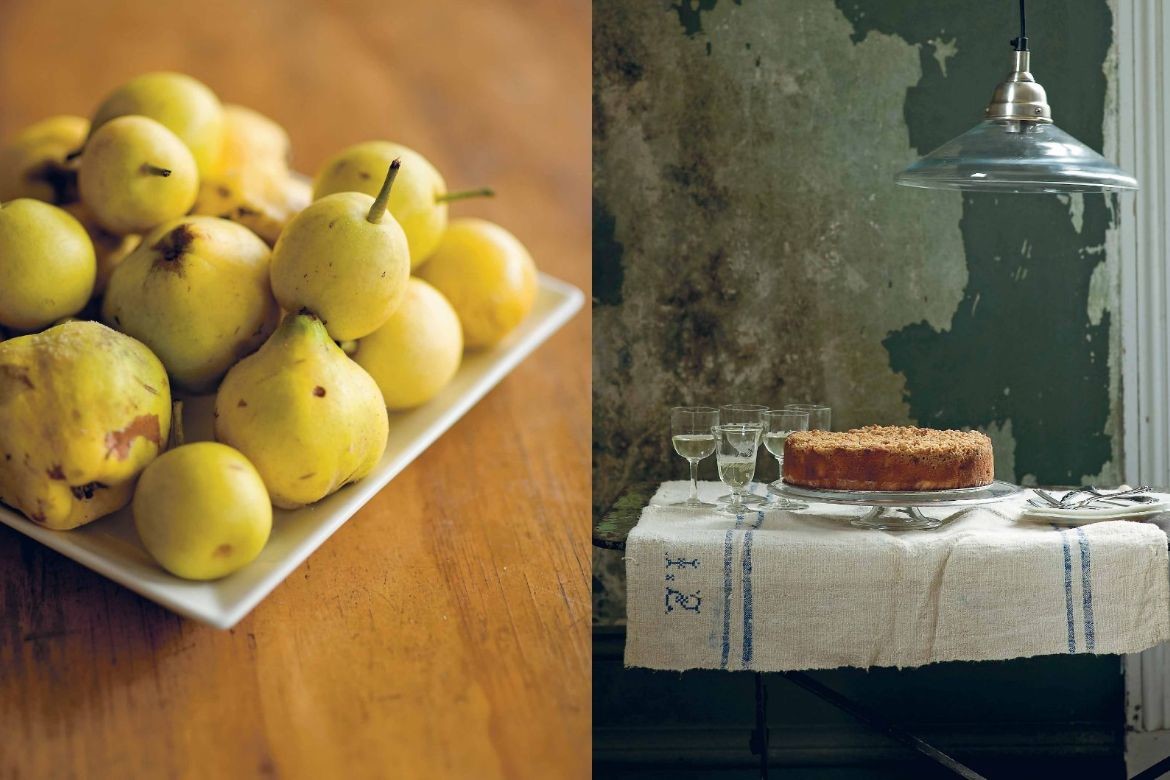 Matthew Evans / Fat Pig Farm
fatpig.farm
We think you might like this story where we step inside the home of Melbourne chef Ian Curley
---