Reading is a pastime that broadens your thinking boundaries and improves your thinking. It also enables you to learn about many fields. You must read a book for at least 30 to 40 minutes each day. If you are a bookworm, it is essential to have a room set apart for reading so that you can enjoy this passion.
Reading nook is a favorite place for book readers. One can create an atmosphere around a reading nook that does not disturb them. It is very important to design a smart reading nook at home that can be used by everybody. You may find Pinterest-worthy reading nook ideas at home. However, you get overwhelmed with the options you get on the internet to design a reading nook.
Here is a list of amazing reading nook ideas that will inspire you to design a separate space for reading and you can do some changes to your home decor accordingly.
Design A Reading Nook In The Living Room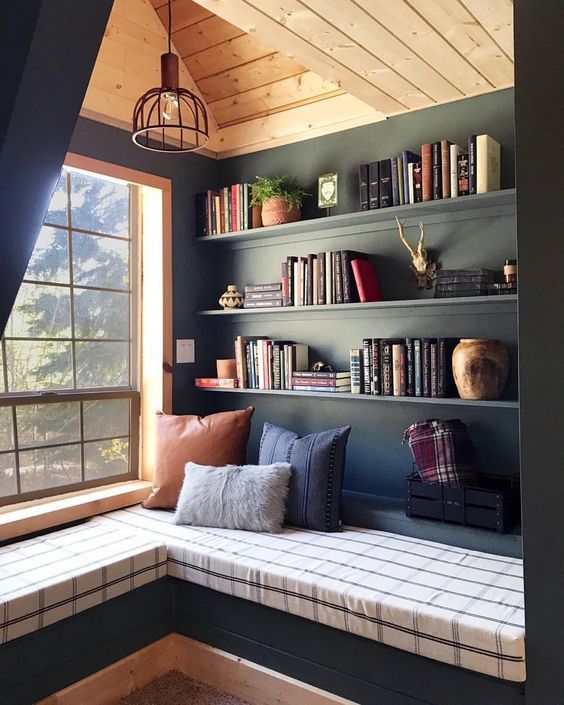 source: pinterest.com
In your living room, find a place nearby a window that can give you natural light. Choose a corner area so that you can be free from the daily noise of your house members. If you have a corner-side sofa, you can use it. Otherwise choose to have a separate seat under a window with drawers to use as storage.
Made A Seating Arrangement Beside A Glass Window
You can build a permanent seating area with bookshelves along the wall of the window or simply place a comfortable chair next to a glass window for seating. Make the window seat more comfortable with upholstered pads and pillows. 
A Simple Reading Nook With Storage
You may keep all of your books organized by creating a reading nook with storage, which will also help keep your home very tidy. Make a drawer below the seat. Moreover, design cabinets alongside that will also make your reading nook looks formal and well-organized.
Create A Reading Nook Underneath The Stairs
source: pinterest.com
A well-thought process and some smart tactics can make a small but comfortable reading nook. Have you ever thought that you can utilize the area under your stairs as a reading nook? Well, you need. Opt for creative furnishings like comfortable chairs and desks. Additionally, an excellent alternative that is both aesthetically beautiful and functional for reading is downlighting or wall lighting.
Use Bay Windows To Design A Reading Nook
The architectural style of your home might suggest possibilities for reading nooks, and a bay window might be one of them. Bay windows provide ample space for a reading corner and natural light. Two people can sit side by side and enjoy reading together if your bay window is large enough.
Reading Nooks For Kids
Having a reading nook in kids' bedrooms will make them fall in love with the reading process. A dedicated space will inspire kids to have discipline in their reading and pay the attention needed while reading. 
Make a space between the wardrobes. Instead of making a vanity or dressing table, make a tiny space for reading. Opt for wallpapers that relate to reading and stick them on the wall. Design a comfortable seat and furnishings for convenience and the kids' room reading nook is ready.
Pop Of Color In The Upholstery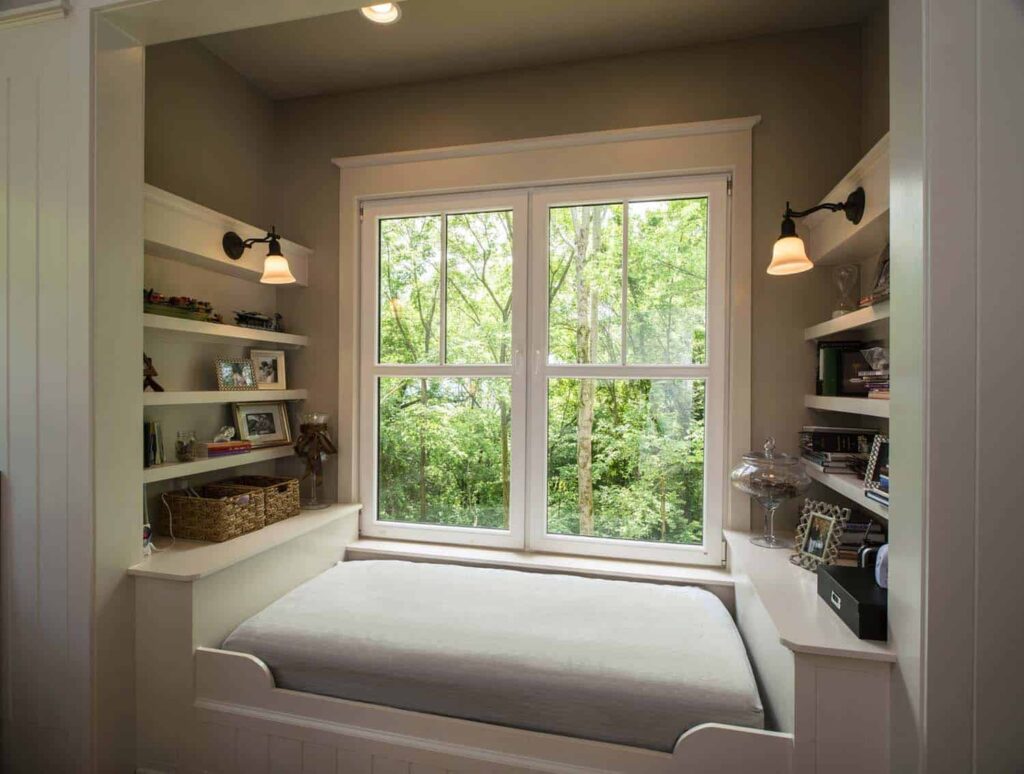 source: pinterest.com
Chairs and sofas for a reading nook may have eye-catching patterns and designs that will attract the readers to sit on them. You can opt for contrasting colors for chairs, sofas, and upholstery with the color of the wall to make the place very interesting. The couch seat's warmer tone makes it a welcoming place to relax and read a favorite book.
Use A Landing Of a Staircase As A Reading Nook
There are some places in our home that are overlooked for many reasons. You can utilize these spaces for better use. For example, the landing space of the staircase can be used for a reading nook. Design a destination for reading by placing an armchair. Place a bookshelf nearby and enjoy the reading process. 
Put A Recliner Sofa In Reading Nook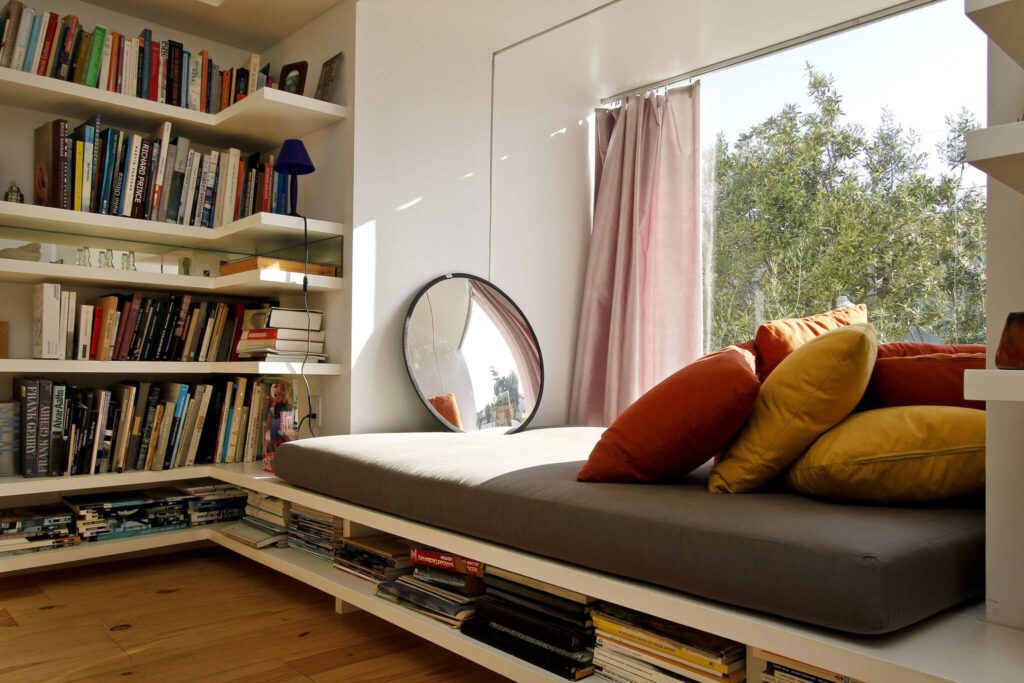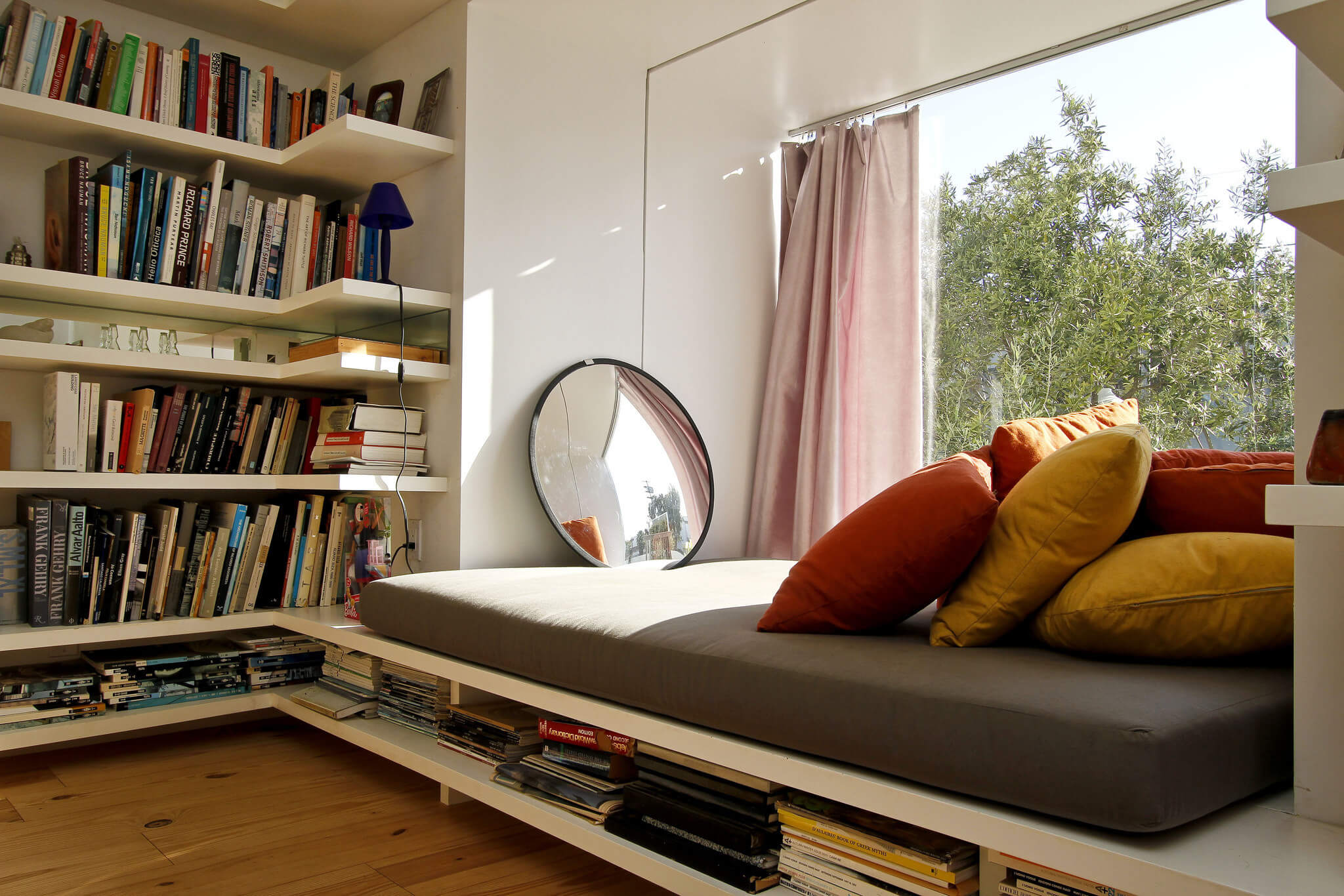 source: pinterest.com
To read in the utmost comfort, consider choosing a chaise longue rather than an armchair. It's a decision that exudes elegance; it goes well with creative bedroom bookshelves. You can read in your bedroom, but the area you choose must have some level of comfort and solitude. It will provide a quiet sense of elegance in your own home.
Put Architecture In The Center
Utilize the architecture to create a nook in the space. This kind of architectural design makes a statement and has a homey appearance. You can spend quality time with your loved ones in the alcove because of the space's ability to make you feel unique. Additionally, you can build a shelf for the cavity to put all of your favorite books in one location.
In A Nutshell
With the ability to be built into a square or rectangular space, Reading Nooks can provide you with the coziness you long for.
Making a reading nook, or even several of them, won't need giving up a lot of areas because they should be cozy spaces. The importance of inviting colors, textures, and comfortable seats, cannot be overstated.