Though the design was instigated pre Covid, Ovolo South Yarra is seriously the embodiment of a lockdown antithesis.
More fun per square inch than any other fabulous hotel, Luchetti Krelle's design for Ovolo South Yarra is far from skin deep. Though the skin is delicious with colour and sixties touches, art and sculpture, secret doorways to secret bars and loads of Insta happy settings, all making the opening gambit a memorable one. Where it really gets going however is the layers of interest woven into the experience of each of the public spaces.
The lobby for example feels like somewhere you want to hang. This is not a stiff transit moment but an arrival experience of art, sculpture and comfort. It is also funny, a rare treat in the world of hotels.
Here a neon artwork sits below a giant orange inverted funnel, which in turn sits below a giant ring of neon. A round double-sided caramel banquette surrounds the whole to transform the separate elements into a contemporary take on the sunken lounge typology, replete with fireplace!
Then art, real art, has been curated into every space it can be fitted. Ben Tankard's Pop Series, 2020 for example, comprising fifteen paintings of pop icons, sits above the elevators, while Jisbar's Space Gallery, Entertainment Queen and Super Punk Mona occupy the three walls between the main entranceways into the rest of the hotel.
The restaurant, Basement Lounge and Backroom Bar continue the exploration of mid-century culture in fantastic colour combinations, from jewel-toned furniture to lighting and wallpapers.
Moreover, the designers have not limited the aesthetic palette to one stylistic avenue of the sixties, instead, an eclectic mix of styles are extrapolated from brutalism, to pop, Palm Springs glamour to beatnik jive.
Related: Luchetti Krelle adds a little "residential" to The Byron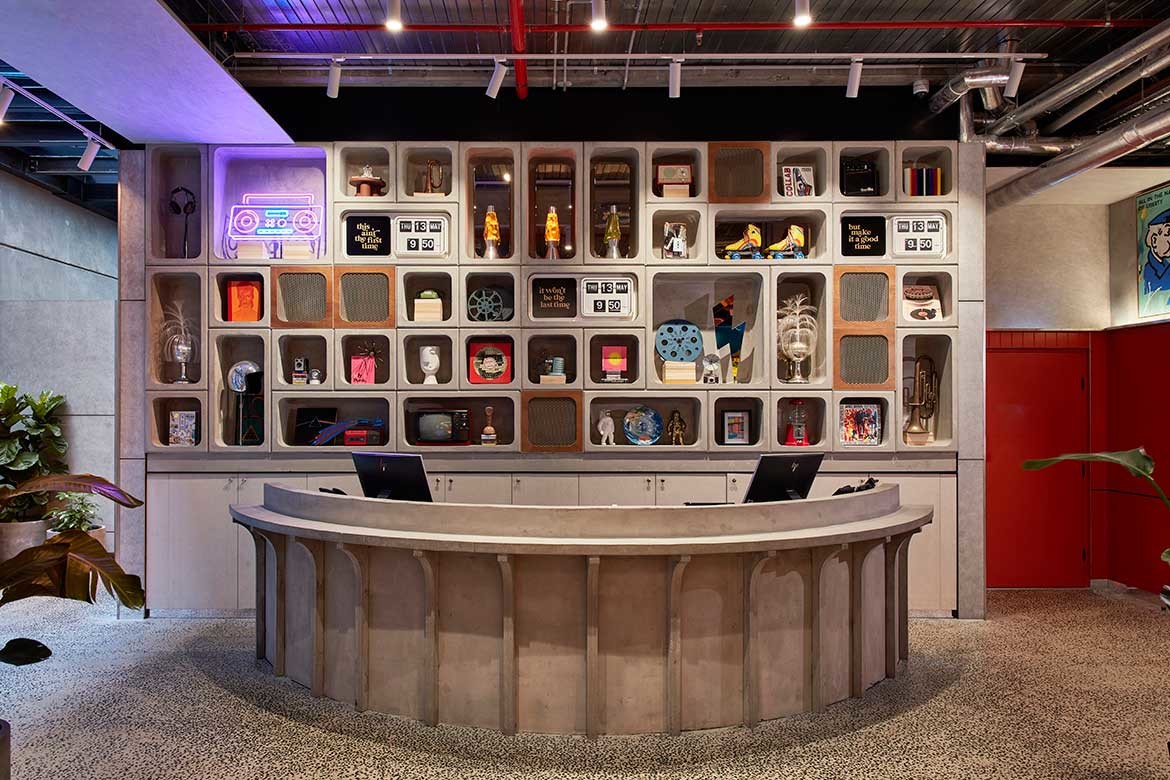 Deep green walls, buttery caramel leather and natural timber anchor the rooms beautifully with comfort and simple lines that counter the cacophony of visual splendour. It is a clever design balance that allows the eye to rest while dining or having a drink.
Effectively, you arrive into an area and the vista is stunning, this continues as you make your way to your table, but as you sit facing your companion these elements are allowed to recede. Mind you, there remains plenty to hold your attention.
The guest rooms are a continuation of these themes, in a much more toned-down fashion. Indeed, the focus here is comfort and technological ease. Answering millennial expectations, seamless technology is integrated within all the rooms with Chromecast and Bose Bluetooth speakers (excluding the Go Go rooms). Similarly, every public space throughout the hotel is equipped with USB power points to connect tech enthusiasts and guests to the global grid.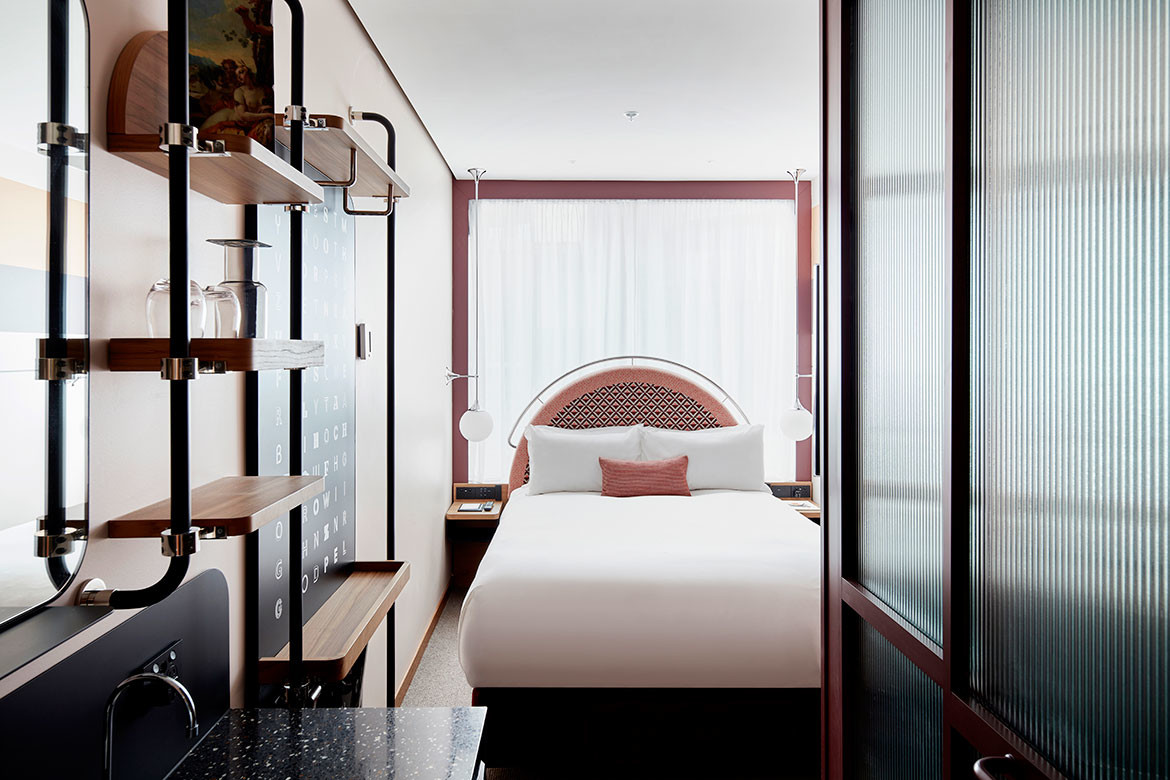 Large wall motifs continue the sixties vibe and hallway wallpapers, as do the arched upholstered bedheads, round lamps and timber furnishings. Where the public spaces are designed to wow, however, the rooms are designed to meet your travelling needs of sleep, comfort and shower (with comparatively just a bit of wow).
Granted, the suites, John, Yoko, Sonny and Cher are bigger and have record players and a collection of vinyl, but the main aim is to get you recharged and back into the world, even if you only make it as far as the restaurant. Which, is possibly all you may need, with many guests using the hotel's amenities as an extension of their travelling home as they invite friends to join them at one of the bars.
Cheers!
Project details
Interiors – Luchetti Krelle
Photography – Sean Fennessy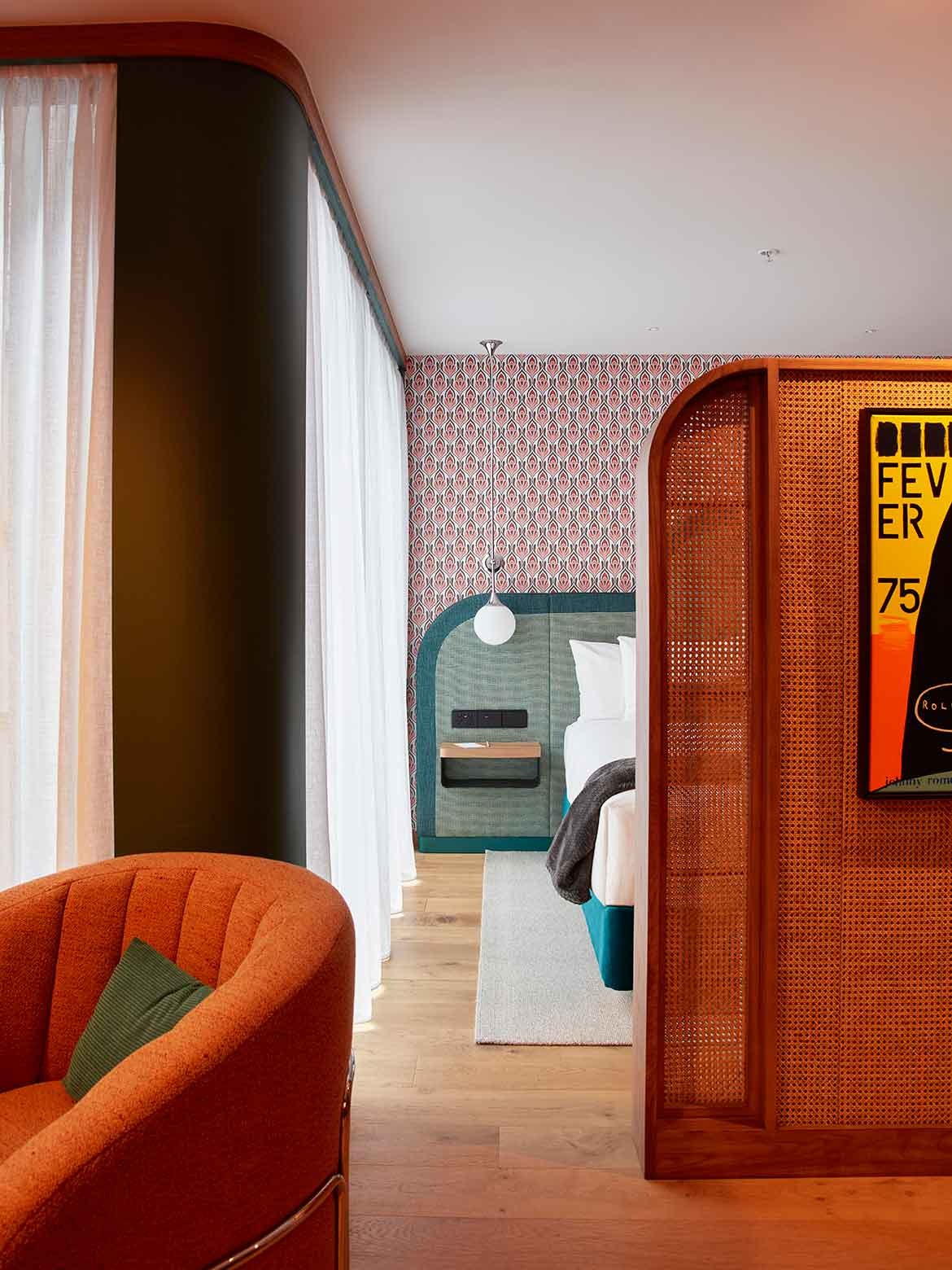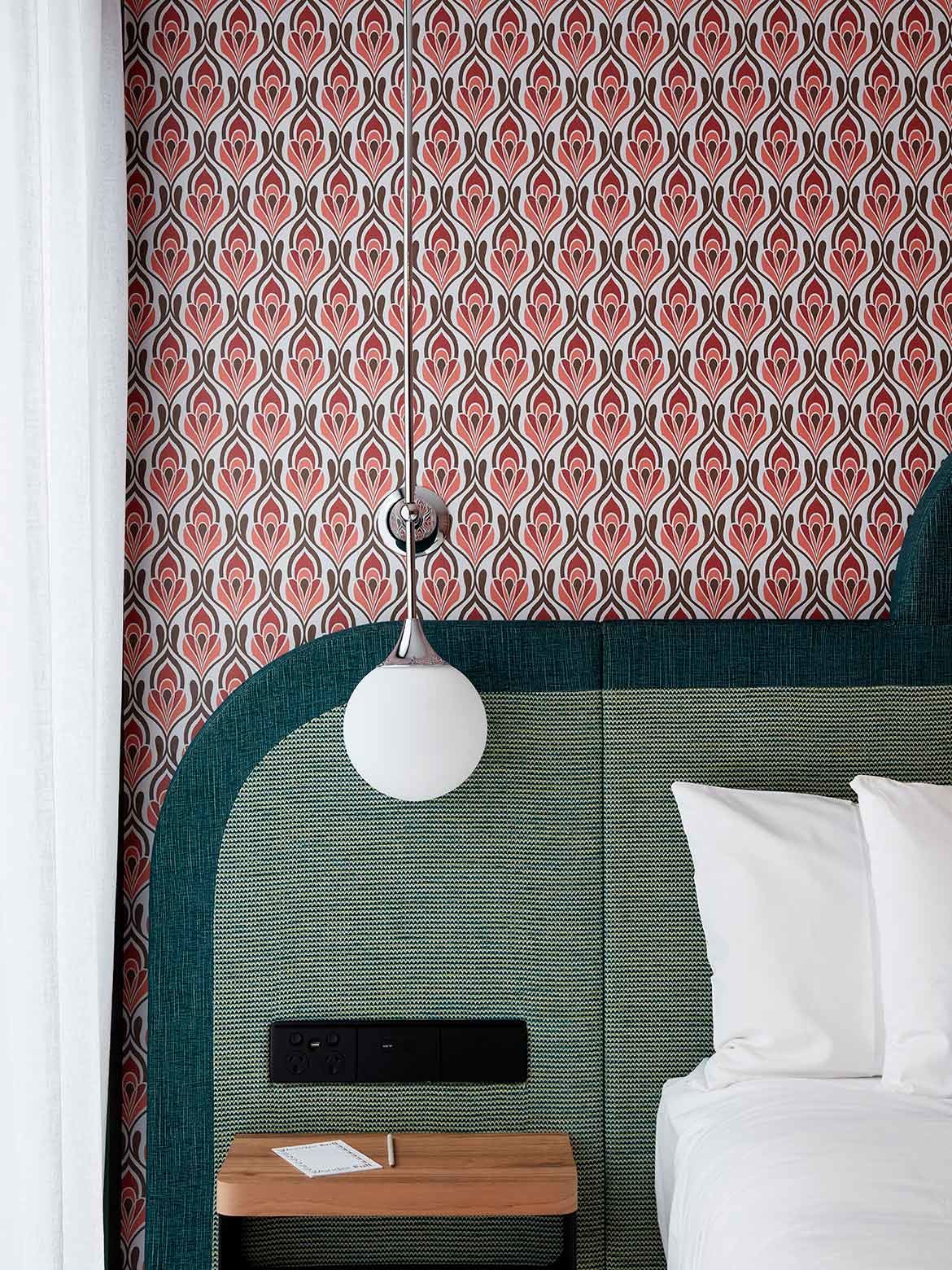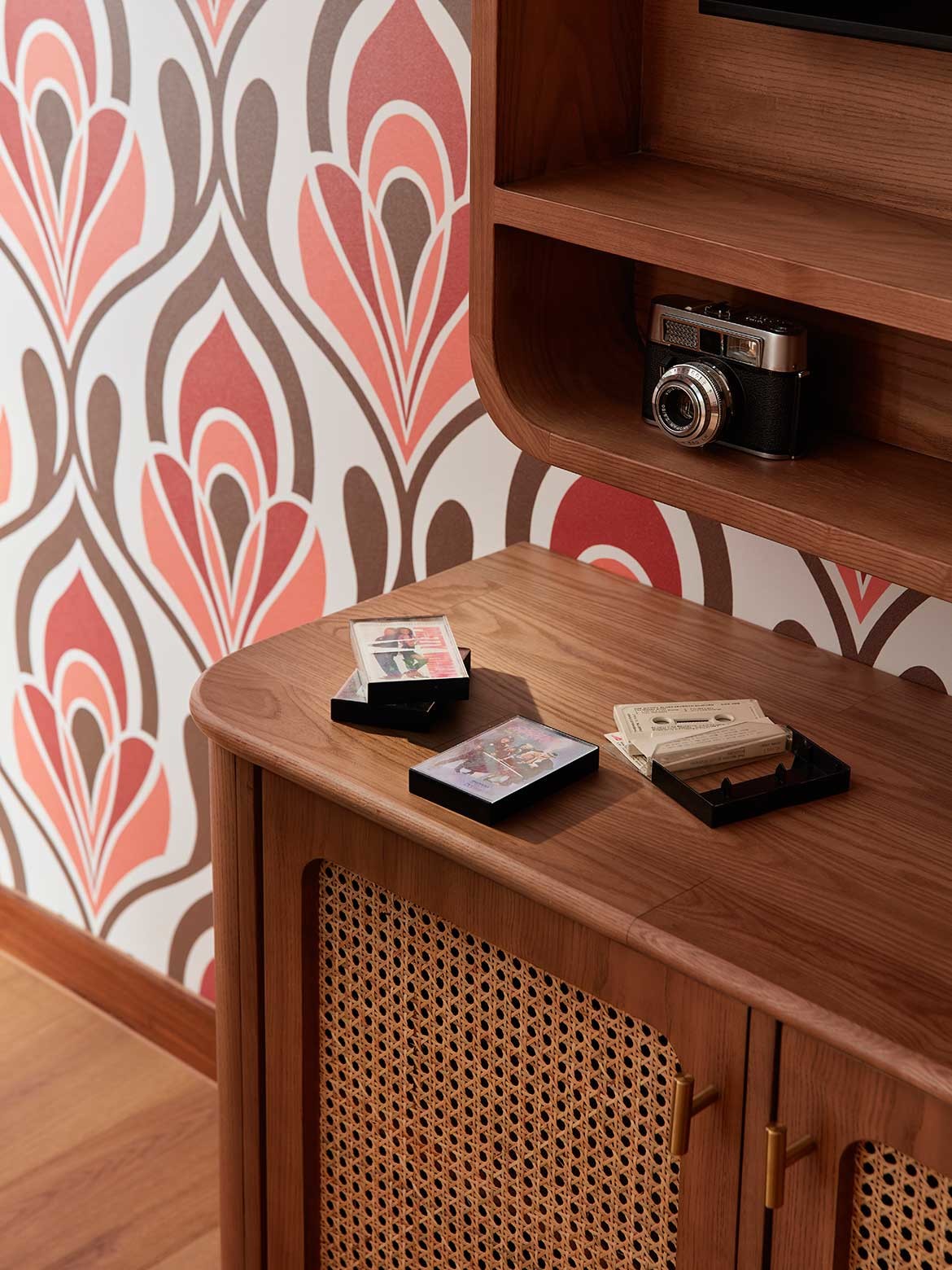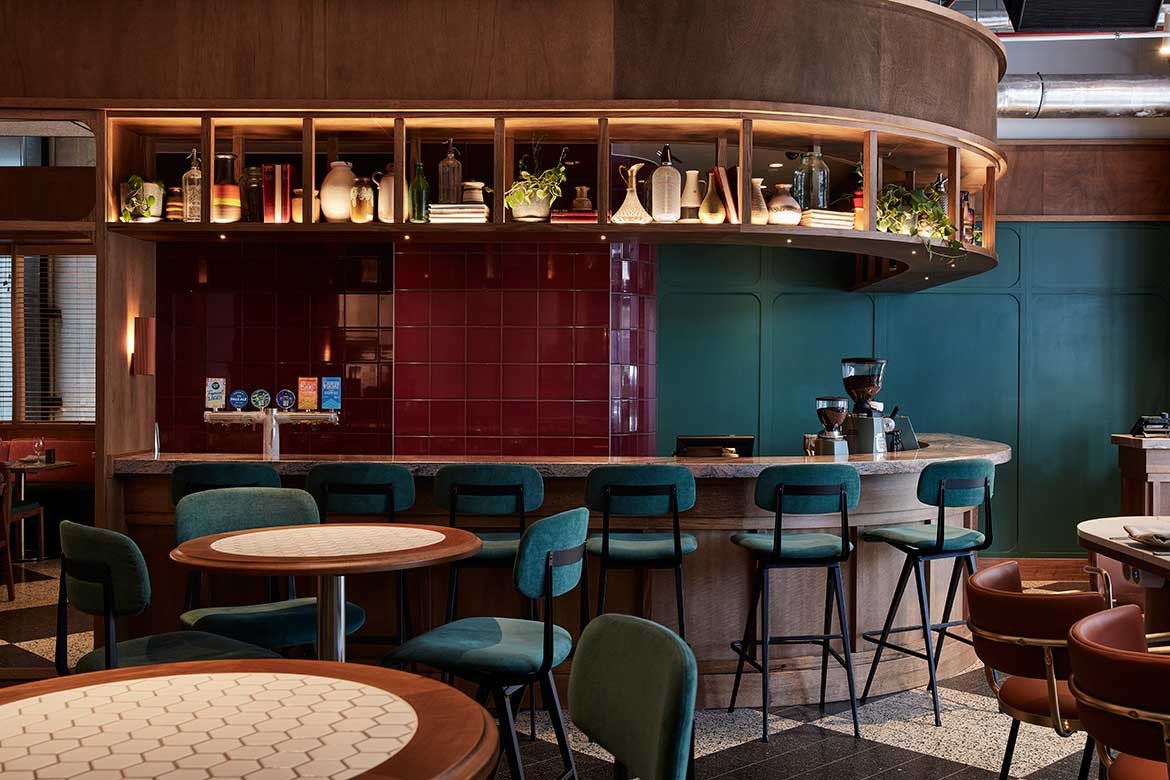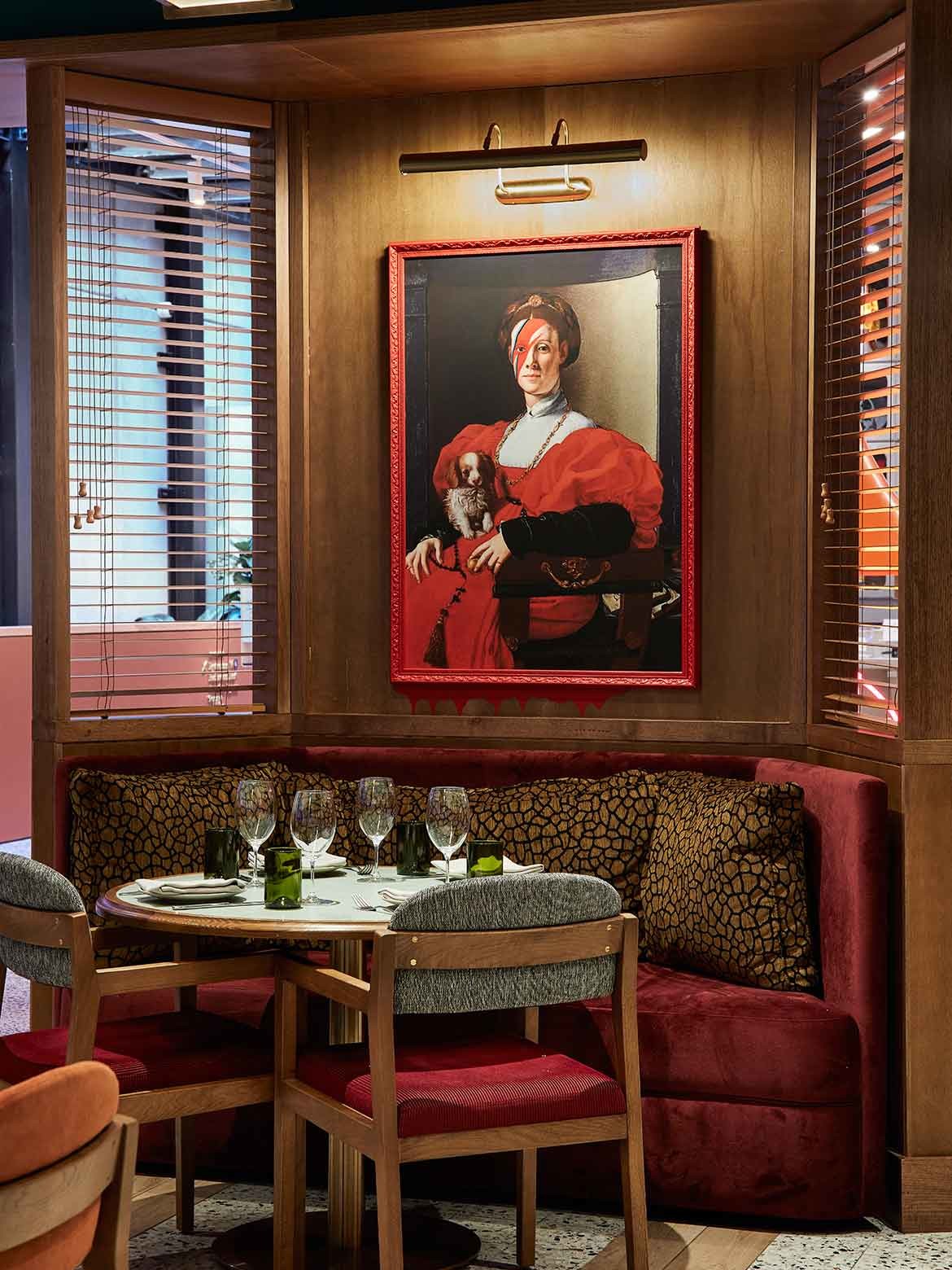 We think you might like this story on The Tattersalls Hotel revival by Luchetti Krelle.
---