There are so many possibilities for adding landscaping interest around large trees, such as some of the greatest trees for privacy and screening, or simply adding color to trees growing in pots. The ground under mature trees' trunks can turn barren and unsightly, but they add shade and charm to residential landscapes. Landscaping around trees is an art to show your decor capabilities.
Be careful while planting around tree roots as the culprits are the thirsty roots that suck up all the water and the thick branches that block sunlight from the soil, making it difficult for other plants to flourish. Fortunately, by using the landscaping ideas around the trees provided below, you may transform those bleak areas by including color, texture, and other design elements—while still protecting the tree's health—to create the envy of the neighborhood for your yard.
Patio Around The Tree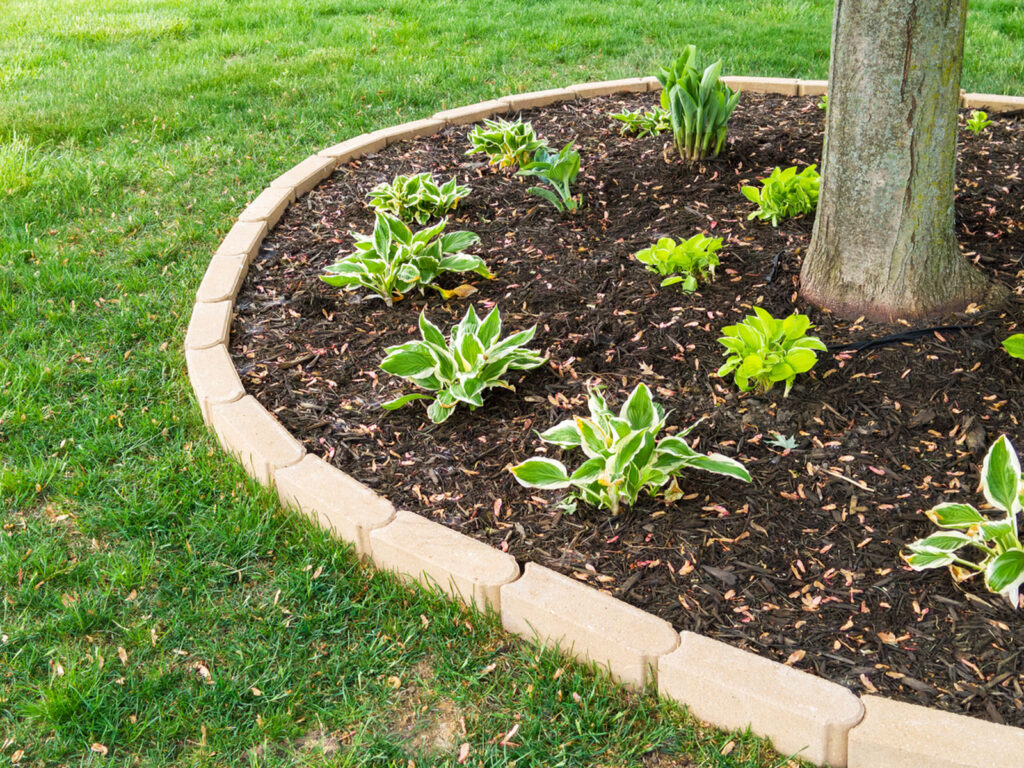 source: gardeningknowhow.com
It's helpful to know that you can use big trees in your design if you're looking for patio ideas or thinking about extending your patio. Patio additions to our gardens have grown in popularity as they provide a low-maintenance location for al fresco dining, partying, and relaxation.
The area you intend to pave will be buried by your trees' roots. If your tree is old and has a strong root system, you probably won't have any major problems with the roots. If the tree is young, however, be cautious that as its roots go outward, it may eventually disrupt the patio.
Plants With Bulb To Have Seasonal Effects
Even when the tree is bare, it can still offer appeal to the landscaping around tree roots. Early bulbs will develop before the tree is in full leaf, so you won't have to worry about fighting against shade. It is difficult to underplant a tree since there is a risk of causing damage to the tree's roots. Bulbs won't be very wide so you only need to plant them about three inches deep. Mostly, garden lovers dig a hole that is three times as deep as the bulb is wide. It is a general idea.
Circular Bench Around The Tree
source: pinterest.com
The addition of a circle-shaped bench around a sizable tree not only encourages a shady location to relax in but also adds a point of visual appeal to the entire garden design. Several firms create lovely benches for trees, from intricate cast-iron designs with an antique feel to wooden designs that lend classic country charm to your environment. This is a rather simple idea for landscaping around trees.
Hedging For Neat Look
In particular, if you've used a loose mulch like bark chippings or slate to prevent weeds, fencing in the bed into which your trees are growing with a box or privet hedging will provide visual interest and serve to limit the bed. To hide the seam between two distinct ground materials, such as a path and plant border or a lawn and plant border, this appearance works best when applied over a greater area rather than just around a single tree. 
By landscaping trees with a low hedge border, you may provide order to your yard. It frames the area and is immaculately maintained, recalling formal parterre designs.
Build In Deck Around The Tree
Your garden has a wide range of design options if you add a decked area to it. It complements trees and vegetation to offer the ideal environment for relaxing and is a softer alternative to asphalt. Weeds won't grow around the tree's base, and because the deck has been raised, it is highly unlikely that the tree's roots will have an impact on the deck's stability as it grows.
Retaining Wall Around A Tree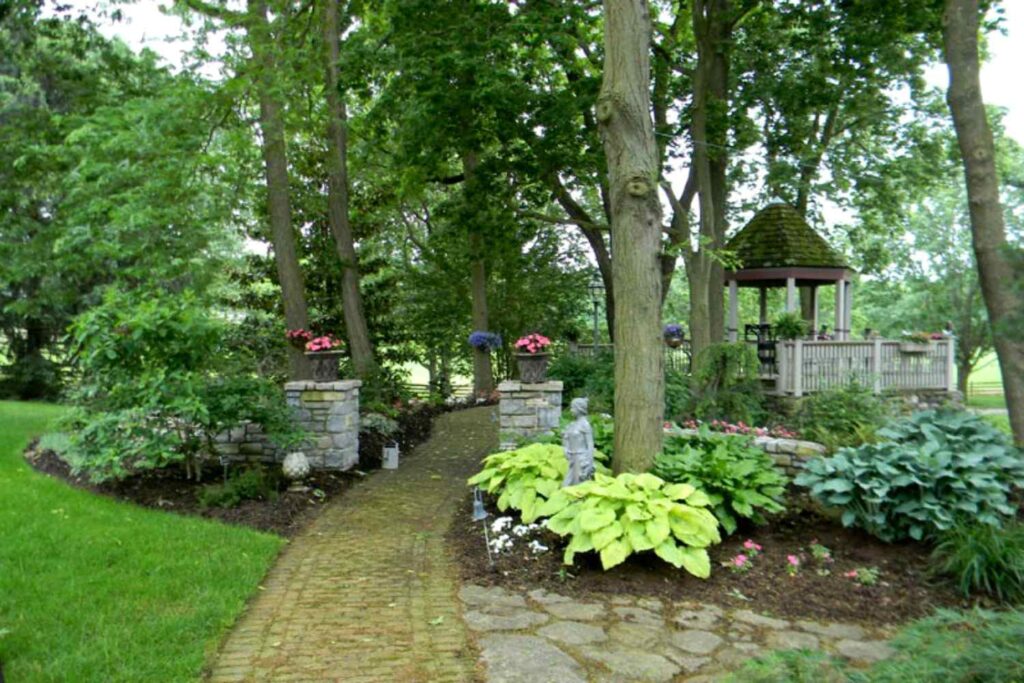 source: thespruce.com
A retaining wall built around a tree is a neat way to add interest to your landscaping. In addition to improving curb appeal and giving a yard a uniform appearance, a stone retaining wall around a tree can give the landscape more depth and intrigue. With practically any sort of field stone or premade pavers, a retaining wall can be built around a tree. Given that their sizes are more uniform, pavers or flat stones are much simpler to work with. 
Although it is also possible to build a wood retaining wall around a tree, the stone is discussed in this article since wood rots more easily than stone. A wall surrounding a tree helps maintain the soil and safeguard the tree, in contrast to paver edging. Around the trees, rock pavers form a wonderful circular raised bed. The rustic look of the rock pavers complements the classic elegance of this property. They also provide plenty of room for growing flowers and small bushes. Landscaping around trees with rocks is a great idea to practically implement.
Meadow To Grow Under Trees
It can be difficult to mow the grass underneath trees; you will frequently need to turn off the mower and cut the grass by hand instead. The struggle is eliminated while also giving back to nature if you allow the grass to grow longer at the base of your trees. Making wildflower seed bombs to disperse underneath might be a good next step. Choose a seed mixture that contains evening primroses, cosmos, sweet alyssum, and poppies to rapidly transform your backyard into a wildlife garden ideas haven.
Raised Border Planting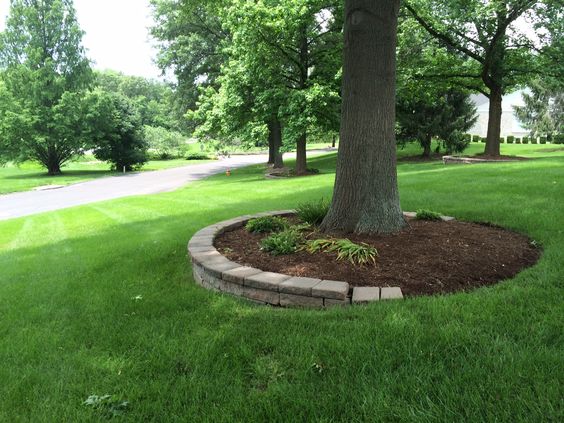 source: pinterest.com
You can elevate the soil level around the trunk of your tree by building a boundary around it. By doing this, you can underplant the tree without endangering its roots while also giving it essential nutrition. Additionally, it produces a clean look that complements a trimmed grass or a gravel drive. 
You have control over the condition of the soil where your plants are being grown thanks to raised beds. A raised garden bed is nothing more than a mound of dirt or a small bed of soil raised above the surrounding grade. Creating a deep, wide growth area that promotes plant roots to spread outward is the aim.
Raw Of Trees Along The Path
One fantastic method to border your garden path ideas is with a row of miniature trees. Although this style is frequently found in formal gardens, it never goes out of style. Choose a light-toned color for the pavers on your walk. All day long, the above leaf shadows will create a stunning feeling of movement.
It offers a tasteful separation between a walkway and a lawn. To create the impression of a low-maintenance rustic garden, underplant with sweet-smelling lavender.
Weave Pergola Around Tree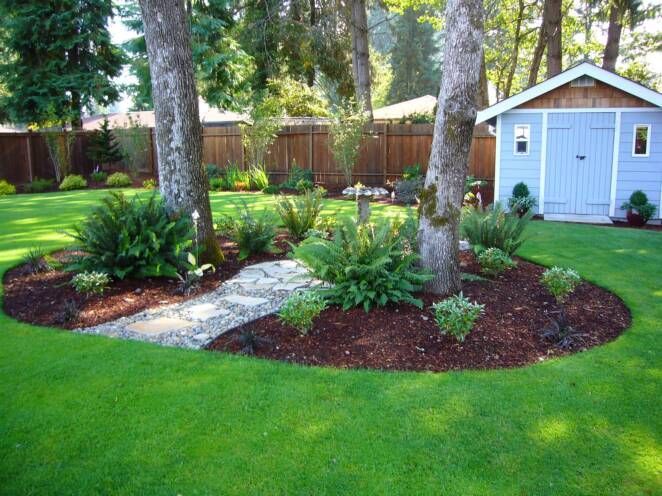 source: goodshomedesign.com
Ideas for pergolas are always a beautiful addition to a story, but when they are paired with a lush canopy, they reach a whole new level. Sure, you can utilize some of the greatest climbing plants, but for a more substantial appearance, you could also teach trees to grow overhead.
The seating area downstairs is made cozier by this lovely design. We appreciate the hanging pendant light, which is a chic approach to give an indoor-outdoor feeling.
Create Urban Jungle Around Tree
'Japanese spurge' offers year-round resilient ground cover and thrives in dappled shade. It grows beautifully behind trees, as seen in this urban sanctuary, and in the spring, it blooms with fragrant white flowers.
You wouldn't believe you were in the heart of London with a view like this thanks to the addition of tree ferns and magnolia Grandiflora. From the paved seating area just out of frame, the setting offers a revitalizing green view.
Add Mulch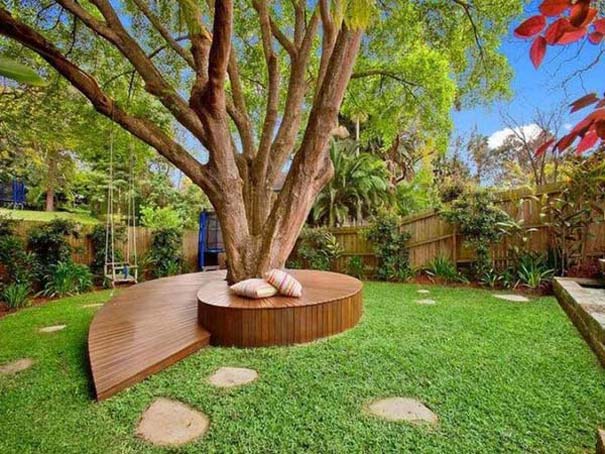 source: digginginthegarden.com
At the base of your tree, a layer of mulch adds color and hides exposed roots. What shade? How is the mulch? Everything depends on you.
You can add color to the mulch around your tree in the spring by planting crocuses or other flowers there. Alternately, continue using hostas to add some green to the brown or other colored mulch that lies beneath your tree's greenery.
Night Lighting In Trees
Setting the ambiance with landscape lighting around your trees is another excellent option. Are you anticipating a leisurely meal with friends? Prepare those refreshments, turn on the light, and invite everyone to spend a lovely evening on the deck.
Who wants to worry about flying beetles coming inside the house while the company is over? Have the surrounding trees light up the sky and turn off the lights at the door.
Conclusion
For a quick and simple solution, shade-loving plants are ideal to place around a tree's base. Hostas, dicentra, and promise are all shade-tolerant plants that will give a splash of greens below your tree and all will yield beautiful blossoms. As an alternative, evergreen ferns will give your yard a rustic, woods atmosphere.
When planting next to a tree, take care not to damage any roots when you pull up any weeds and scratch the earth's surface with a garden fork because the dirt might be quite compacted. To avoid weeds, you can surround a tree with anything from gravel or bark mulch to decking. We hope these landscaping ideas around trees will help you to curate your home garden perfectly.