In layering natural textural materials for this beachside home, Fiona Lynch has created an environment of absolute calm.
Positioned opposite the Sorrento Sailing Club, this two-storey 1980s Merchant Builder-style home has been stripped back to allow a new world to emerge.
For this project, Fiona Lynch has paired stone, timber, rattan and linen, to create an incredibly varied and interesting interior of subtle and engaging nuance. Indeed, while neutral, the palette is boosted by sudden shifts in materiality such as the bronze cladding used in the kitchen, or polished sage green plaster walls.
Making this point well, the kitchen is gorgeous. Centred by a monolithic island, an expanse of Tundra grey limestone (CDK Stone) sits atop another wider expanse, which in turn sits atop a plinth of honey-toned travertine. Tonally matched to the oak floorboards (Royal Oak) the travertine (Rainbow travertine, CDK Stone) makes the limestone appear to float.
Benchtops and a splashback extend to frame the generous kitchen window and are clad in the same limestone, yet there is nothing excessive in the delivery. Rather, Lynch uses the planes of surface interest as a balance to the repeated diagonals of the ceiling. Similarly, the use of bronze cladding to the rangehood and end portions of the cabinetry, while wow, are tonally harmonious to the whole with the material shift feeling sumptuous and natural.
Gabriel Scott's Luna pendant is an elegant lighting choice (Est Lighting), which typical to Lynch brings just the right balance to the whole. Brooklyn chairs in American Oak, with a rattan seat and grey leather (Jardan) are perfectly matched to both the palette and angularity of the island.
Expanding outwards from the kitchen is the dining area which takes full advantage of the largest of the expanses of bronze cladding. Countering this glowing wall are open weave linen drapes (James Dunlop) and Phillip Jeffries Island Raffia wallpaper (The textile company). 
It is a startlingly beautiful combination with a custom wicker screen (Camberwell Cane), framing the stairwell, taking up the texture and tone of both in a more exaggerated form. Materiality is further explored in the furnishings with a Prince Dining Table in natural oak (Grazia and Co.) paired with Mies Van der Rohe, Mr Side Chairs in light brown leather and chrome (Dedece). Anchoring the room is the splendid Stand by Pendant light in crushed silk that extends the room's materiality into sculptural form.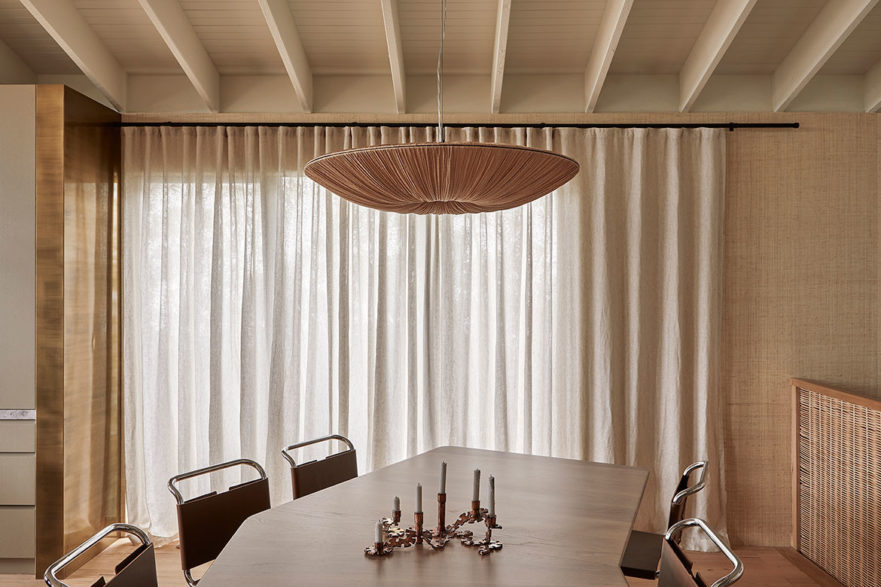 Lighting and furniture combinations are typical of Lynch, sublime throughout. The pairing of a vast green Marset Bohemia pendant (Est Lighting), for example, over a custom table and white Thonet S 533 chairs in grey leather, is particularly unexpected. As is the defined angularity of a Tolomeo Mega floor lamp juxtaposing the squishy loveliness of Ligne Roset's Topo Fireside Chair (Domo) in a dusty sage.
Softening the combination of angular and rounded walls, the materials shift in tonal variations of gold and silver while remaining wholly within the natural. Furnishings too have been kept to a natural palette, while colour is muted and softly explored as wall finishes and rugs. It is a beautiful world that Lynch has created, both inviting and containing as a cocoon of layered nuance. Just divine.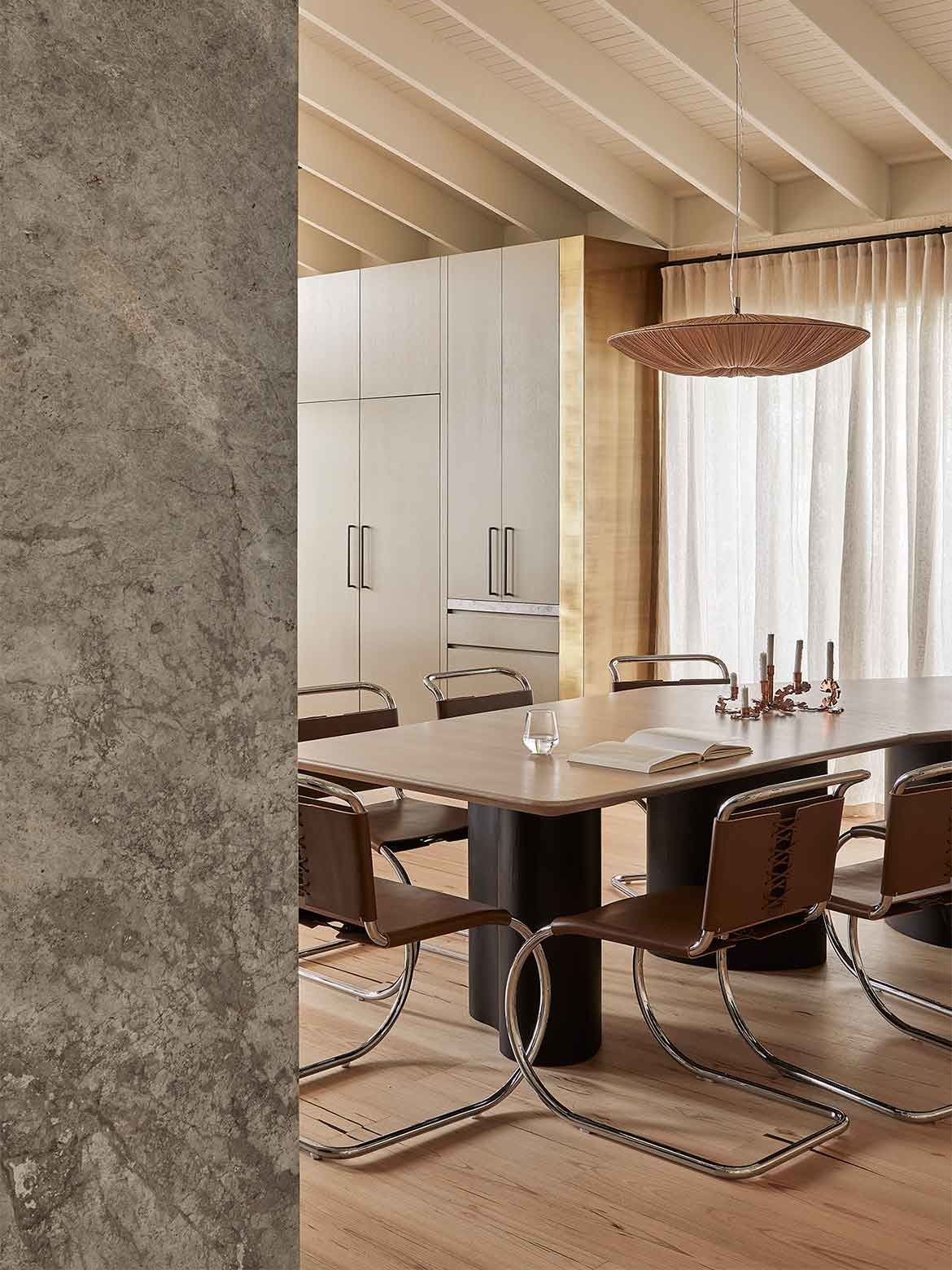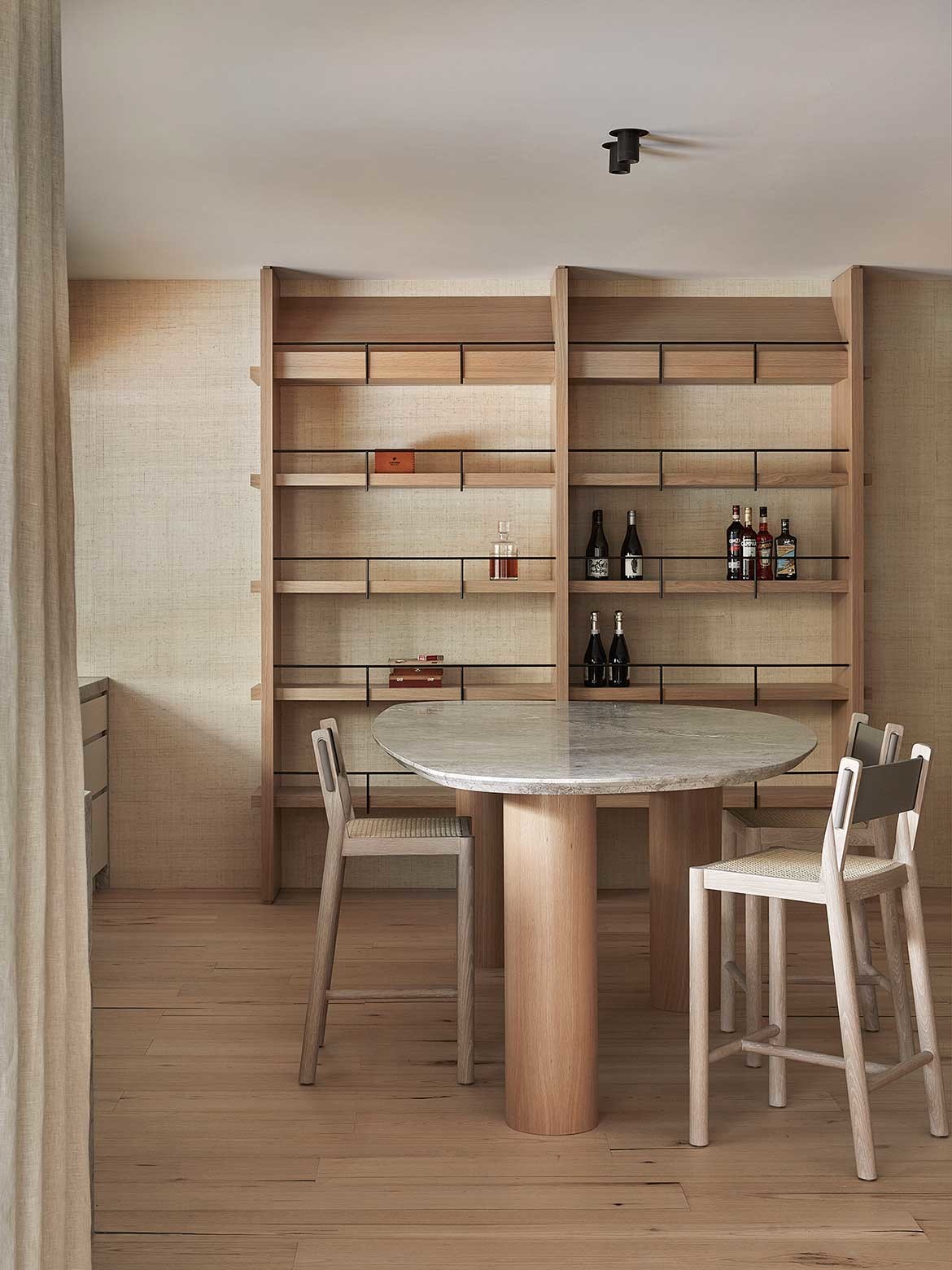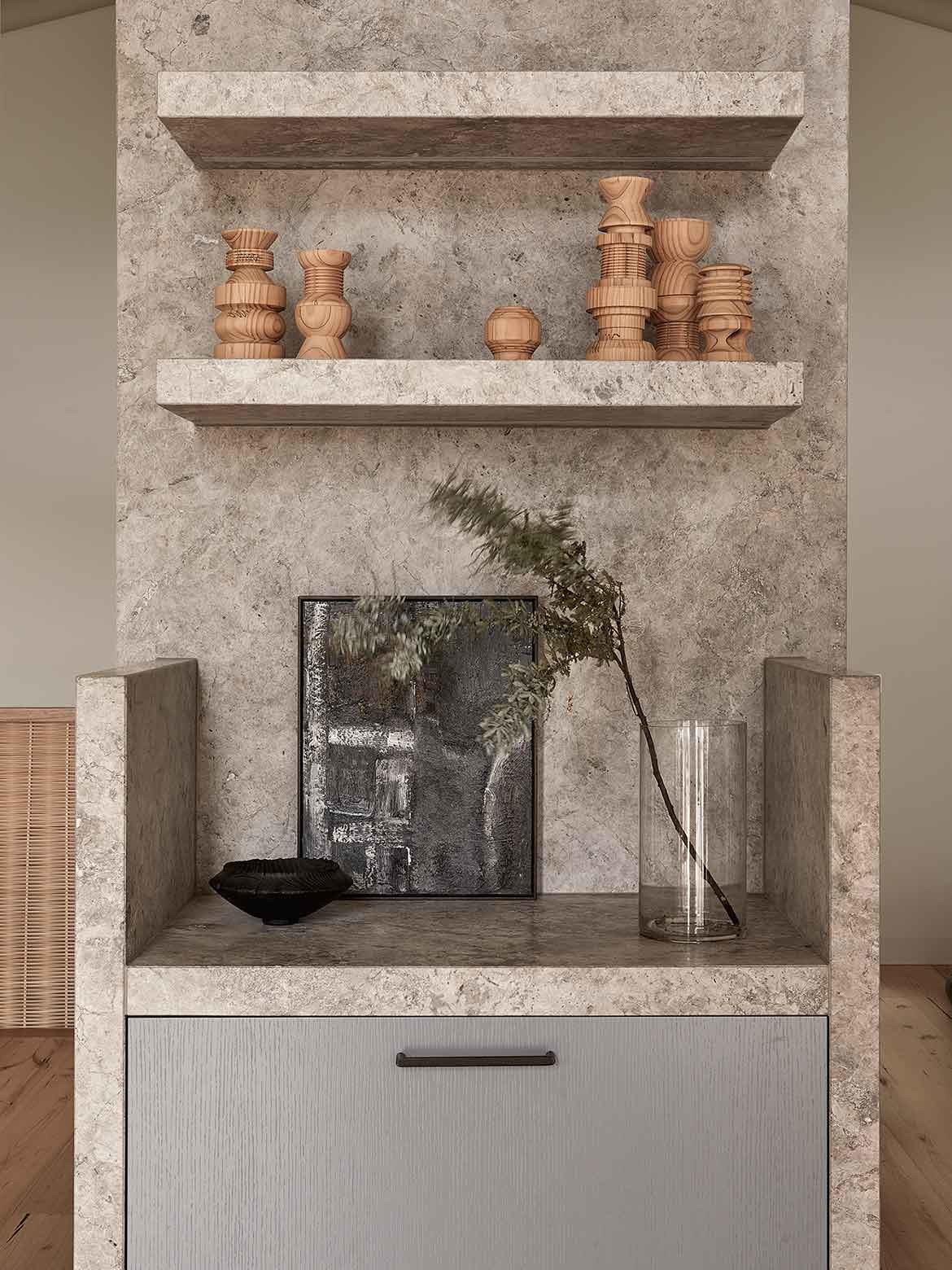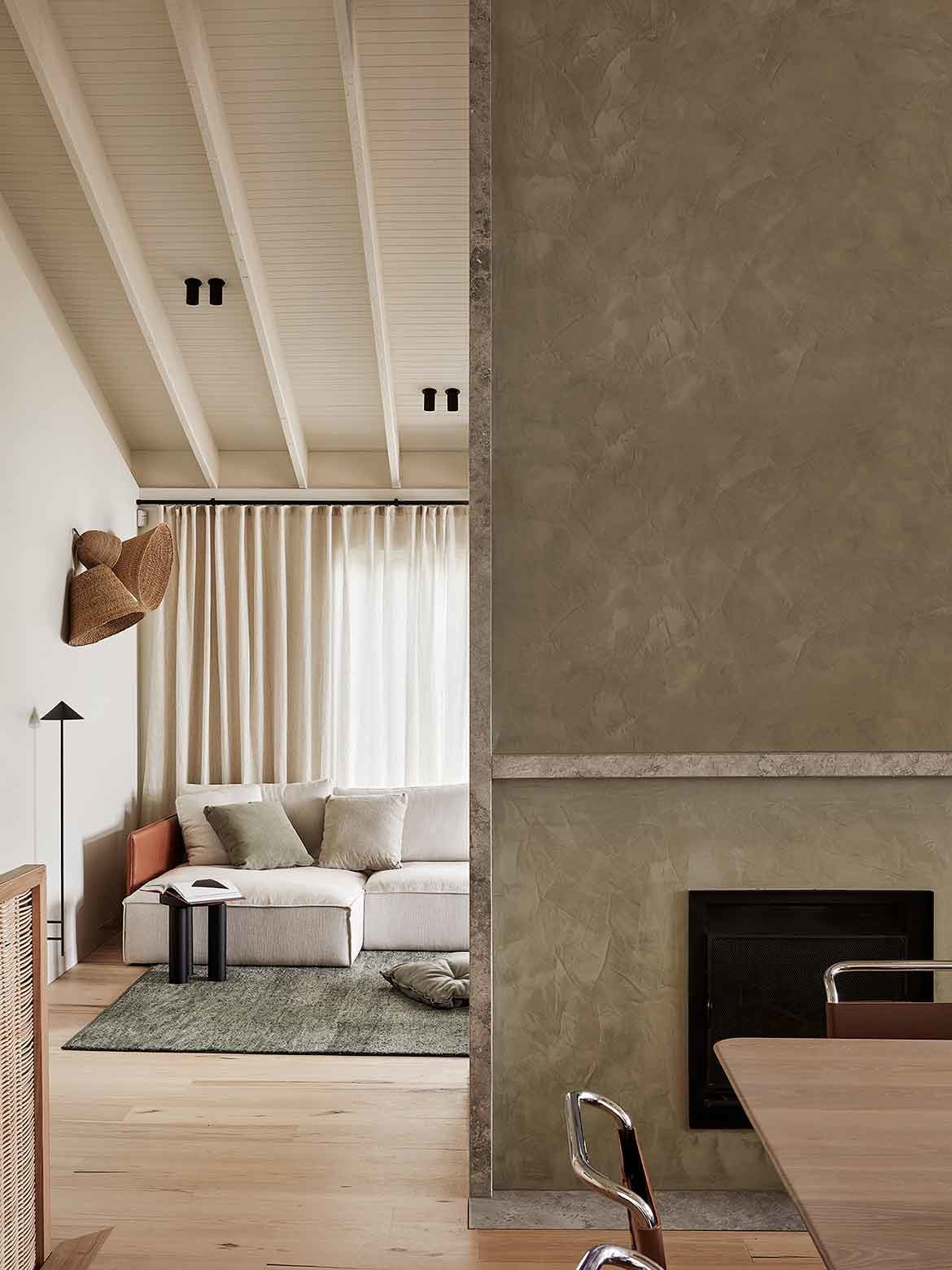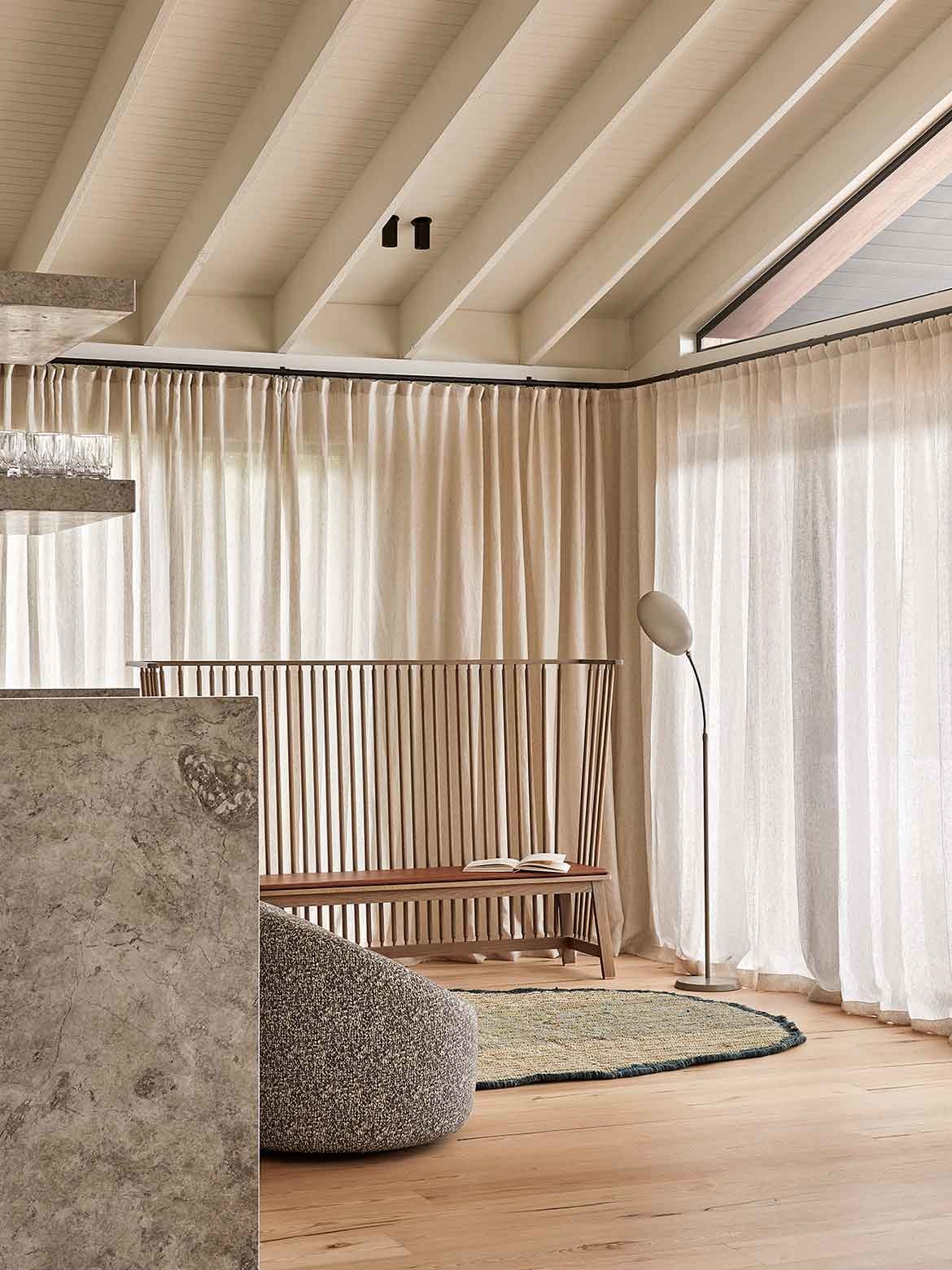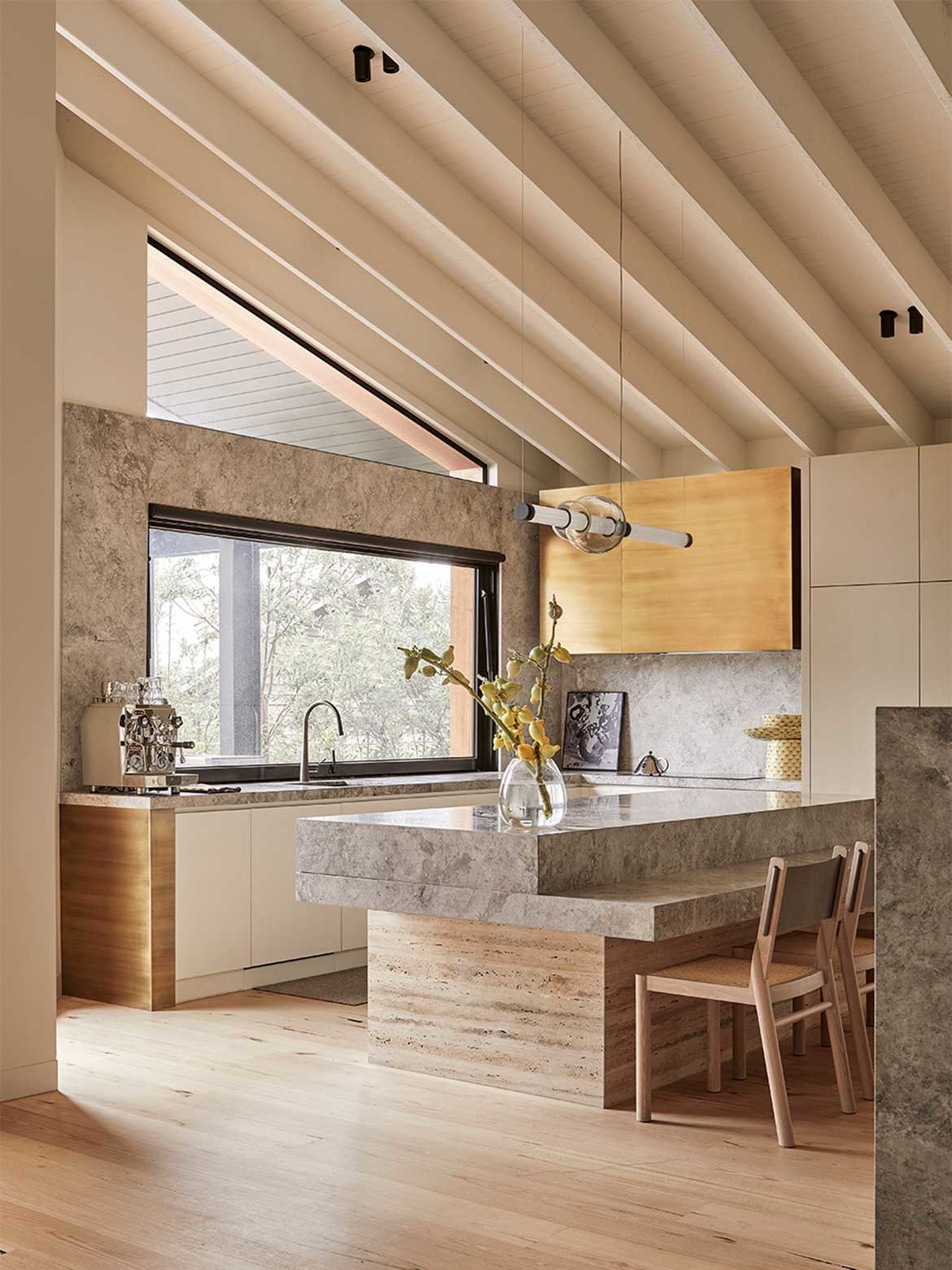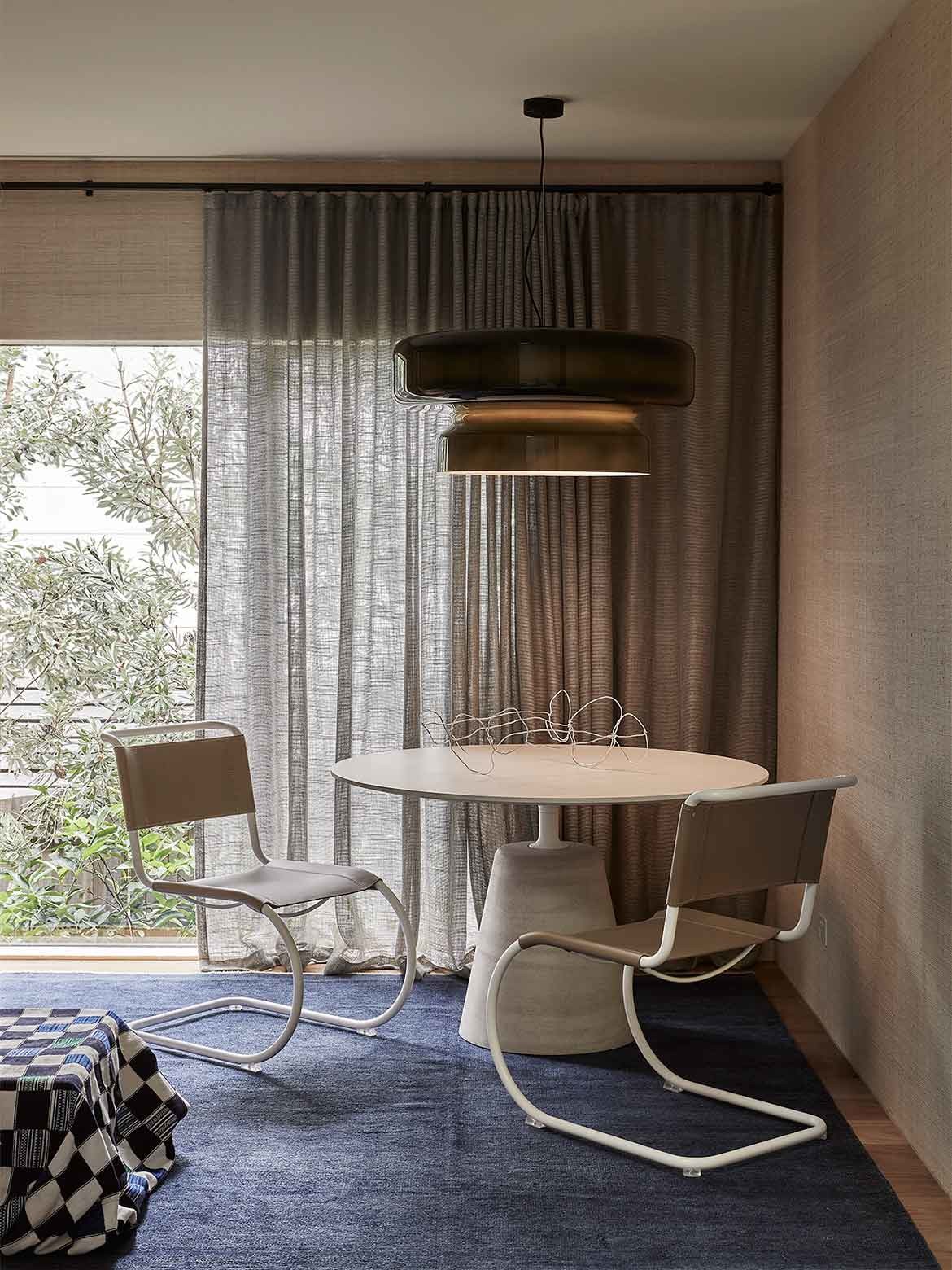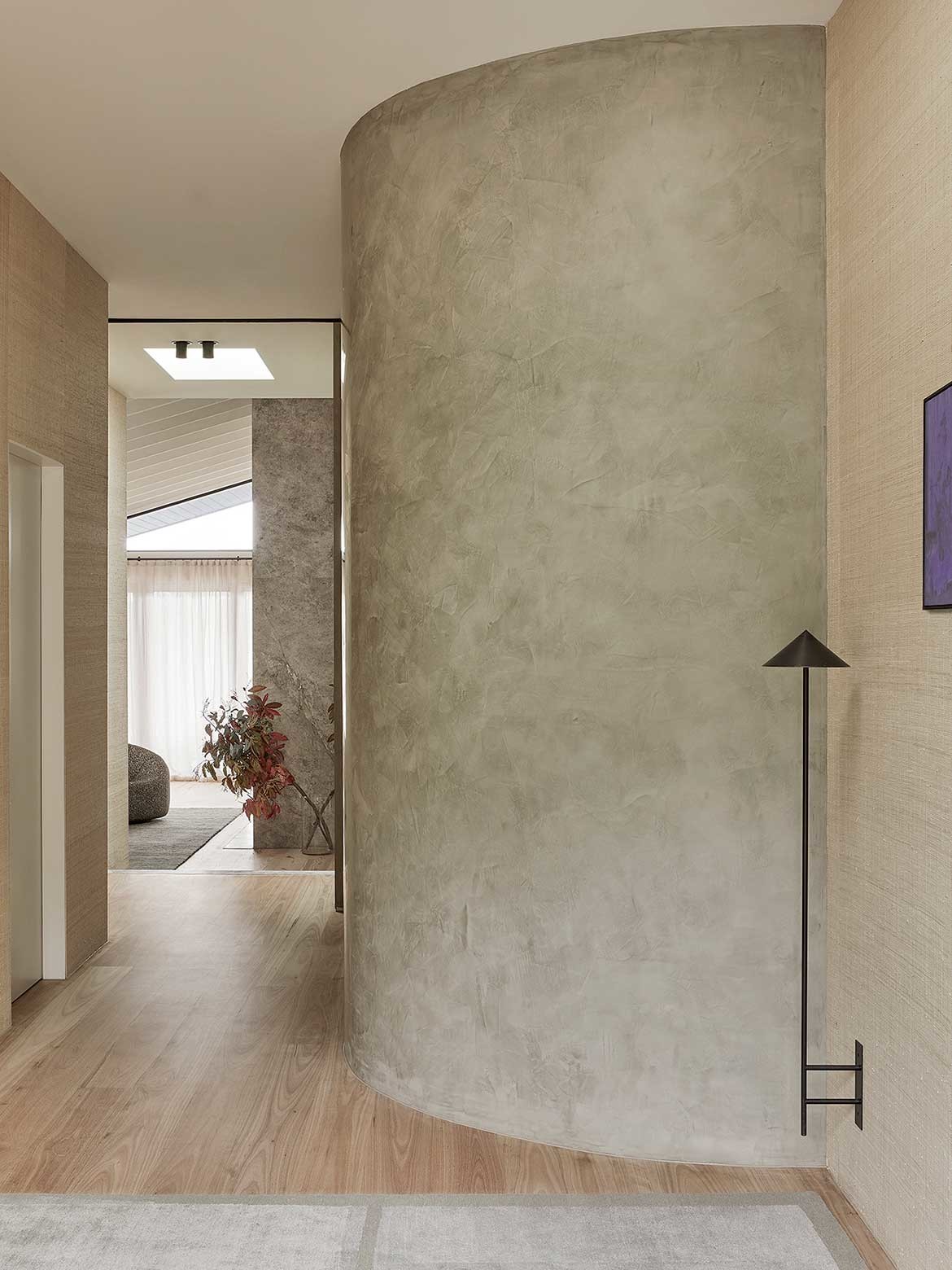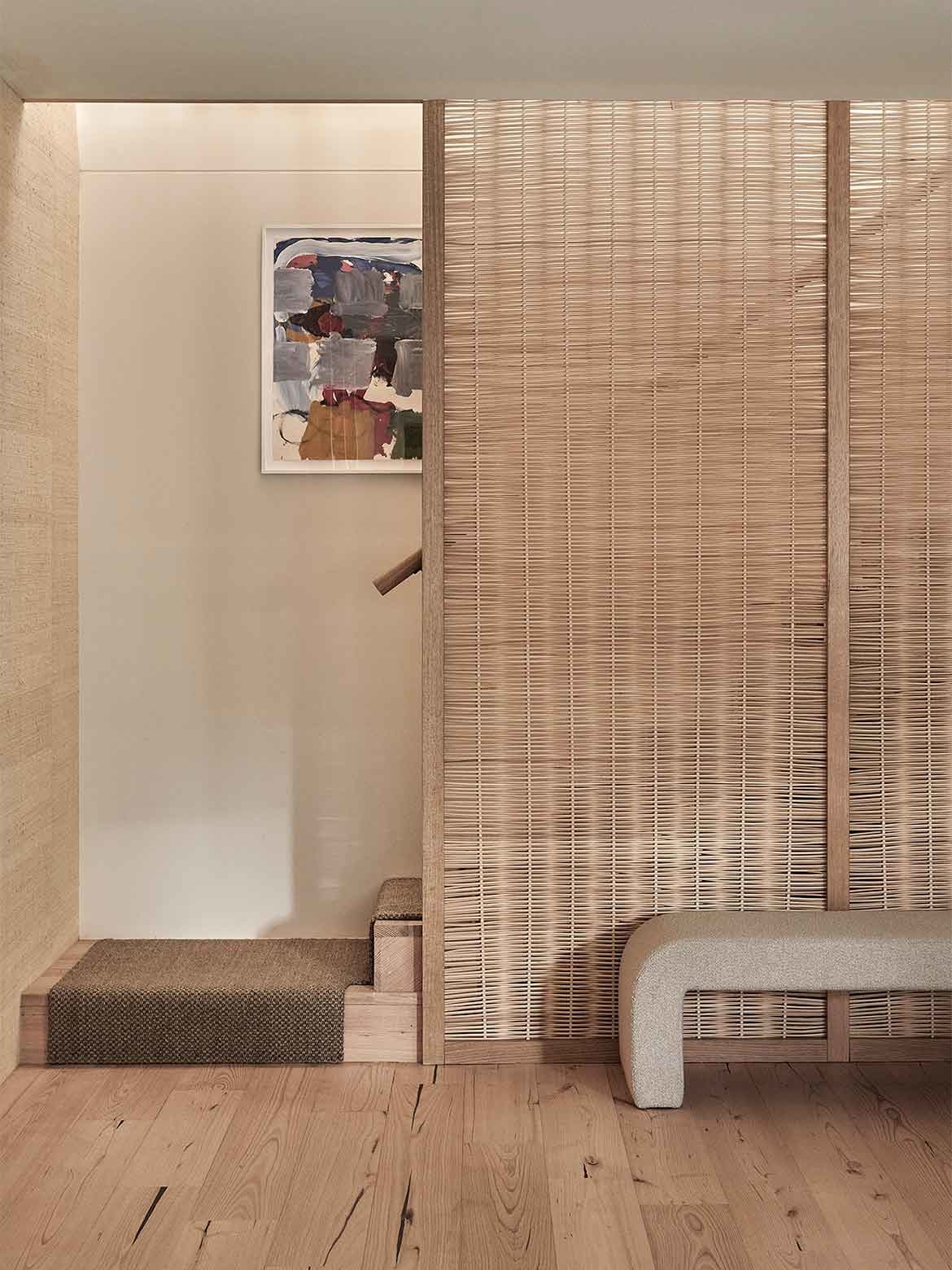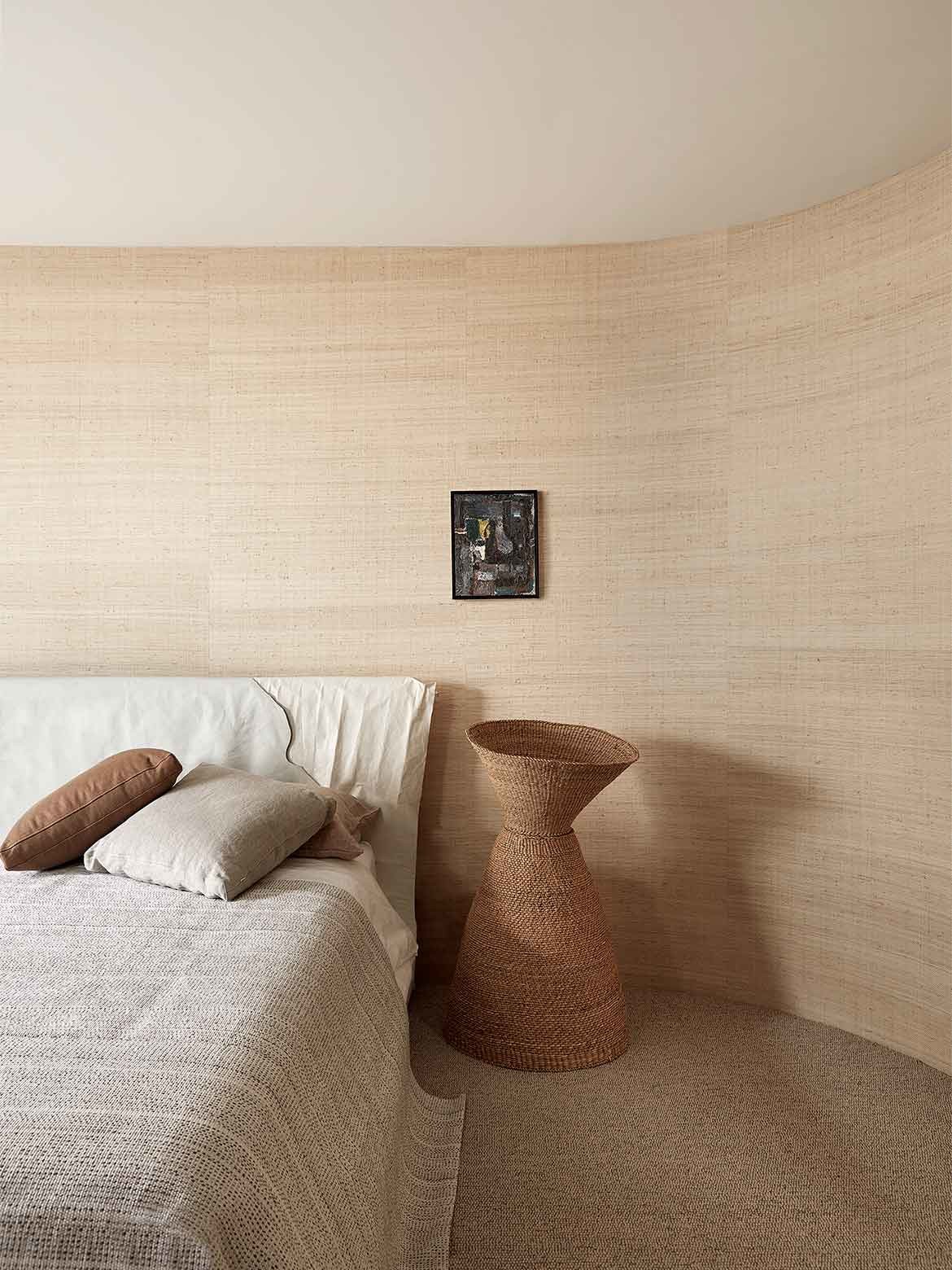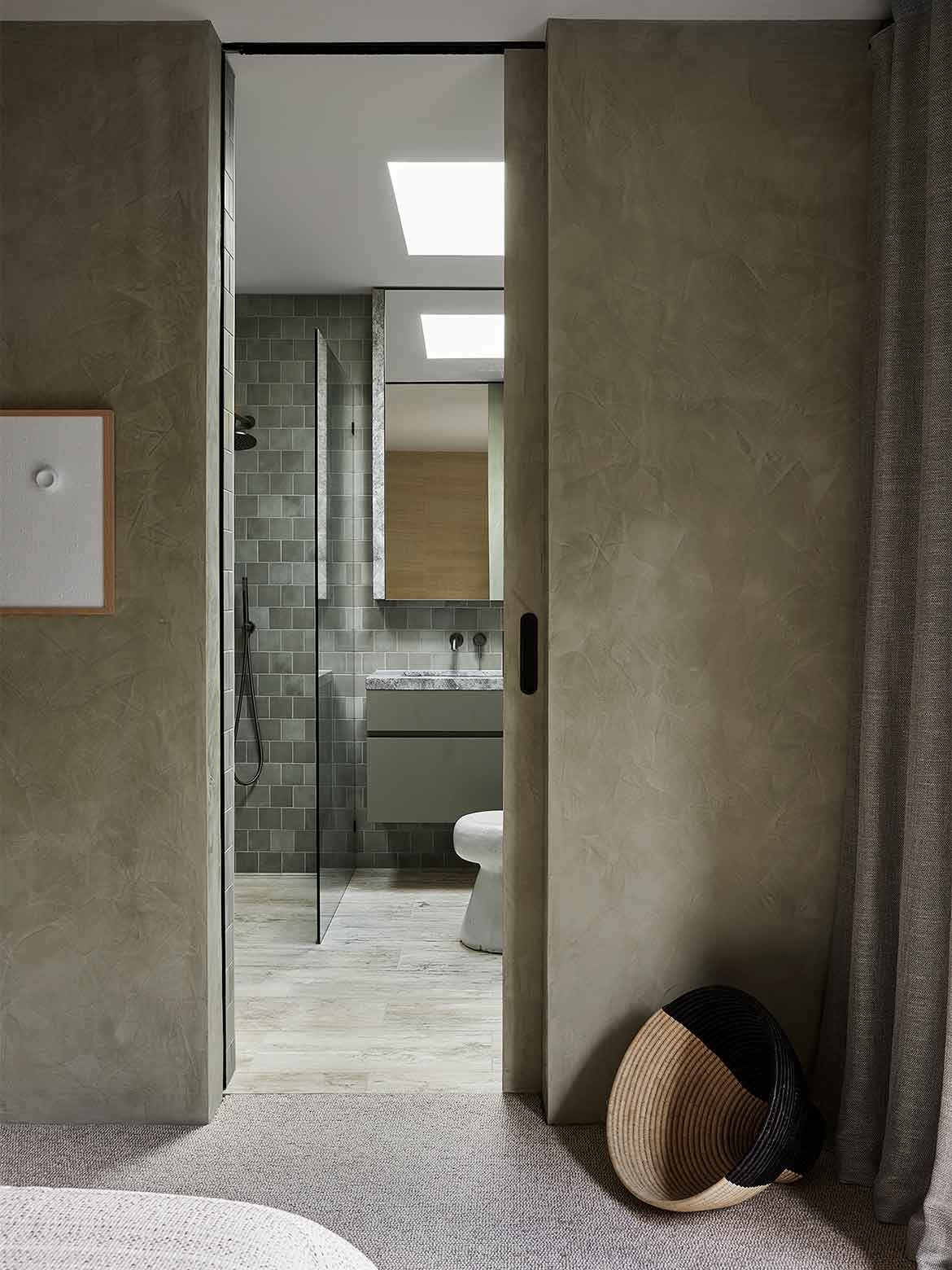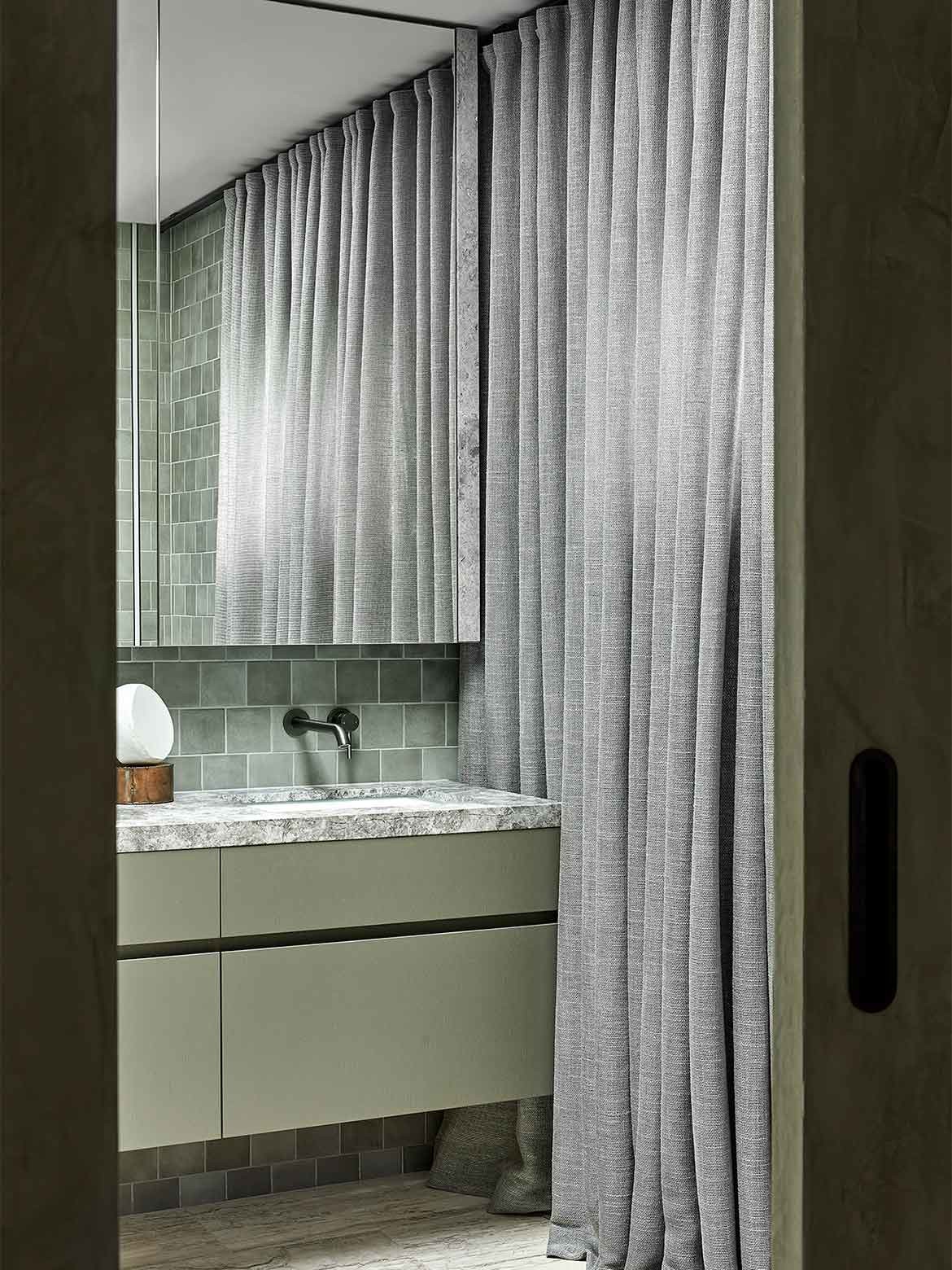 Project details
Interior design – Fiona Lynch
Photography – Dave Kulesza
We think you might enjoy K House, a home that captures incredible coastal views.
---