Dark, cubic forms rise like a tower out of a lush, native garden in this Auckland home.
Timber clad curves, sharp angles and cantilevers rise steeply above a quiet cul-de-sac on a central Auckland street. Hobson House, which takes its name from its position overlooking Hobson Bay, takes full advantage of its land-locked site, with an elevation high enough to enjoy views over the immediate valley to the east, (defined by magnificent Pohutukawa trees), and to the bay beyond.
"We wanted the massing of the new house to respect the neighbours and blend recessively into both the garden and the established surrounding vegetation which forms a backdrop," explains Hamish Cameron of Hamish Cameron Architecture.
"Being keen gardeners, the owners were excited to take on the challenge of taming the overgrown property and creating a bush setting for their house that blended into this leafy neighbourhood close to the city centre."
Hamish's clients, empty nesters with an interest in sustainable design, saw the potential of the neglected steep and overgrown site. "With one owner being the daughter of an architect and with an appreciation of good design, the couple required comfortable, well-proportioned living spaces which would reflect their personality and incorporate their collection of mid-century furniture and much-loved objects," explains Hamish.
The location and elevated floor level of the original dilapidated mid-century house provided clues as to where to site the new residence and the garden and thus, the new house was conceived in three stacked levels roughly located over the footprint of the original property, with a single level guest wing extending at mid-level to the north-west.
"A triple height stairwell, illuminated from above in south light, connects the basement entrance and garage with the first-floor living spaces and guest bedroom wing, and then rises to the main bedroom level at the top of the tower," explains Hamish, "An internal lift connects all three levels and future proofs accessibility."
Generous doors allow seamless indoor-outdoor flow to elevated terraces on two sides of the house capturing all-day sun and linking directly to the multi-level garden that features a plethora of native species.
As ever, Hamish Cameron Architecture was exceptionally mindful of its environmental footprint and has produced a house deliberately small in scale, built primarily in sustainably-grown timber framing. A tiled and insulated concrete slab throughout the gallery area leading to the guest wing provides thermal mass and the eave overhang is designed to allow sun deep into this area during winter while keeping the area shaded in summer. 
Solar panels located on the roof above the main bedroom are sufficient for all the house's electrical requirements with the excess going back to the grid. (The owners have future-proofed so the panels will later charge a battery). In addition, a highly insulated concrete masonry and timber structure, extensive cross ventilation, ceiling fans, a log burner and a single heat pump, and a stormwater collection tank add to the home's sustainability credentials.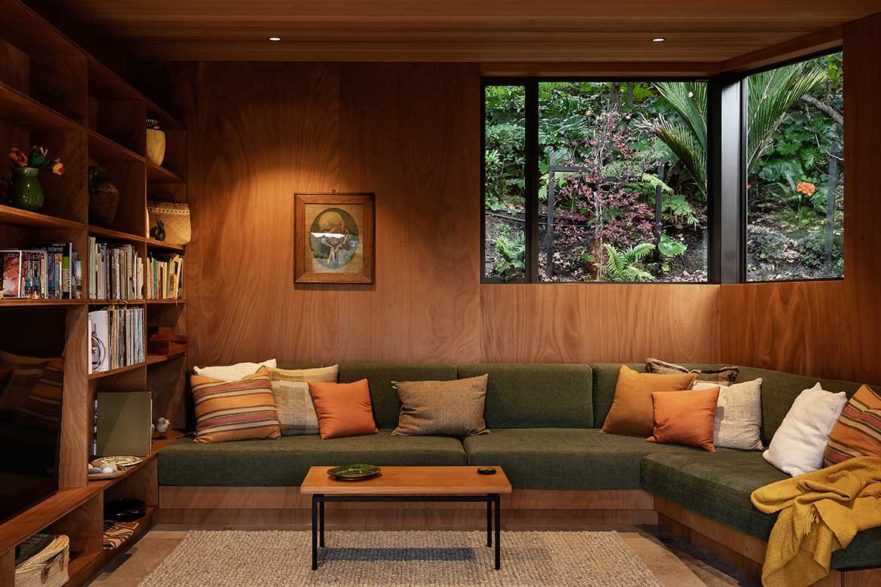 Internally, the effect is soothing – and carbon conscious – with sustainably grown plywood and natural timber floor and ceiling finishes creating a warm environment with high levels of insulation and access to abundant natural light and external outlook.
"Warm timber finishes feature throughout the interior and provide a sense of connection between spaces through the triple level stairwell," adds Hamish. Sitting, dining and kitchen zones at mid-level are defined by floors in blackbutt with cabinetry and wall panelling in a Gaboon plywood.
A moody contrast is created with the paintwork and wall tiling, which are defined by rich, forest greens providing accents and atmosphere in cave-like spaces like the den, guest bathroom and scullery.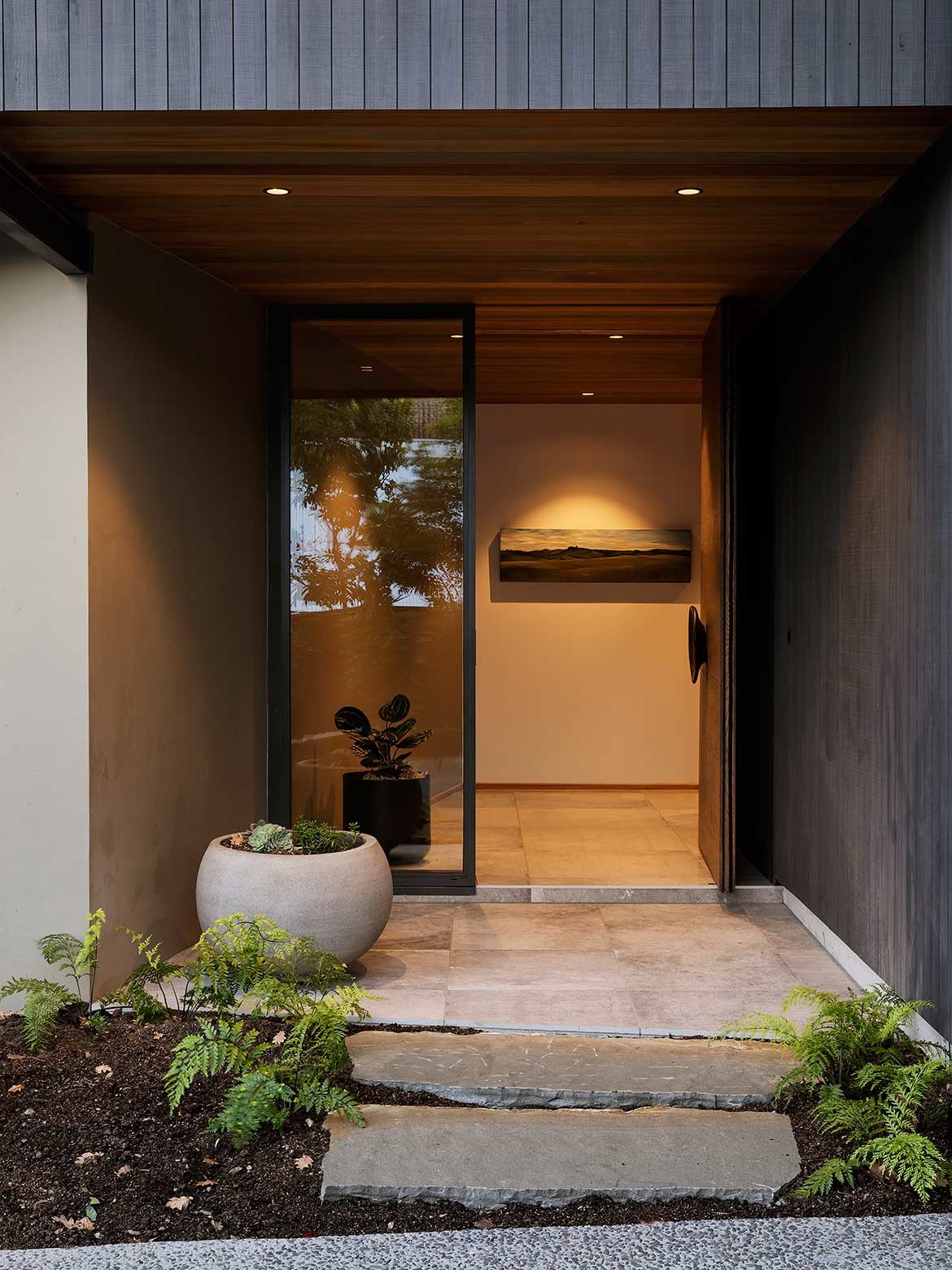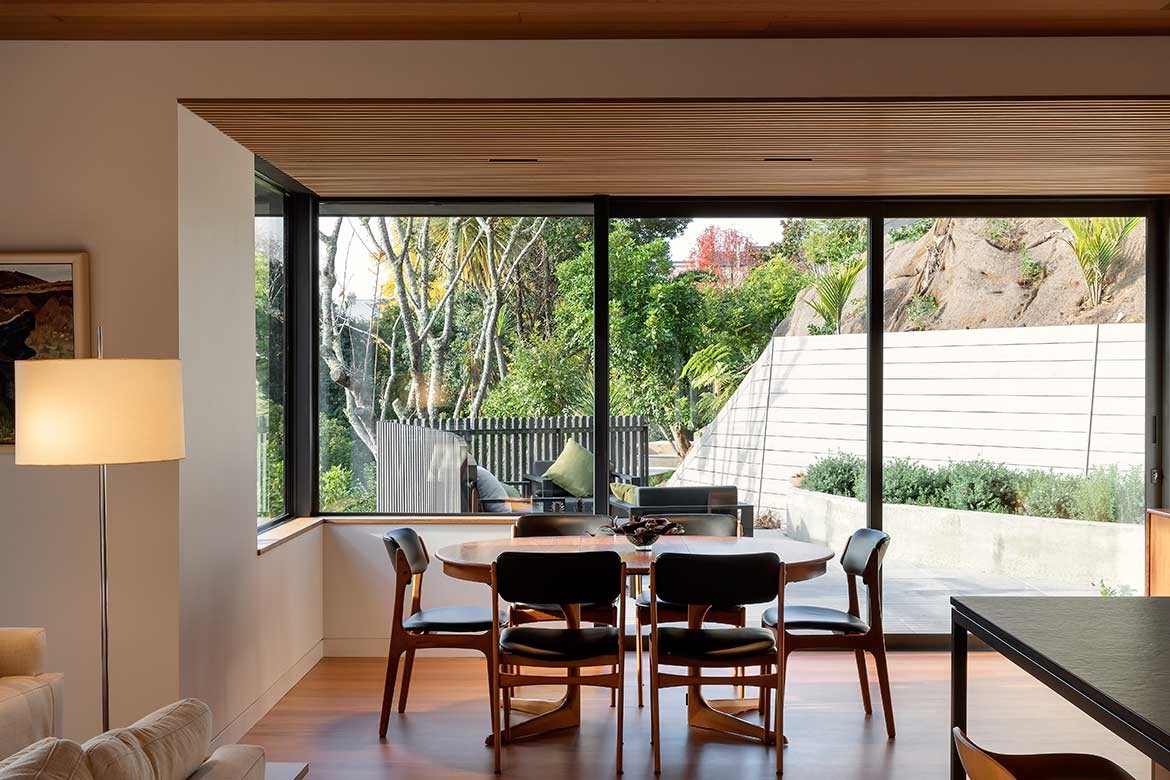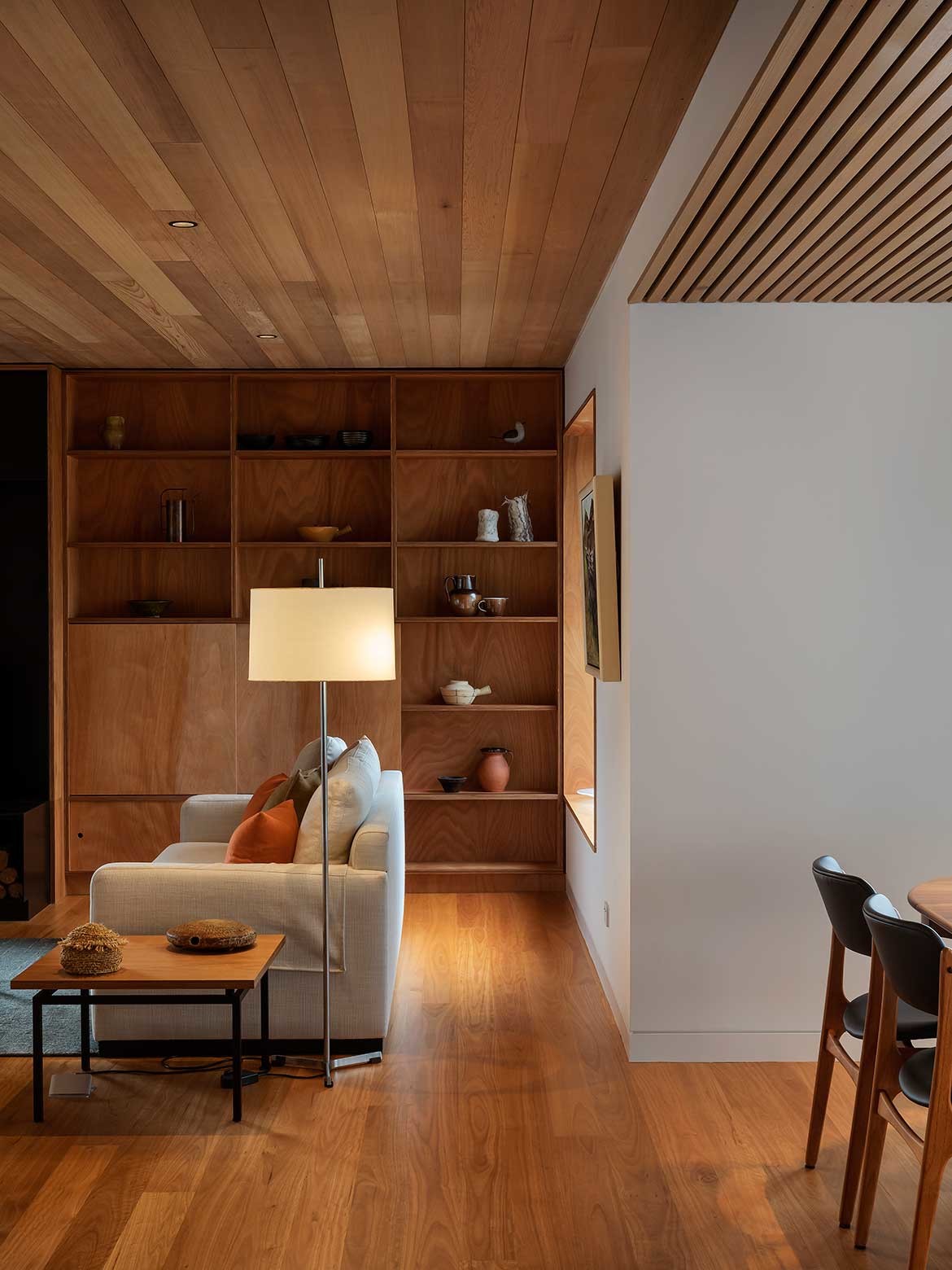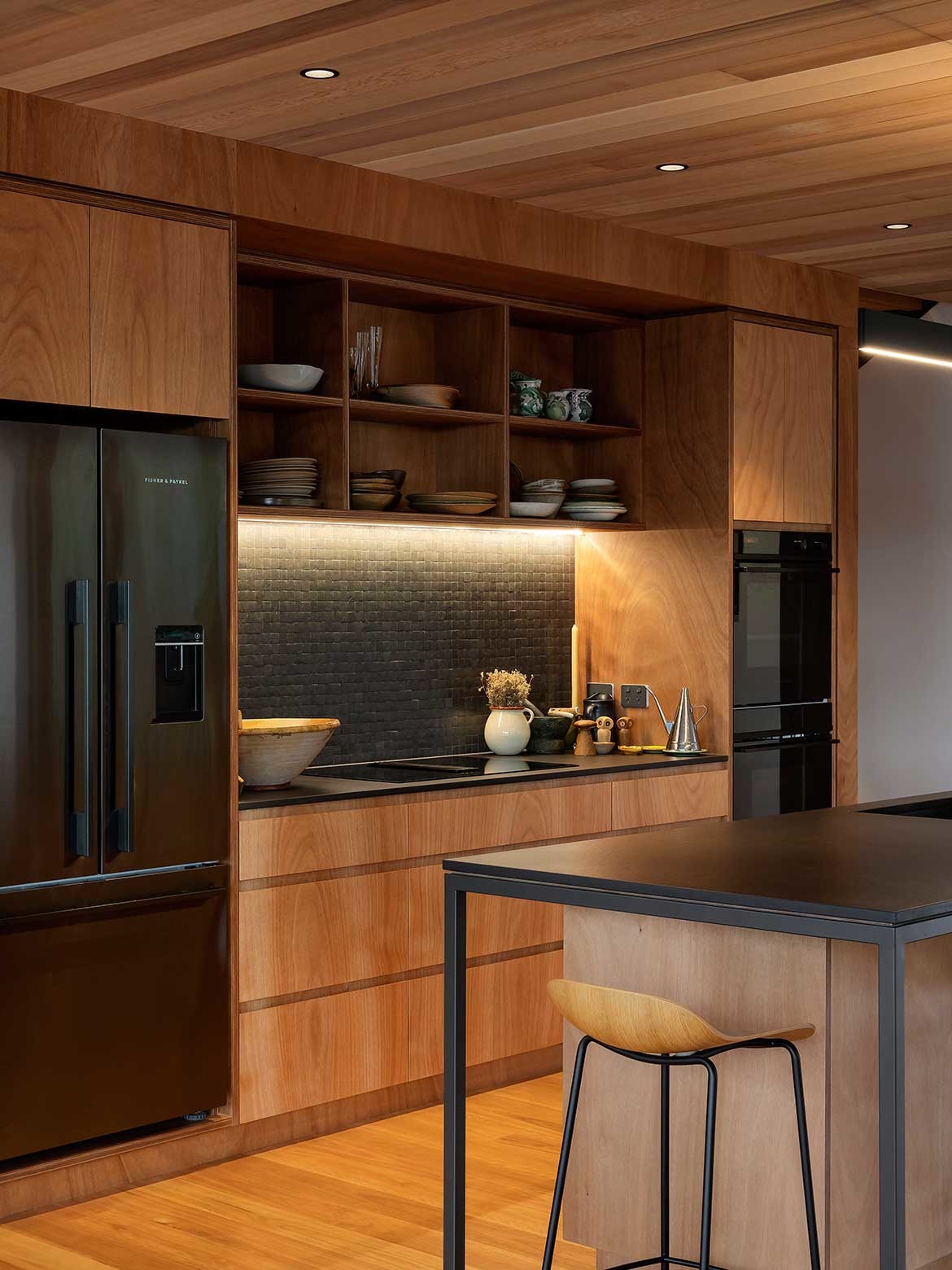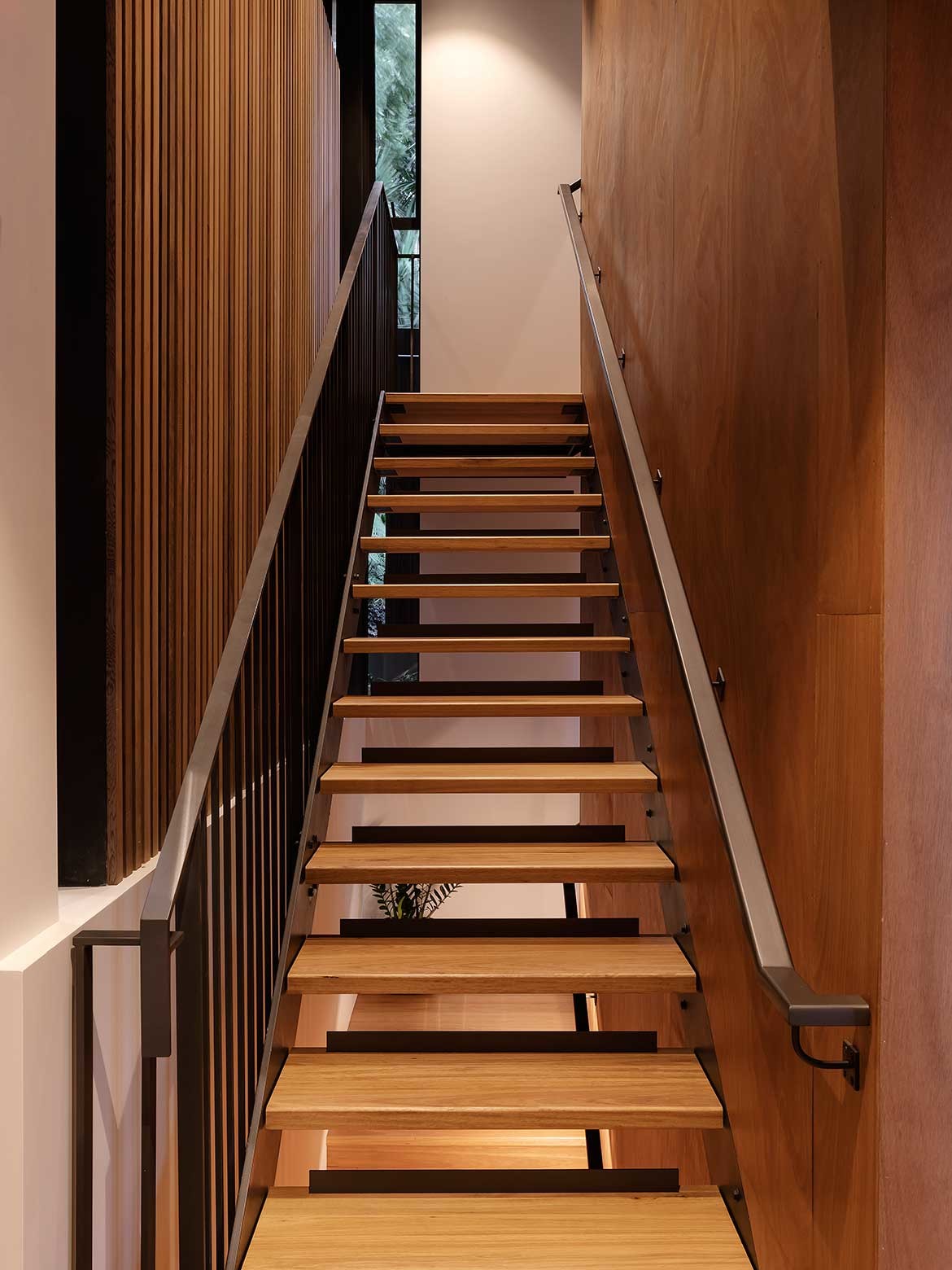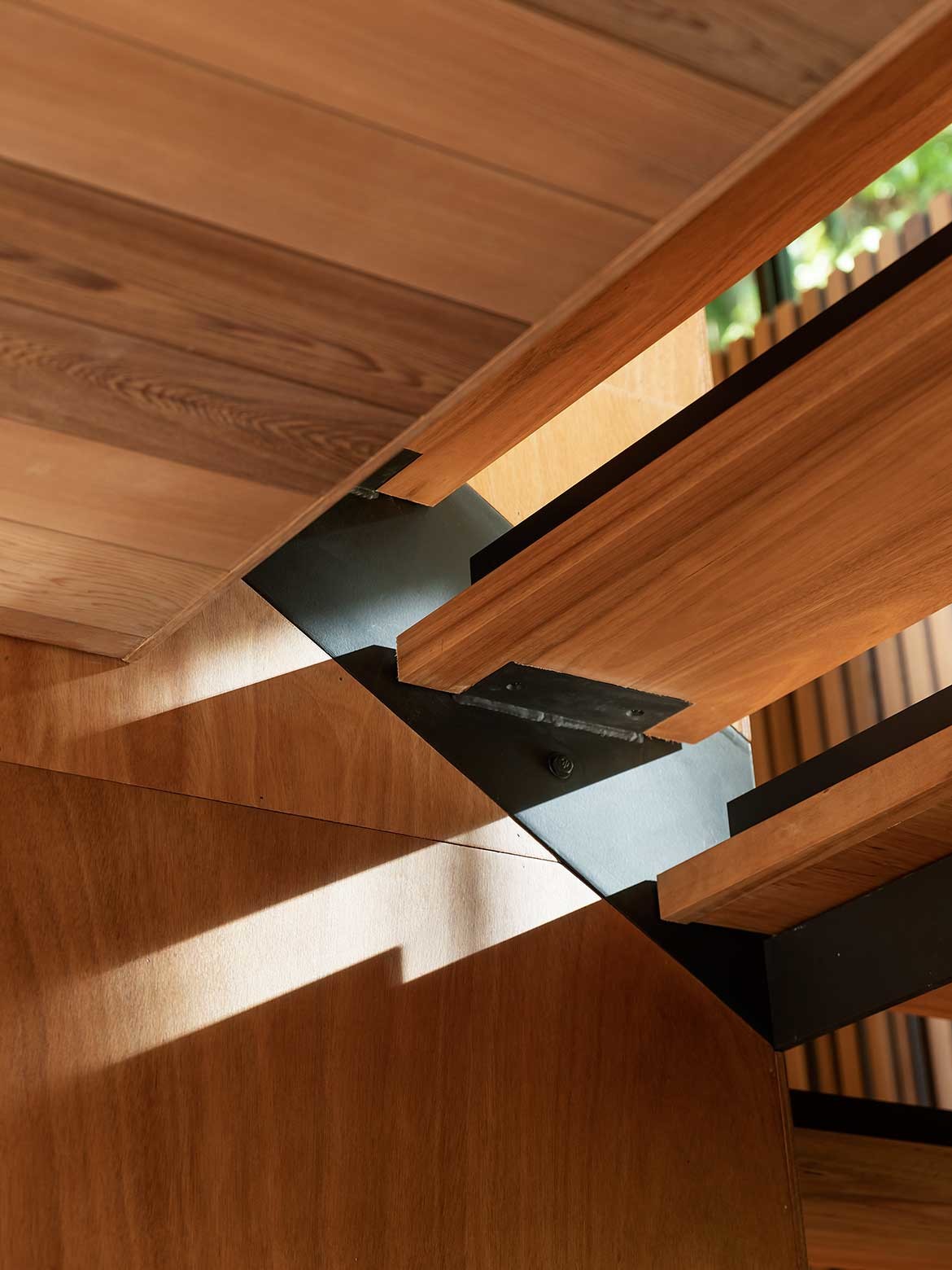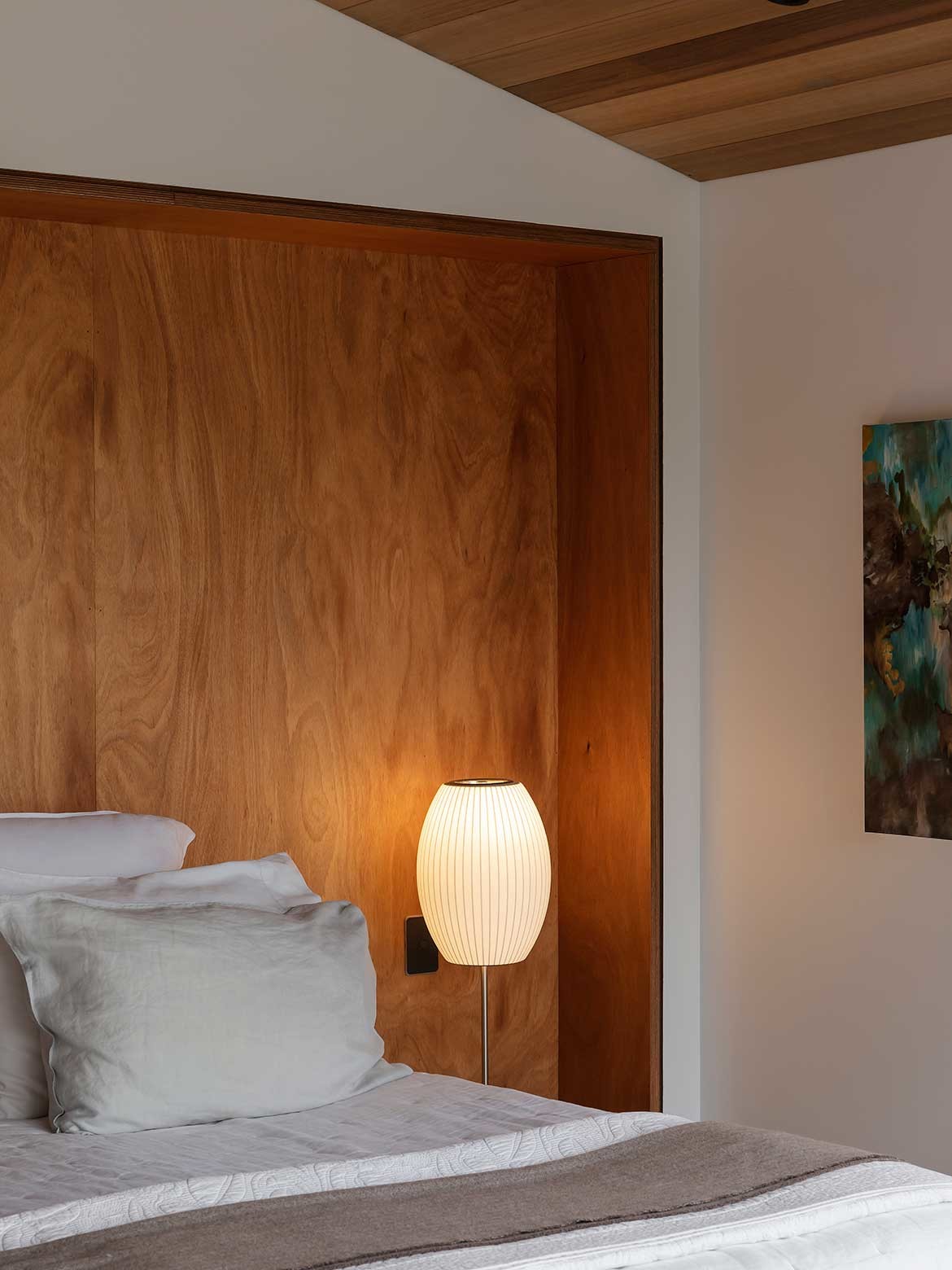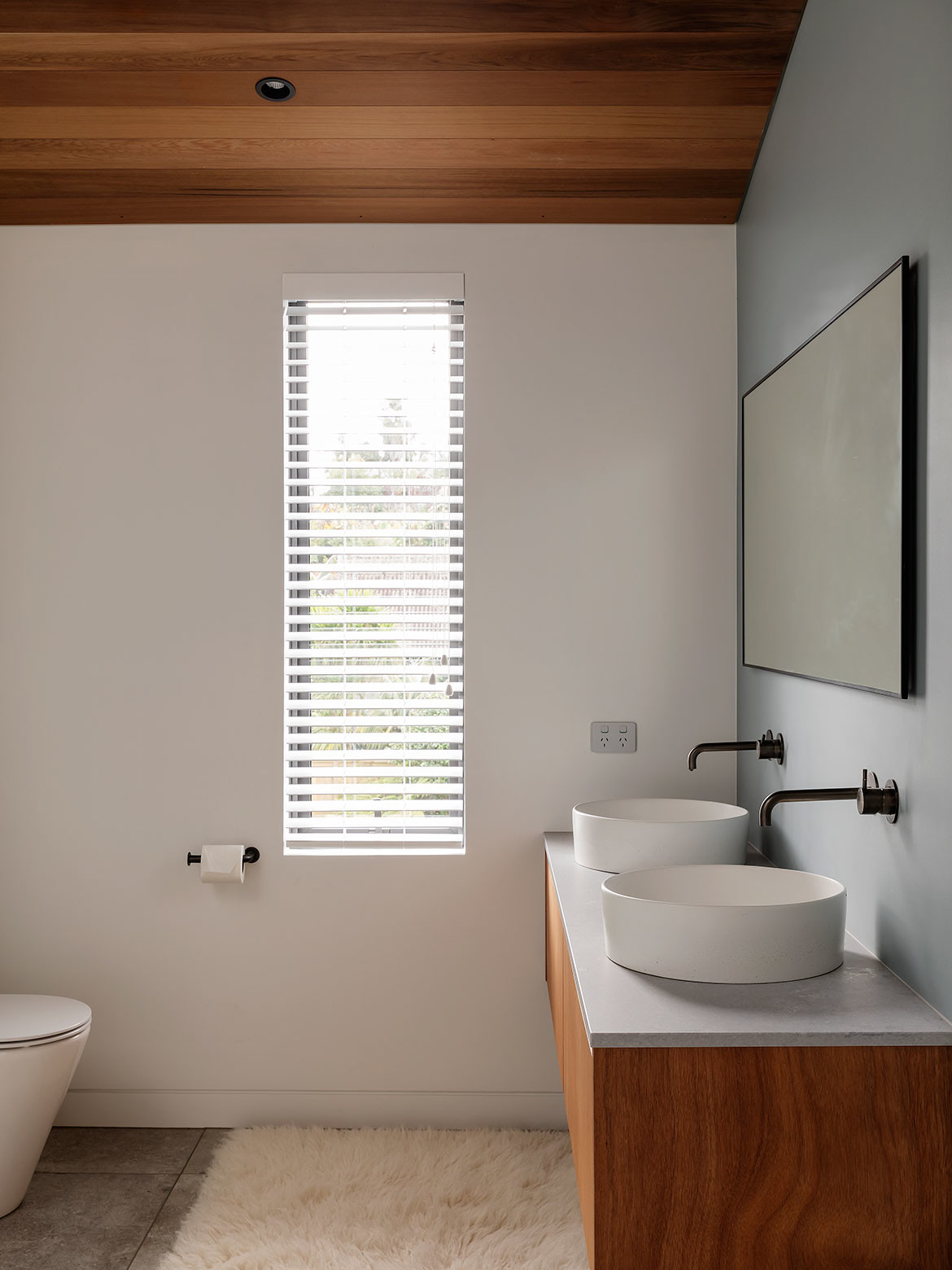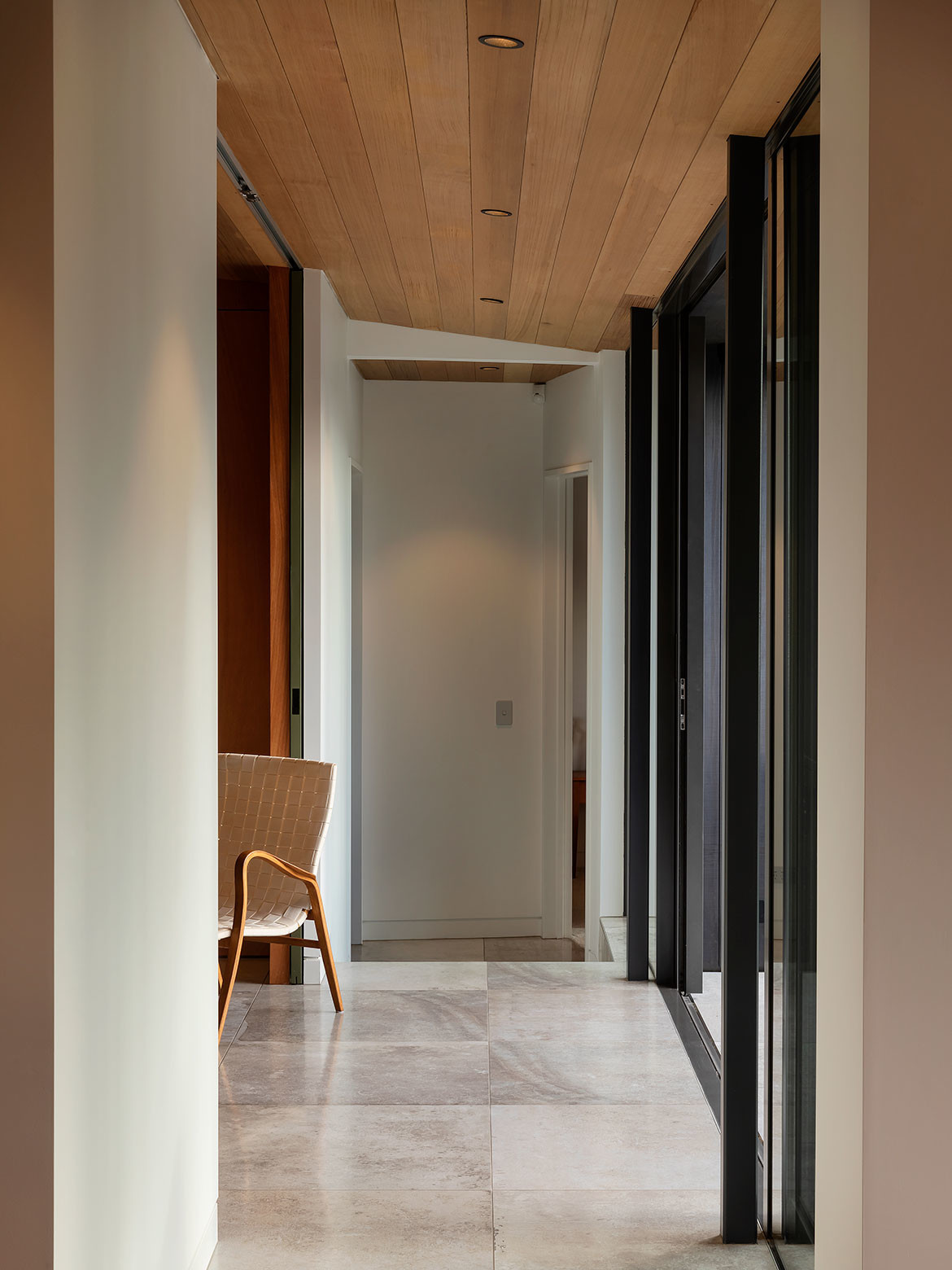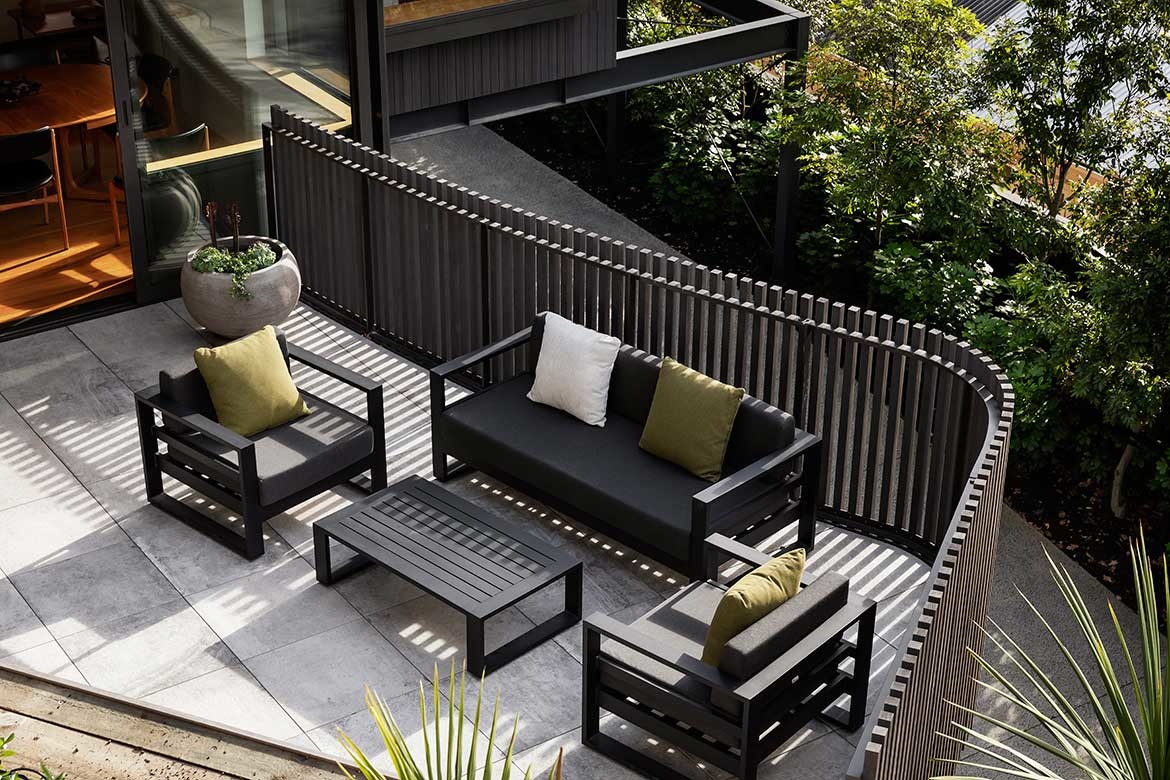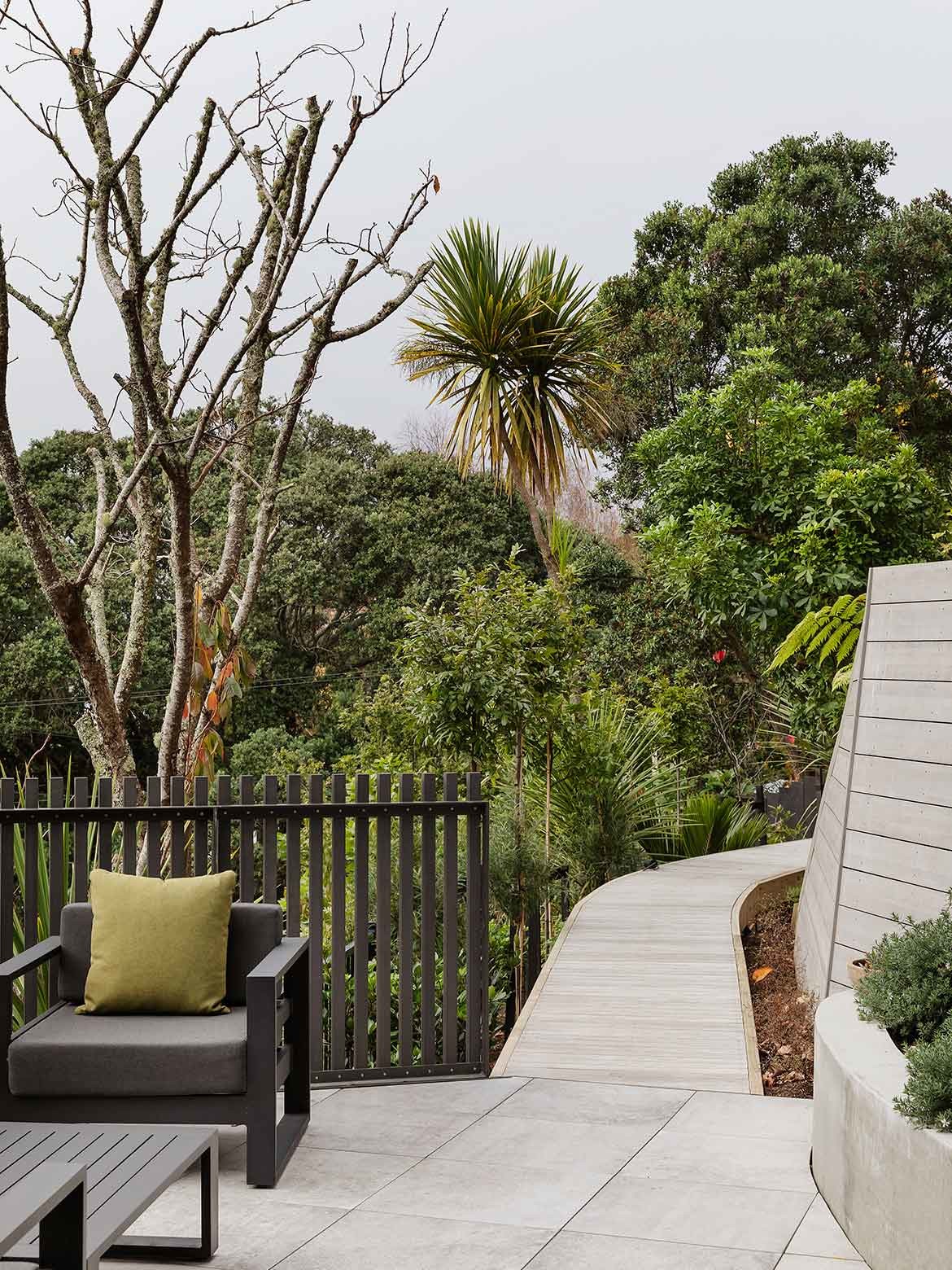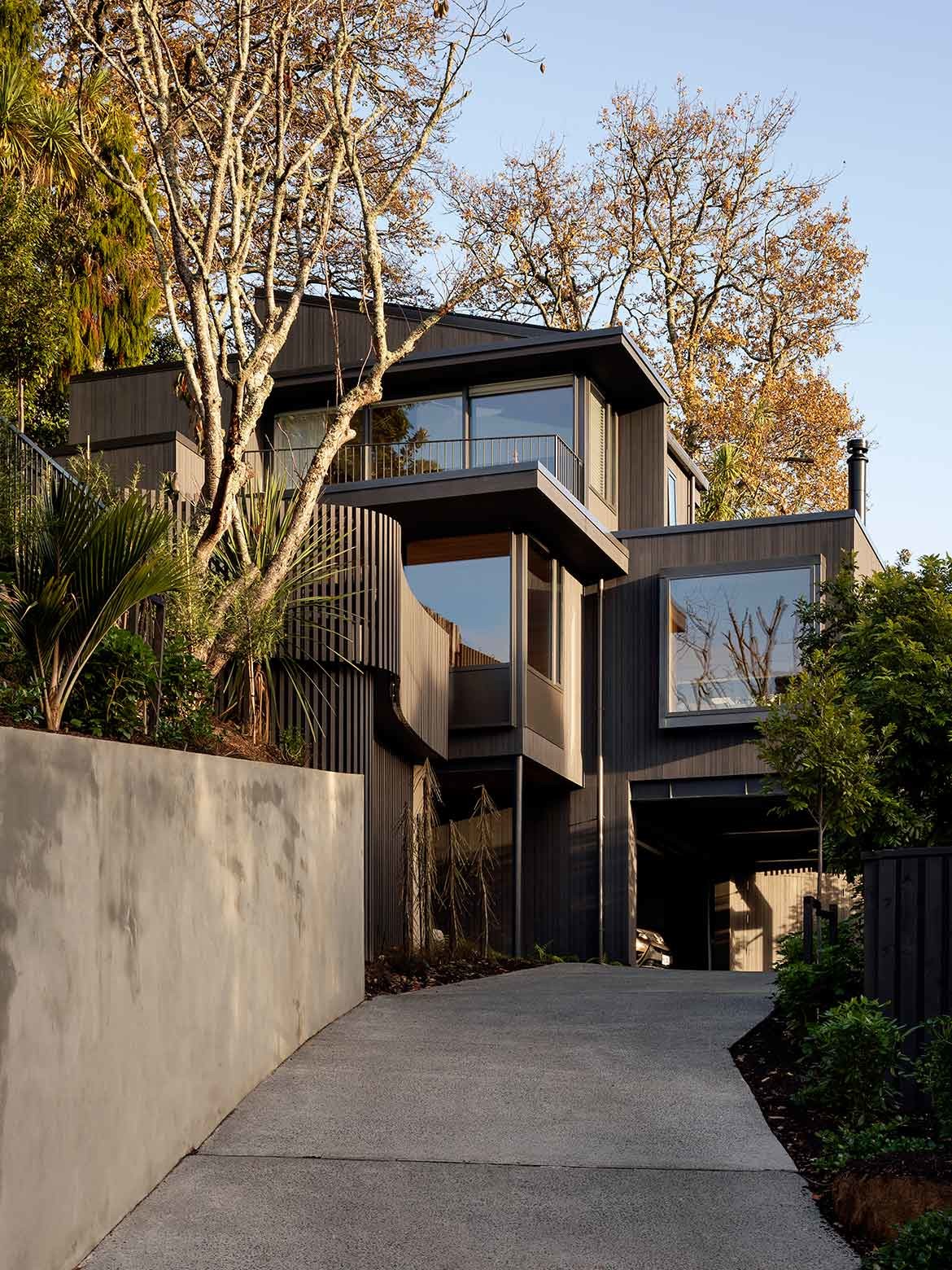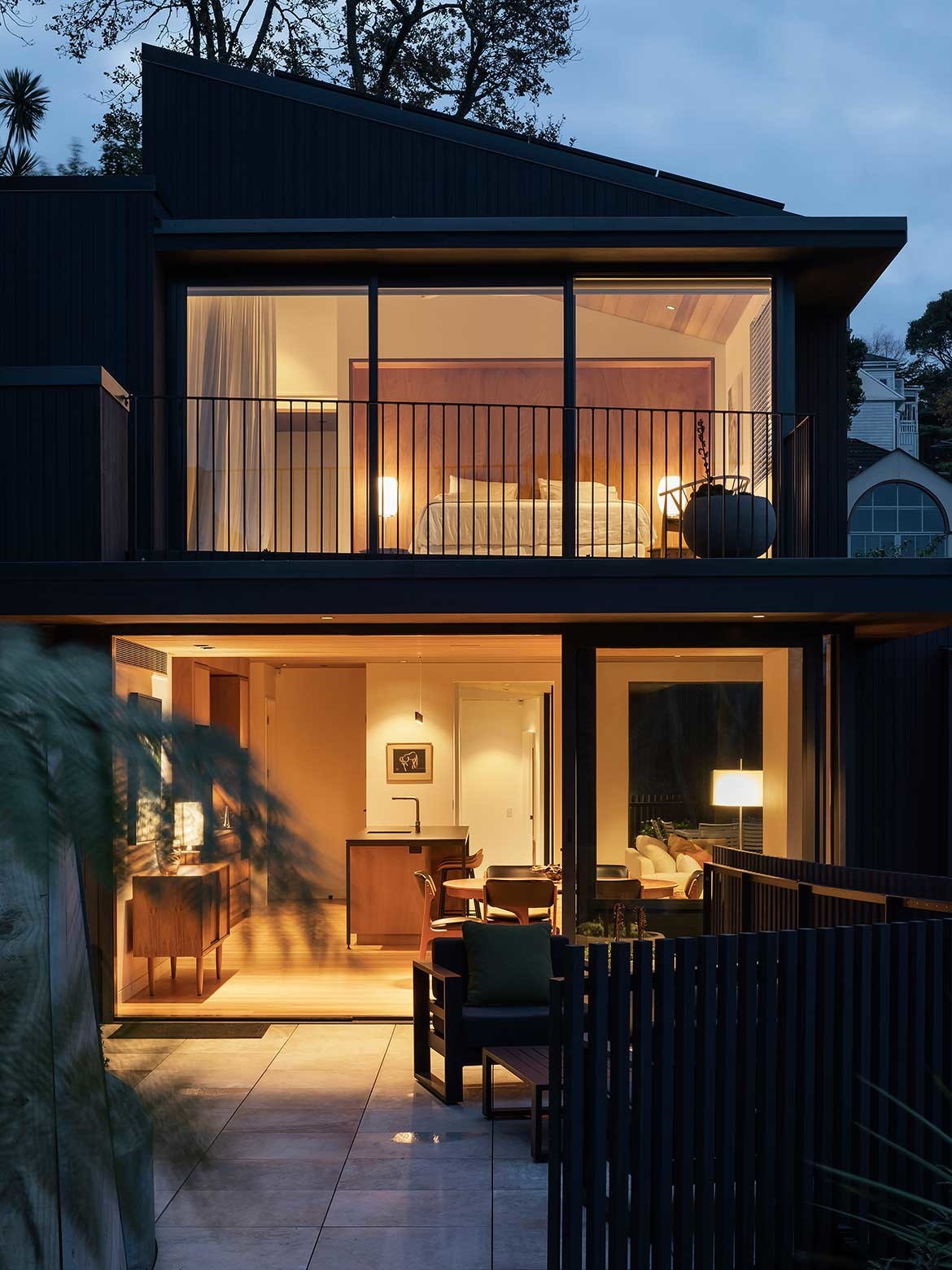 Project details
Architecture – Hamish Cameron Architecture
Photography – David Straight
Landscaping – Jared Lockhart Design
We think you might like this sustainable home on New Zealand's south island.
---