Ash Holmes and her partner Jake Elliott represent the new wave of arts on the Northern Beaches of New South Wales. The proud founders of Hake, House of Art, the duo's elegant gallery and photographic studio meshes a touch of L.A.'s Abbot Kinney, with a subtle, Japanese aesthetic.
Hake (pron: Hukk-ki) has quickly become a new meeting place for creatives in the suburb of Dee Why, creating a spot for fresh collaborations and cool events.
"We got the keys on Christmas Eve last year and had our first show on 25 March 2022," explains Ash, "We did three months of work before we actually opened. We really wanted to make sure that the space was ready before we opened to the public," Holmes says.
Inspired by their experience working with Mariah Madder from Folk Studio, on the renovation of their own unit, they took advantage of the gallery's natural light and decided to add in some new materials and warm colours.
"When we renovated our unit, we had a little mishap with a steel door so we ended up having a spare. We decided to use that in the middle of the gallery which ended up setting the tone.
"We didn't want everything to be opaque white. We knew we would use brass and green branding in the space, and then some warmer-toned colours. So now we have a few different textures – we have a cement wall, a textured wall, and the white clear, clean wall so each piece in the gallery can have its own moment," Holmes explains.
"We sell original artworks, so we wanted to create a space that would confirm the one-off nature of the artworks we exhibit."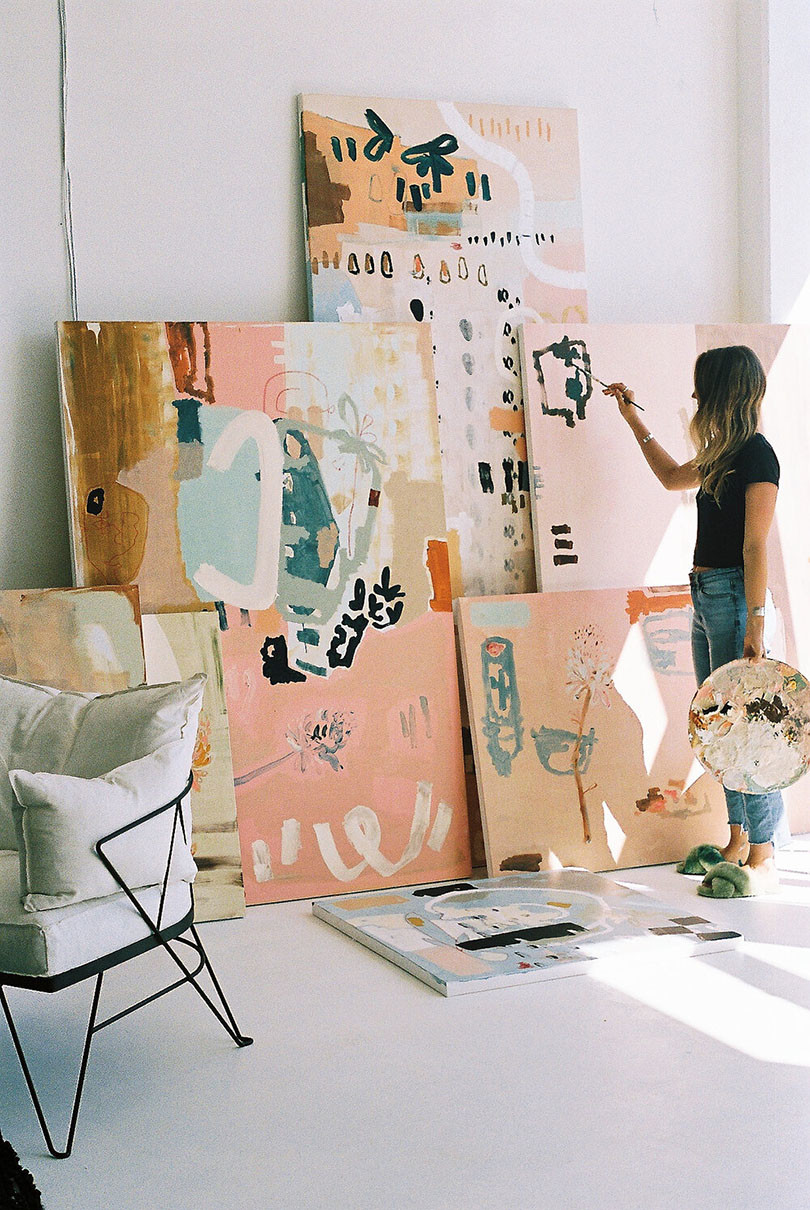 When the gallery is not showing its roster of sixteen emerging artists for two weeks each, they hire the studio for shoots and events. 
The pair also kept a studio for each of them at the back of the gallery, and an upstairs studio so exhibiting artists can finish off larger format works or refine a collection on site. They also had enough room to install a sneaky, infrared sauna for downtime spent at work.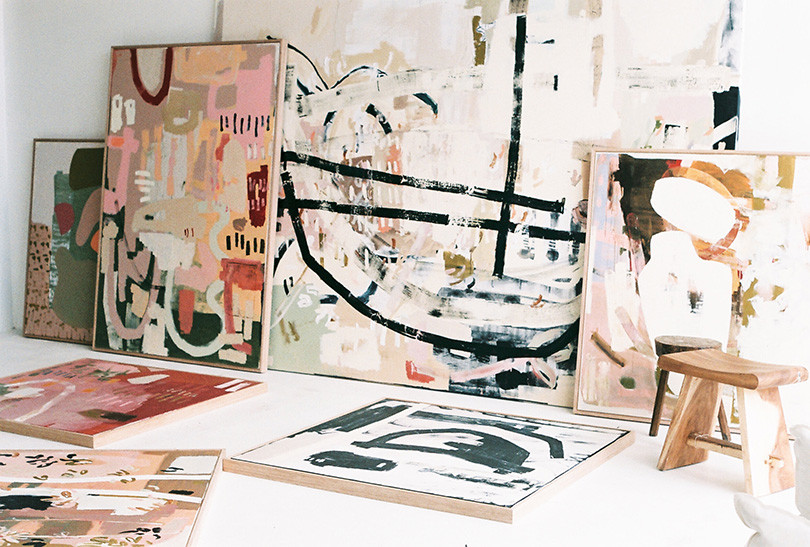 "We put in a sauna, but it is kind of tucked away. You wouldn't even know it's there. I would say that's my favourite place to hang or in the window, in the sun."
From 20 August Hake will have a group show featuring the work of artists Lucia Canuto, Sam Holmes, Christian Dimick and Melody Emi Brunton, with an opening and live music from 12-3pm on Saturday 20 August as part of Creative Open.
HAKE is taking part in Creative Open, a new winter arts event, that shines a spotlight on the quiet powerhouse of creative energy that exists on the Northern Beaches.
All studio images courtesy of Hake House.
We think you might like this interview with artist Atong Atem.