exemplifying how to build among protected nature 
'Casa Azul' by Studio MK27 perfectly exemplifies how to build among lush and protected nature without damaging it. The nestled dwelling is located in Guarujá, a coastal region in São Paulo, just 500 meters from Iporanga Beach. As it is an environmentally protected area, the architects had to adhere to strict parameters; they began by defining a two-meter offset from the house to keep the rest of the land untouched.
Once the perimeter was set, the studio decided to raise the house on pilotis, revealing an elevated 15 x 8 m structure shading the main social and leisure areas of 'Casa Azul' on the ground floor. 
all images © André Scarpa
studio mk27 blends 'casa azul' into its lush context 
This wooden deck, slightly raised from the ground to protect the pavement from moisture, blends in with the surrounding vegetation, sinuously extending beyond the building's projection. Its abstract geometry, a tribute to the work of landscape architect Roberto Burle-Marx, intentionally contrasts with the rectangular volume that defines 'Casa Azul' above — making it possible to bring the vegetation either closer or further away, alternating the forms of interaction with the landscape.
The pool, partially protected by the deck, stands between the deck and surrounding greenery, giving way to Rodrigo Oliveira's calming landscape design. By surpassing the built periphery, the pool allows more direct interaction with the forestscape that extends towards the sea. Perpendicular to the wooden roofing, a rustic stone wall separates the leisure spot from the service areas and complements the ground floor pillars.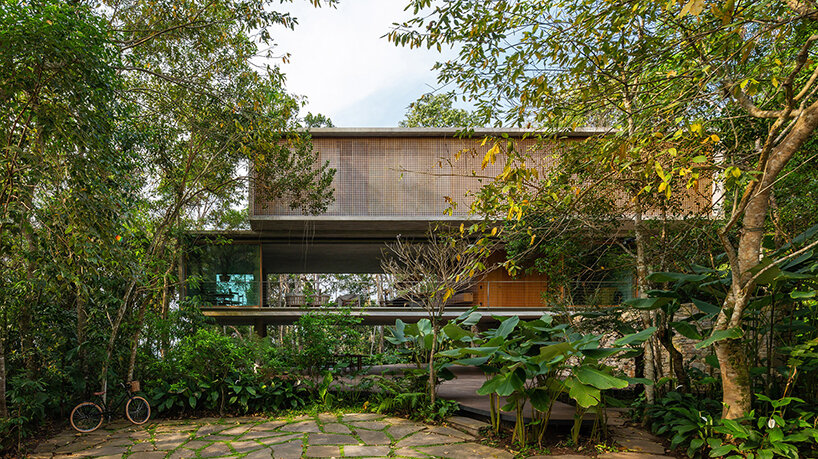 Studio MK27 built 'casa azul' in an environmentally protected area of São Paulo
'naturalist modernism' in play 
Regarding spatial distribution, Studio MK27 (see more here) stacked two mismatched concrete volumes seemingly floating amidst the treetops. The first box integrates the living and dining areas while capturing the lush context and a glimpse of the sea with its glazed sides; when opened, these glass panes turn the room into a large veranda.
The second-floor, or second concrete box, houses four rooms immersed in the treetops. Its longitudinal facades, clad with wooden muxarabis, gently filter daylight while its wooden frames, fixed furniture, and decoration pieces, with natural textures and colors, bring the outdoors in. Moreover, both concrete volumes lend their tone to the floor tiles and stone countertops; on the ground floor, the wide shard flooring leading to the entrance gradually breaks down and blends in with the Brazilian flora.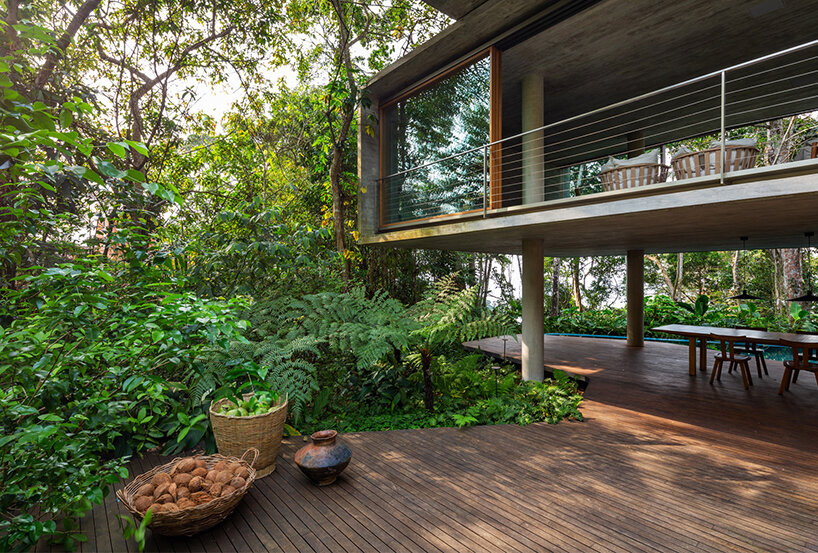 the wooden deck extends towards the lush landscape
Overall, the materiality and energy at 'Casa Azul' is simple, respectful, and discreet. 'The architecture lands smoothly on the ground, and the volumes open to the surroundings, diluting their presence. The game between the full and the empty makes the whole set light, and the house takes off. It is an architecture of naturalist modernism that emphasizes the vitality of the surrounding environment, making it part of the house,' concludes Studio MK27.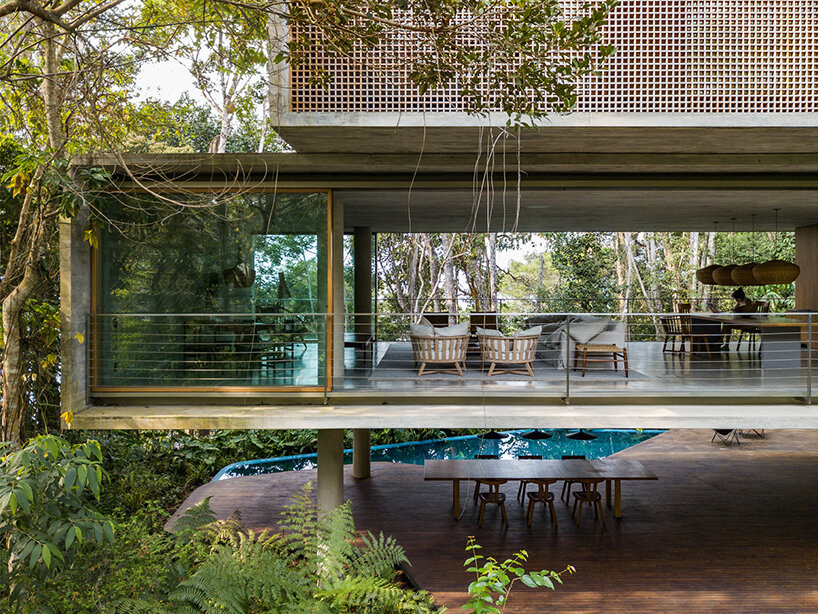 once open, the glazed facades on level 1 transform the living area into one large veranda